Food Smackdown Reveals the TOP TEN Most Unique Burgers in San Diego, CA
Ostrich, Egg, Lamb, Mashed Potato… Possibilities in a Burger are ENDLESS!
For interviews, for permission to use content… or for additional questions, contact steve@foodsmackdown.com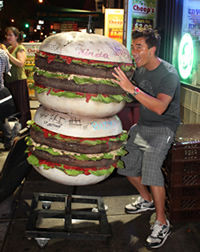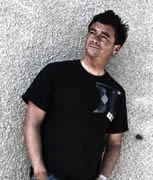 When the battle over where to eat lunch heats up, consult the website that has Southern California buzzing. FoodSmackdown.com is the only place to get honest, good-eats advice about the best places to dine on burgers, pizza, sandwiches, and wings.
Founded by foodie, food photographer, and consultant Steve Carlson, known as a "famous food critic" by San Diego locals, Food Smackdown revolves around his personal experiences in some of the most highly recommended joints to small, hole-in-the-wall restaurants. Food Smackdown puts a wealth of delectable knowledge right at the fingertips of SoCal's populace, so there's never another dining fiasco. The site features reviews that include mouth-watering photos, directions and pricing, atmosphere and service ratings, and of course how it all adds up on the taste buds.
One of Steve's largest food undertakings was the journey to find the most UNIQUE burgers in San Diego. After sampling nearly 100 different burger joints' best offerings, he's created the list of top ten UNIQUE burger joints and what they're doing right to create a stand-out experience.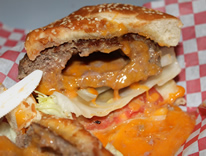 10. I'M STUFFED WITH CHEESE: Coming in at spot #10 is The B Spot, now known as "Babs" in Kearny Mesa, and their OG Quick Burger. Priced to please, this $4.99 burger is stuffed with plenty of cheddar cheese and a distinctly flavored patty that goes above and beyond those of fast-food restaurants. Superb service and the mom-and-pop feel of the place sets customers at ease so they can enjoy their delicious steam-grilled burger at a fast food price. http://www.foodsmackdown.com/2011/04/the-b-spot-kearny-mesa-california/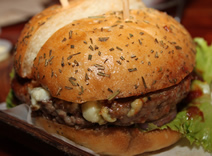 9. MARY HAD A LITTLE LAMB BURGER: #9 on the list goes to Bare Back Grill in the Gaslamp District and Pacific Beach, with their Bare Lil Lamb Burger. While the price point jumps to $11.90 for the burger, it's enough food for two and a flavor experience unlike any other. They pair a lamb burger patty with blue cheese, mint dressing, beetroot, house chutney, garlic aioli, and more. Rounded out with a fun, sports bar atmosphere and table games, it's no wonder this joint has won best burger awards for years. http://www.foodsmackdown.com/2011/05/bare-back-grill-san-diego-california/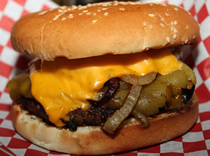 8. NORTH OF THE BORDER ORTEGA CHILI: The Red Rooster in Oceanside and their Rooster Burger comes in at #8 thanks to their excellent price and unique ingredients. The Rooster Burger is chock full of grilled onions and mild Ortega chili for a messy yet delicious meal. This casual eatery with gourmet taste has friendly service and a dive bar atmosphere (make sure to have cash on hand as credit cards are not accepted). http://www.foodsmackdown.com/2011/05/red-rooster-oceanside-california/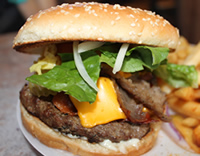 7: GOING GREEK: Located in City Heights, Canada Steak Burger is rated at #7 with their Greek style burger. This 8 ounce deluxe cheeseburger came topped with bacon and gyros and paired with fries and soda for only $7.49. Though not the best location for a first date, the food is unique, the service customer-oriented, and the portions well worth the price. http://www.foodsmackdown.com/2011/04/canada-steak-burger-san-diego-california/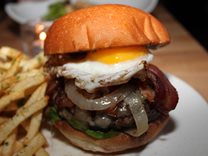 6. EGG ON YOUR FACE: The Whisknladle in La Jolla is #6 on the list with their one and only burger on the menu–the WNL. Perfectly cooked and bursting with flavor, the WNL Burger is topped with artisan cheese, bacon, lettuce, caramelized onions and a fried egg. Though high on the pricing scale at $18.50 the price can be justified by the quality burger, the downtown beach location and the upscale romantic feel making it highly desirable for foodies to mingle. http://www.foodsmackdown.com/2011/06/whisknladle-la-jolla-california/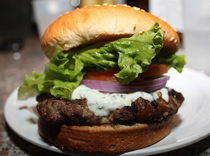 5. OSTRICH BURGER ANYONE?: Tioli's Crazee Burger in Old Town San Diego is #5 for their exotic assortment of burgers for adventurous diners. While the menu includes Gator, Kangaroo, Wild Boar, Antelope, and Venison, the Ostrich burger titled Big Bird is a must try. The Ostrich burger is leaner than chicken or turkey and has more protein than beef… and it contains no gamey flavor. It is a tender, lean mean that pairs well with lemon chive cream sauce and a healthy batch of sweet potato fries. http://www.foodsmackdown.com/2011/06/crazee-burger-san-diego-california/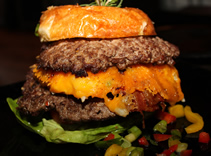 4. MONSTER MASHED POTATO-FILLED BURGER: Hash House a Go Go in Hillcrest San Diego climbed to position #4 thanks to their unique mashed potato, bacon, and cheddar cheese burger. This colossal burger packs a meaty punch with loads of mashed potatoes, bacon and cheddar cheese sandwiched between two patties drizzled with warm bacon vinaigrette and crumbled blue cheese. For as decadent as it sounds, this baby came in at only $15 and is plenty enough for two to share. The modern atmosphere goes surprisingly well with their farm fresh ingredients and twists on down-home recipes. http://www.foodsmackdown.com/2011/07/hash-house-a-go-go-san-diego-california/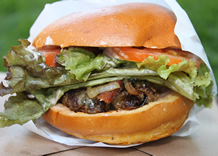 3. NO ROACH COACH HERE: Hailing from sunny Carlsbad, #3 on the unique burger joint list is Bitchin Burgers Gourmet Food Truck. This is no ordinary food truck on the side of the road, but a 5-star restaurant on wheels that makes its way throughout San Diego County. Reach for their spicy Chipotle Gouda Burger or Black n' Blue burger for a kick in the taste buds, or substitute with a portabella burger for a veggie-lovers delight. http://www.foodsmackdown.com/2011/08/bitchin-burgers-san-diego-california/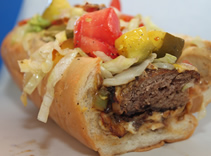 2. A HUNGRY BEAR'S BURGER SUB TO DIE FOR: Earning the rating of #2 is the Hungry Bear Sub Shop in Escondido and their Burger Bomb hamburger sub. Reasonably priced burgers, impeccable service, and a homey atmosphere pushed Hungry Bear to #2 on the list. If stopping by for a visit, do it right by eating the way owner, Big Mike does. One Burger Bomb hamburger sub on white bread with everything (except BBQ sauce), which includes white and yellow American cheese, bacon, grilled onions, mushrooms, bell peppers, avocado and ketchup. You won't go home hungry. http://www.foodsmackdown.com/2011/08/hungry-bear-sub-shop-burger-bomb-escondido-california/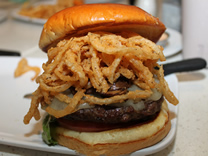 1. 300,000+ UNIQUE PERSONALITIES–BE YOURSELF: Earning the prestigious rating of #1 is The Counter for their amazing build your own burger theme. While higher on the pricing scale, it's worth every penny to experience any of over 312,120+ possible different burger combinations. Choose the toppings, meat, sauce, cheeses, and even type of bun (including English Muffin), for the perfectly customized gourmet burger to cure any craving. Some of the unique toppings to choose from include brie cheese, carrot strings, dried cranberries, black bean salsa, hard boiled eggs, fried onion strings, apricot sauce, hot wing sauce…and many many more. http://www.foodsmackdown.com/2011/04/the-counter-carlsbad-california/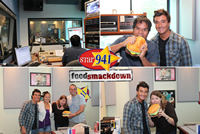 Steve Carlson from Food Smackdown joins "AJ in the Morning" (AJ, Delana, Hula and Dorthy) live in the studio on STAR 94.1 FM radio to discuss his list of the Top 10 Most Unique Burgers in San Diego California. You can listen to the podcast here.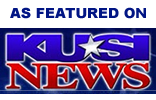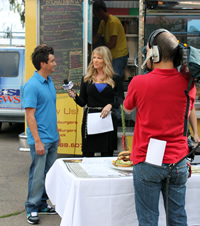 Steve Carlson from Food Smackdown joins KUSI TV NEWS "Good Morning San Diego" live on set on Saturday, November 19, 2011 to discuss his list of the Top 10 Most Unique Burgers in San Diego. And some of the restaurants are coming with to cook up their unique and delicious burger!
Please tune in or set those DVR's and Like Food Smackdown's Facebook page and fill out the gift card give-away entry form as Food Smackdown is giving away over $400 in gift cards Nov 21 – Nov 30 to some of these burger joints! Like Us and enter for a chance to win! To watch our feature, click here.
For additional information about Food Smackdown, or to schedule an interview with editor, writer, and foodie expert Steve Carlson, contact steve@foodsmackdown.com.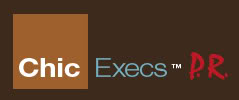 ChicExecs PR is an "out of the box" PR company which represents over 100 clients. ChicExecs has created an innovative approach to PR dedicated to helping businesses receive media coverage. Our revolutionary automated system is changing the face of PR. To learn more about ChicExecs visit www.chicexecs.com.