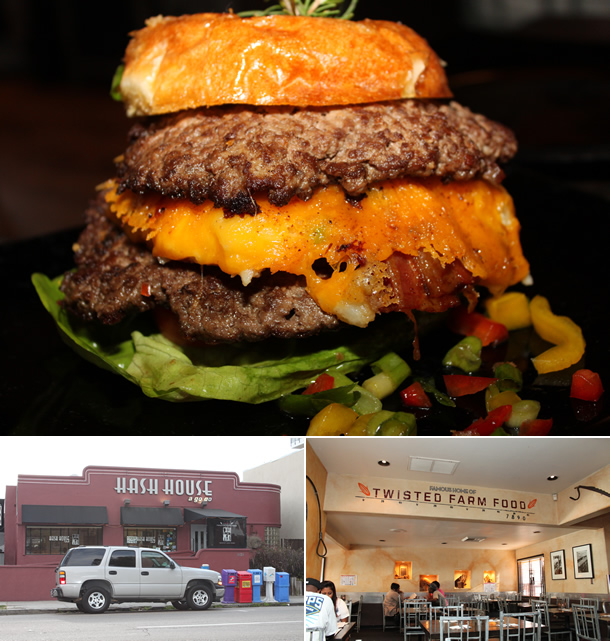 Hash House a Go Go in San Diego has been on our list of must try San Diego restaurants for a while now. After our wonderful experience eating at its sister restaurant The Tractor Room (exactly two months ago to the day) and after reading tons of great reviews we were ready to give Hash House a go!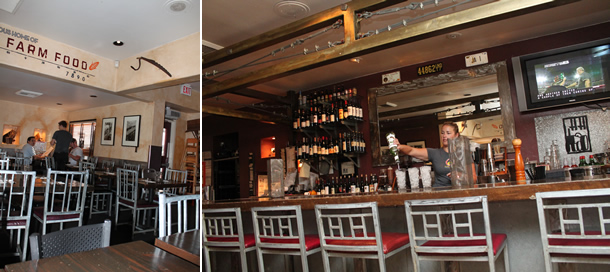 Hash House a Go Go is located in the Hillcrest neighborhood in San Diego on 5th Avenue (between Brookes Ave. and Anderson Pl.). It is on the same street (and same block) just a short walk from The Tractor Room. The atmosphere at Hash House was fun and casual and the inside had a modern design with décor and furnishings that added an agriculture vibe to it. We arrived shortly before Hash House opened for dinner (at 5:30 pm on Saturday) and were one of the first to be seated (which was nice because it got very busy afterwards). Parking can be a bit of a challenge during peak hours (mostly metered parking on the street so be sure to bring change with you).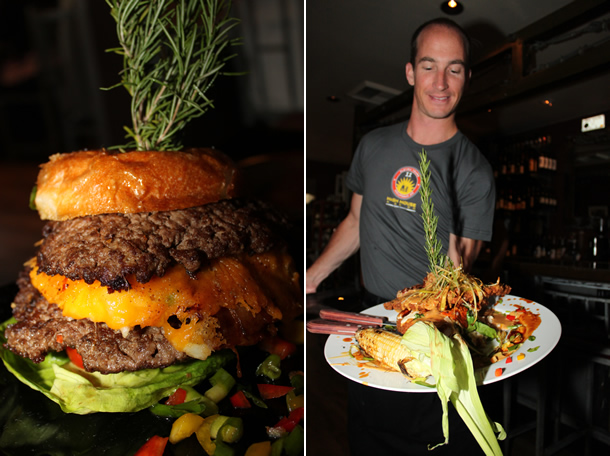 Hash House a Go Go makes eating fun and enjoyable by putting a twist on old recipes and pulling from experiences of farm fresh agriculture and livestock. The portion sizes are humungous with many dishes being brought out in oversized bowls and plates (to emphasize the large servings). A signature pine tree branch can be seen sticking out of the top of many of their dishes. The fun "twisted farm food," exceptional service and cool atmosphere definitely added a level of excitement and entertainment to our dining experience.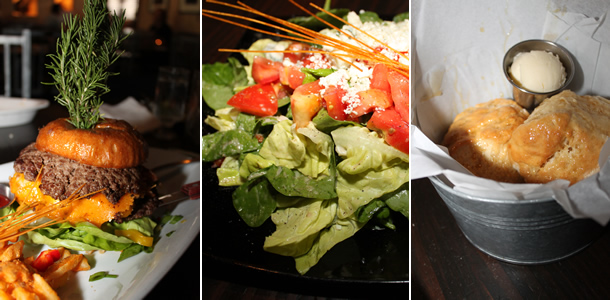 We ordered a mashed potato, bacon and cheddar cheese burger ($15) which came with seasoned criss cross fries and a Fresh Spinach Salad ($8). The burger is one of just three of Andy's (executive chef) twisted stuffed burgers on the dinner menu. Two large biscuits covered in honey were also served with our dinner.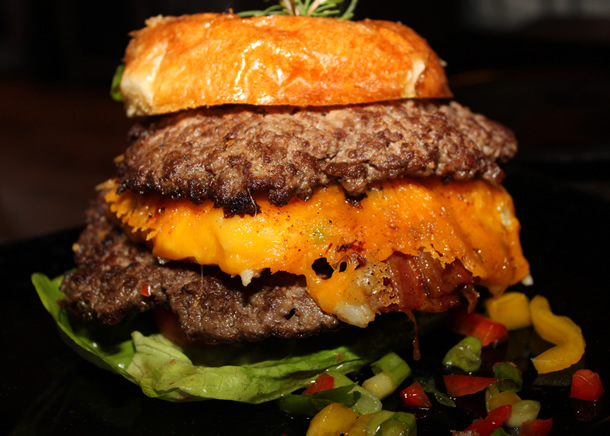 The mashed potato, bacon and cheddar cheese burger was huge and enough for 2-3 people to share. It was served on an oversized platter and came with two Midwest Beef Patties, butter lettuce, red onion, tomato, warm maple bacon vinaigrette and crumbled blue cheese.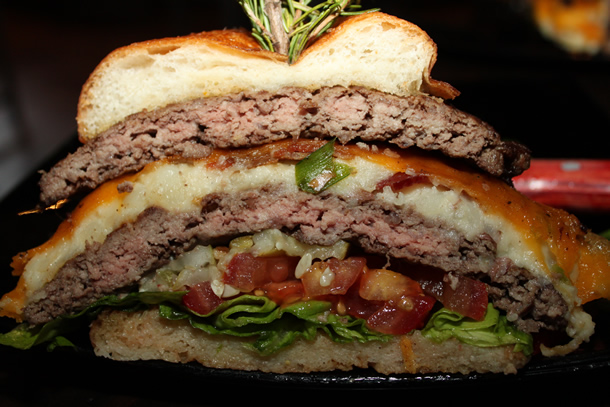 The mashed potato, bacon and cheddar cheese burger was delicious! The double meat patties were juicy, flavorful and cooked to perfection. The mashed potato, bacon and cheddar cheese stuffed in between the burgers added to the deliciousness of the burger. This was one of the most fun and tasty burgers in San Diego we've had to date!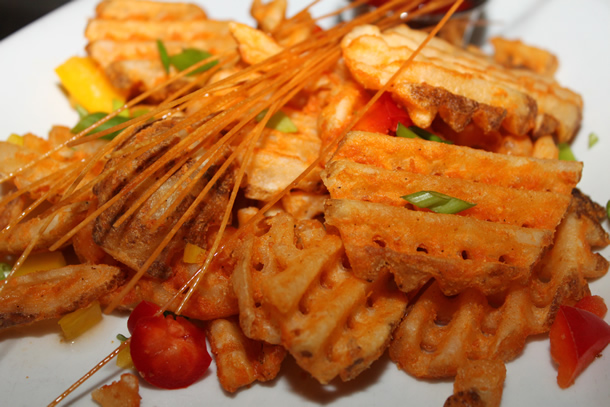 The seasoned criss-cross fries served with the burger were excellent. The fries are very similar to those at The Tractor Room. They are large, lightly seasoned and have the perfect light crisp on the outside.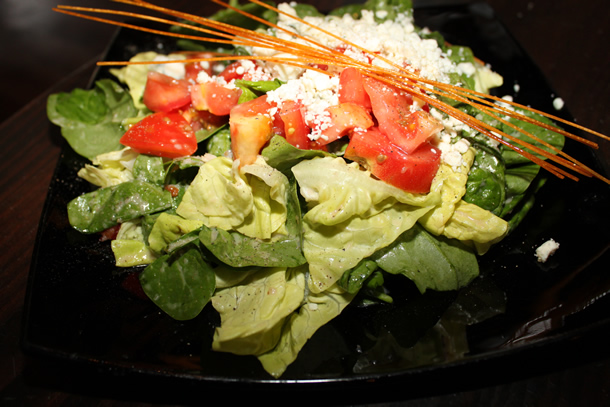 The Fresh Spinach Salad came with butter lettuce, red onion, tomato, warm maple bacon vinaigrette and crumbled blue cheese. The salad was excellent and the crumbled blue cheese and warm maple bacon vinaigrette dressing was delicious.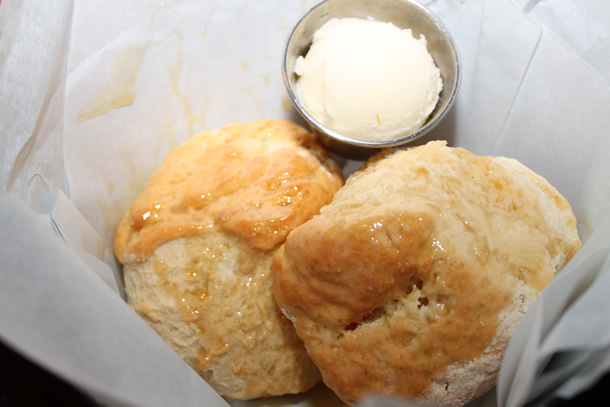 Two scrumptious large biscuits served in a cool tin pail with a side of butter were brought out to us before our dinner. The biscuits were fresh and huge and had a delicious soft flaky texture to them. Best of all they were covered in sweet and yummy honey!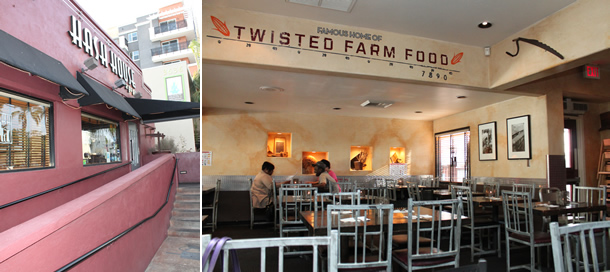 Our experience at Hash House a Go Go was fun and very memorable. Hash House had a fun atmosphere, super friendly service and the food portions were huge and delicious. For an entertaining dining experience with excellent food and service Hash House a Go Go in Hillcrest is a must go. You won't be disappointed!