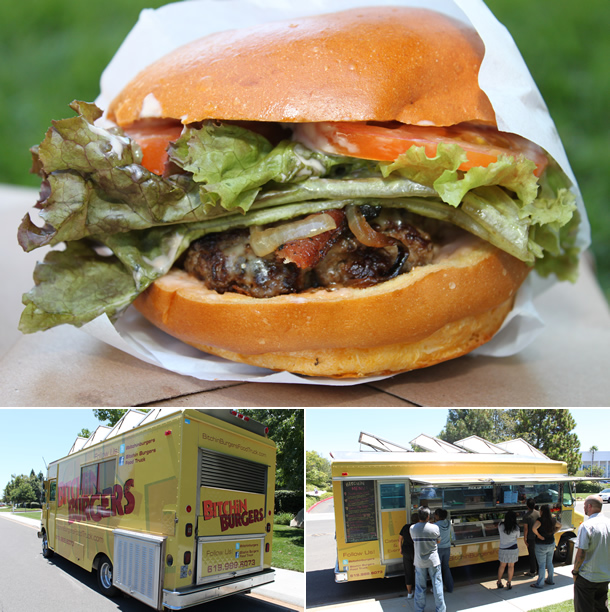 A friend notified us when she saw Bitchin Burgers food truck drive by in Carlsbad, North County San Diego. We've been anxious to try a good food truck burger for a while so it sounded like the perfect fit. We jumped online to check out Bitchin Burgers' schedule. It was perfect timing as they were about to stop in Carlsbad at (Loker Ave. and Sea Lion Pl.). So we got in our cars and headed out to get the "smackdown" on our first food truck. And we're so glad we did. Bitchin Burgers food truck was a pure delight–offering a touch of old school with a trendy flair!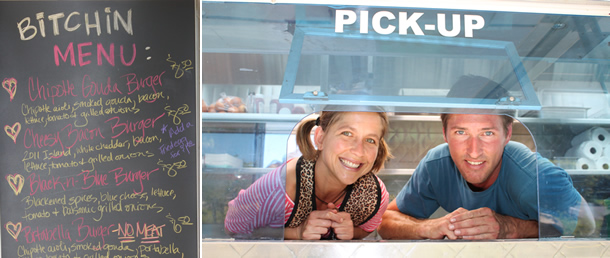 Bitchin Burgers food truck is owned and operated by Andrew Wehe. The food truck makes stops throughout San Diego and is booked for catering and events. Bitchin Burgers' schedule can be found on their website with regular updates on their Facebook page. When we arrived for lunch there was a line of people (mostly business professionals and locals) eagerly waiting to place their order. It was an obvious hit! Despite the mad rush for food, Andrew and Dee Dee worked together to take all the orders, cook and serve the food in a timely fashion.


Bitchin Burgers is certainly not your average roach coach. The truck had a sleek design and updated look. It was wrapped in bright yellow (making it easy to spot) with their business name written in cool orange/red font (as well as their Facebook, Twitter and website information). There were four pop-up sun roofs on top, two large awnings that created shade for their customers where orders were taken and a cool vintage chalkboard menu (listing out the daily burger specials). Chips, drinks and condiments were neatly organized in front (so you could help yourself) and the inside of the truck was visibly clean and shiny (definitely no roaches around here!)


After looking through the burger options on the cool chalkboard menu we decide to try the Black n' Blue Burger with sweet potato fries ($9.50) and Chipotle Burger with French fries ($9.50). The burgers can be ordered a la carte ($8.50) or with fries ($9.50) for just a dollar more. Simply reading the menu made our mouths water!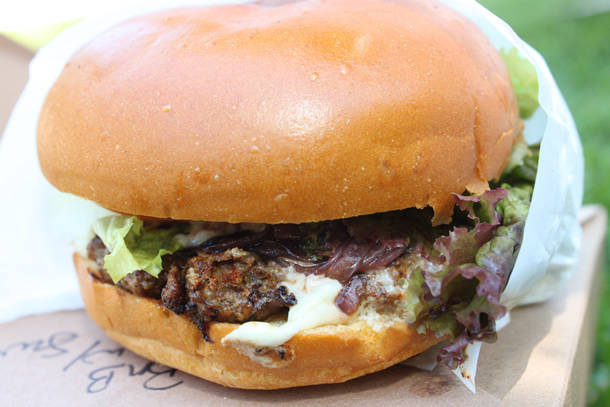 The Black n' Blue Burger was superb—everything we hoped for and more. It came with blackened spices, blue cheese, lettuce, tomato and balsamic grilled onions. The balsamic grilled onions with blackened spices and blue cheese added amazing flavor that made this burger unique and definitely something to rave about. Hungry yet?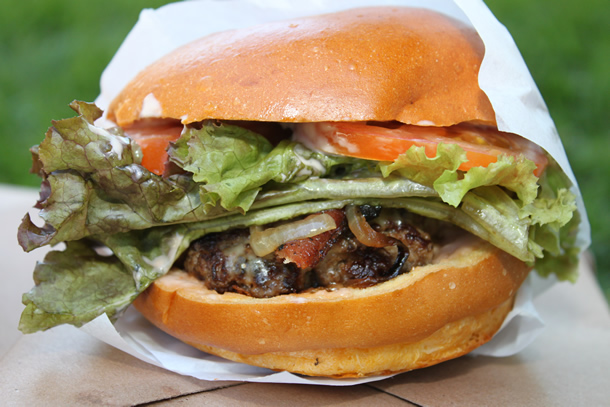 The Chipotle Gouda Burger was also extremely tasty. It came with chipotle aioli, smoked Gouda, bacon, lettuce, tomato and grilled onions.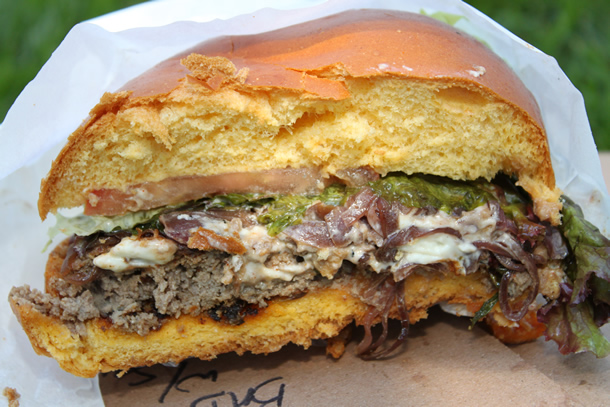 Both burgers were, well… bitchin'. They were mouth-watering, juicy and cooked to perfection—one would have thought the food came from a 5 star restaurant! The yummy burgers are also made from 100% grass-fed beef, uncured bacon and produce that are local and organic.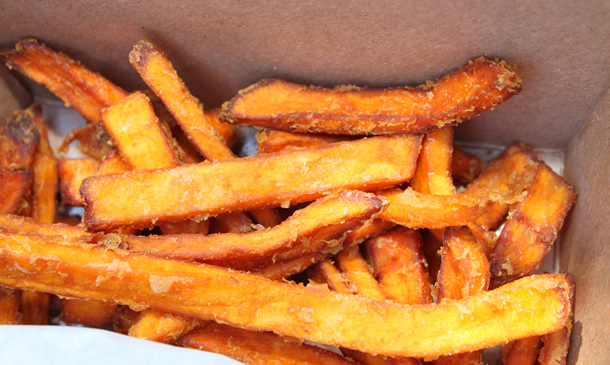 The fries and sweet potato fries delighted our taste buds as well and was a nice addition to the burger (especially for just a dollar more). Both fries were fresh, lightly salted and had a nice crisp on the outside. You can't go wrong with either.


Overall we enjoyed our Bitchin Burgers food truck experience—they redefined the term "food truck" for us…amazing! The burgers and fries were excellent and it was nice to get a chance to meet and speak with cool and hip, Dee Dee and owner Andrew. They were both friendly as could be, which really added to the fun food truck experience. For excellent burgers where the food comes to you, check out Bitchin Burgers schedule. A must try and you won't be disappointed!