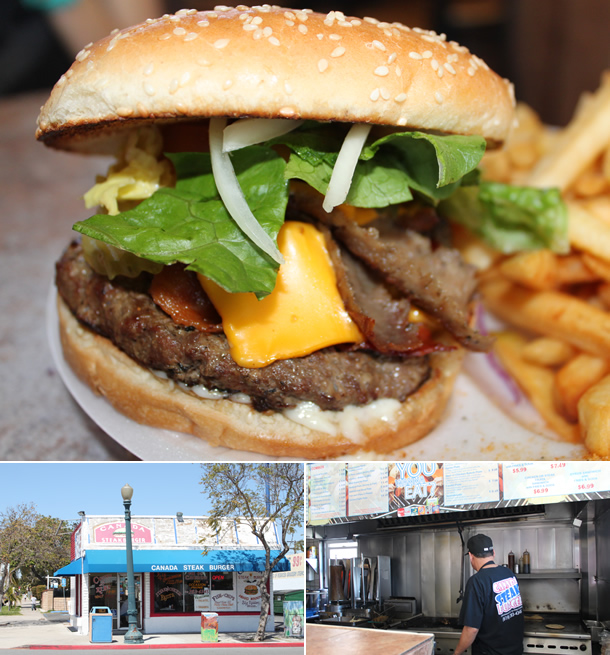 Canada Steak Burger was a must try burger joint for us as it had plenty of solid reviews and a website featuring several awards and recognitions, which included being voted #1 for best burger in San Diego on a 10 News A-List Contest for "Cheap Eats" in 2010 that beat out In-N-Out (#2), Hodad's (#3), Bangin' Burgers (#4) and Rocky's Crown Pub (#5). Being listed above some of our personal favorites (Rocky's Crown Pub and Hodad's) we had to try Canada Steak Burger out to see for ourselves if these burgers were that good!


Canada Steak Burger is located in the City Heights area in San Diego on the corner of University and 36th street (which is about 9 miles inland from Ocean Beach). The location and environment at Canada Steak Burger is very culturally diverse from many of the other burger joints we have reviewed in San Diego – It's in what looks to be an older neighborhood with a Gentlemen's Club directly across from it on 36th street and a liquor store directly across from it in on University Avenue. There's a mixed community of people in the area and a lot of signs in different languages on stores we could not read.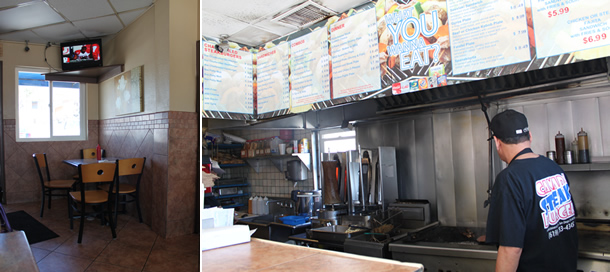 The parking lot for Canada Steak Burger is very small (only a few cars can fit). Nearby are residential neighborhoods in which you'll likely have to park. In the neighborhood we saw people sitting on curbs and porches and what looked like a stray dog walking around. Let's just say the location is very different from downtown La Jolla. And to be honest, we did feel a little unsure about the surrounding area initially upon parking our car in the residential neighborhood across the street because the small Canada Steak parking lot was full – We felt like we just dropped our car in a bait car sting for a Bait Car operation on Tru TV. Due to limited parking and the Gentlemen's Club and liquor store directly across the street we'd recommend visiting this place during the day (and probably not the best place to bring your date as we don't think she'll be impressed). Aside from wooing your woman, Canada Steak Burger has good food, good portions all for a reasonable price.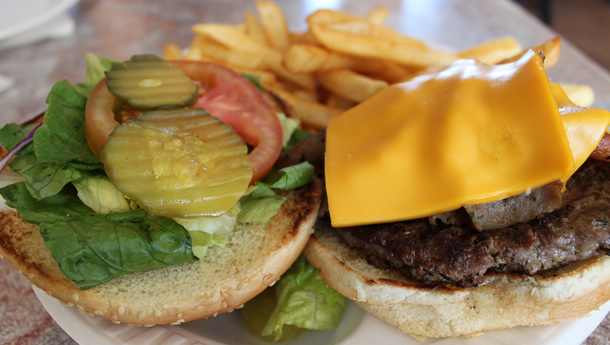 We ordered a daily special 8oz deluxe cheeseburger (topped with bacon and gyros) that came with fries and a soda ($7.49). The burger was served open face on a sesame bun with lettuce, tomato, pickles, onion and one thin purple cabbage shaving (not sure if that was accidental or not but hey it was good too) on one side with the burger, bacon, gyros and cheese on the other.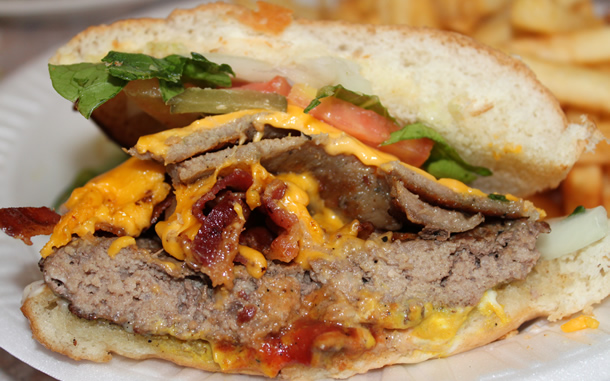 While the burger was not ginormous, it was a good size burger and we shared it. The burger was very tasty and the gyro added a unique flavor to the burger. If you're not a fan of gyros you'll probably want to skip the gyros and go with just bacon (you can definitely taste the gyros in the burger). We like gyros and bacon so we asked to have both on our burger! It was a great combo but we'd probably just opt for bacon next time so we can really taste the flavor of the delicious burger.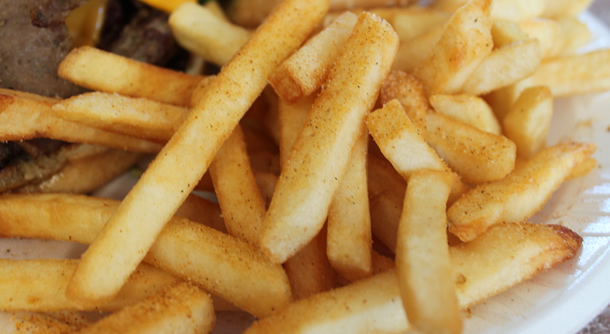 The fries were also good – fresh, crispy on the outside, good portion and tasted good with the burger. The fries had a yummy seasoning on it (which to us tasted a lot like Lawry's Season Salt).


Overall, we were pleased with our Canada Steak Burger experience. While the location and area initially put us out of our comfort zone, that all went away when we met the friendly workers at Canada Steak Burger and saw how many people came here to eat (we went during non-peak hours and it was busy). The burger at Canada Steak Burger was certainly unique (gyro topping) and definitely tasty. The seasoned fries were also good and the price was very reasonable. Also, the workers were super-friendly, helpful, polite and obviously wanted to keep their customers happy. While Canada Steak Burger had some great burgers no doubt, Hodad's and Rocky's Crown Pub still remain at the top of our list. That being said, if you're in the Normal Heights neighborhood and want to try out a unique and tasty burger joint with good food, good portions and reasonable prices Canada Steak Burger won't disappoint!