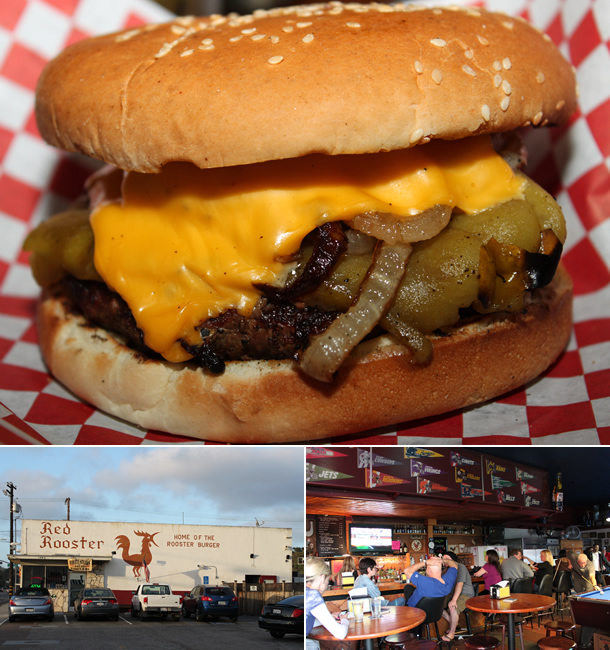 As a finalist in the Union-Tribune for San Diego's Best Burger in 2010 and with plenty of solid reviews we had to try out the hyped up "Rooster Burger" at Red Rooster Bar & Grill (The Red Rooster) in Oceanside California. The Rooster Burger lived up to the "best burger in North County" hype! Red Rooster is cash only so be sure to have cash before ordering!
The Red Rooster is located off the 5 Freeway and Oceanside Blvd exit. It's easy to find – Just look for the huge rooster painted on the wall along with "Red Rooster" and "Home of the Rooster Burger" written in big lettering. The parking lot is not very big and can fill up quickly during peak hours and during weekly promotions. When we visited Red Rooster on a Wednesday evening we had no problem finding a parking spot.


We weren't quite sure what to expect when visiting Red Rooster Bar & Grill. We had read reviews about it being a dive bar (where locals gather to drink and socialize) and a place not particularly desirable for bringing your date. So expecting drunkenness and dirty jokes (as described by some reviewers) our experience was actually quite mild. In fact, when we visited the atmosphere was pretty calm and relaxed and the patrons were friendly as well as the workers. We even sat down and spoke with the owner (Sara) who was super friendly and very personable explaining to us how the Red Rooster had evolved over the past 6 years since she took over ownership.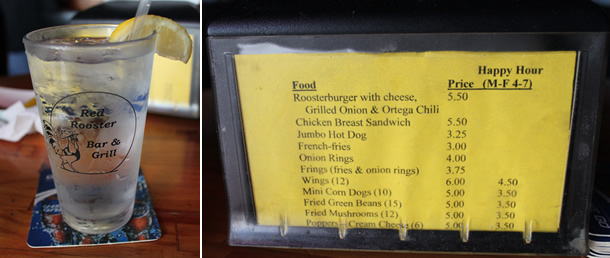 Inside Red Rooster was a long wooden bar table with plenty of comfy bar seating, a couple pub tables with chairs for seating, and a couple pool tables where customers could hang out and shoot pool. There was also a patio area on the side for hanging out and socializing as well. The menu is simple and very straightforward (one burger). The décor consisted mostly of sports memorabilia throughout and numerous sports team pennants on the wall. The inside is not very big but the smallness adds to the neighborhood hole-in-the-wall dive bar experience.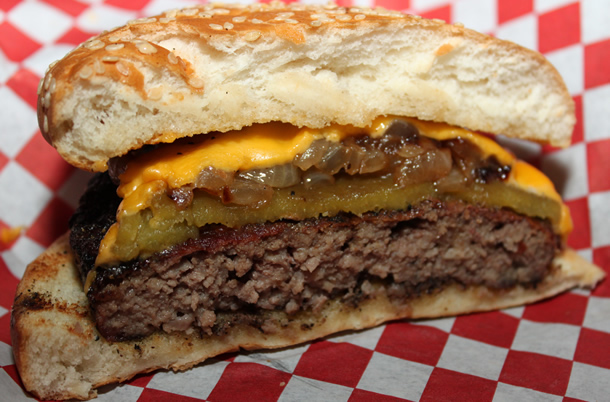 We ordered the highly touted "Rooster Burger" ($5.50) and a side of Frings – fries and onion rings ($3.75). To drink, we had H20 on the rocks! The Rooster Burger came with ½ lb. of Angus beef, a thick slice of American cheese, grilled onions and Ortega chili and was served on a lightly toasted sesame bun. The grilled onions and mild Ortega chili that came with the Rooster Burger tasted amazing together. And with ½ lb. of meat this burger was enough for the two of us to share.


Condiments for the burger were provided at the table so we could add what we wanted to it (mayo, mustard, ketchup, pickles and peppers). However, we ate the burger without adding any condiments and it was super delicious just the way it was served! Next, time we'll dress it up a bit with some pickles and some sauces.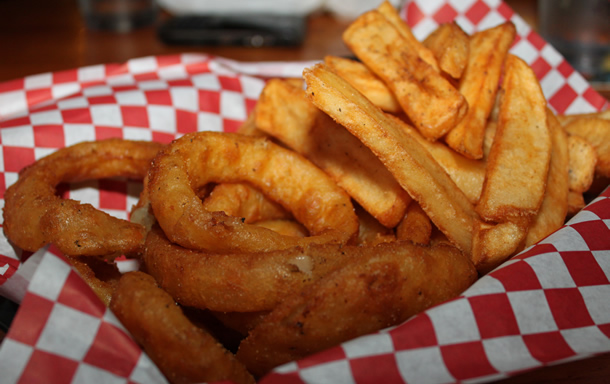 The Frings (fries and onion rings) we ordered were also very good. The beer-battered onion rings were some of the best in San Diego we've had! The fries were cut thick and lightly seasoned and were also good – But the onion rings were amazing.


Overall we enjoyed our experience at Red Rooster in Oceanside and the simple menu made it easy to order. Red Rooster had a fun and relaxed dive-bar and pub like atmosphere with a tavern like feel to it! Red Rooster had great service, a relaxed atmosphere and one of the best deals and best tasting burgers in San Diego we've had under $6. If you're in the Oceanside area don't be afraid to drop into this place to try the burger (and onion rings). The Rooster Burger won't disappoint!