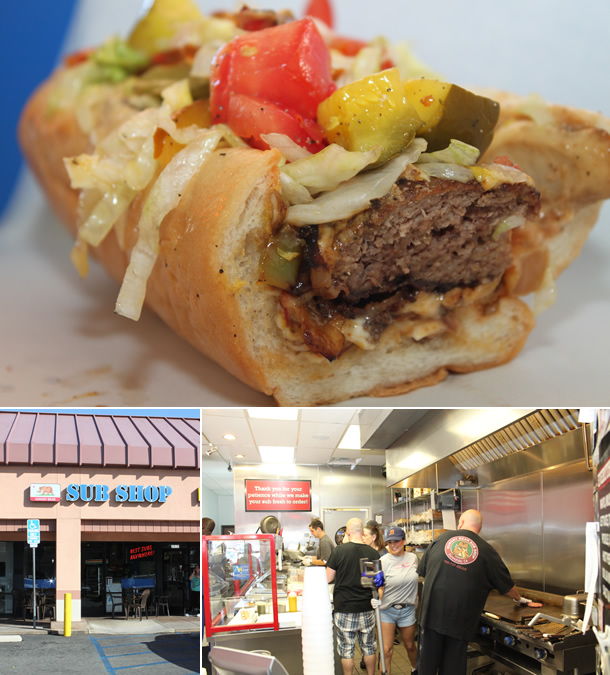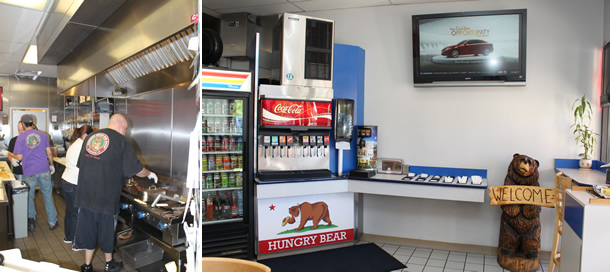 A few months ago we visited Hungry Bear Sub Shop and reviewed their steak bomb sandwich…and there was no doubt about it. It was THE BOMB!! We thoroughly enjoyed our experience and it was one of the best sandwiches in San Diego we've had. As we set out on our journey to find the most unique burgers in San Diego this last week, the hamburger sub at Hungry Bear Sub Shop came to mind and we thought… a hamburger in a sub??? Definitely not the ushe! Not only was the burger creative and out of the box (as we had hoped) it was also one of the tastiest burgers we've ever had! No joke.


Hungry Bear Sub Shop is located in a strip mall on W El Norte Pkwy (between Las Villas Way and Centre City Pkwy) in Escondido in North County San Diego. It is a local, independent, and family owned and operated sub shop that opened in 2009 (by owner "Big Mike") and it has been growing in popularity ever since. Hungry Bear Sub Shop had a fun atmosphere, cheerful staff with superb service, updated design and was what one might expect from a sub shop but with a modern mom-and-pop-shop feel to it. Don't be fooled by its unassuming strip mall location. This place is a true hole-in-the-wall and for us has redefined the term hidden gem…amazing!
What makes Hungry Bear Sub Shop stand-out from other sub shops is the personable staff of cheerful workers and always fresh ingredients. Subs are made-to-order with the finest ingredients (locally bought) and fresh market meats purchased for that day (and if they run out they go to the store for more) and homemade baked breads (made daily and whatever is not used that day is donated).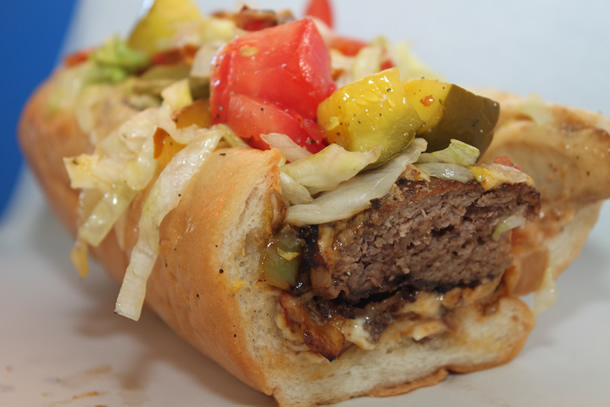 We ordered a large grilled burger sub called the "Burger Bomb" ($7.99). There are a total of six grilled burger subs on the menu. They can be ordered as a small ($4.99-$5.99) or large ($6.99-7.99) and range in price depending on type and size selected. And the burgers are hand-made fresh each day.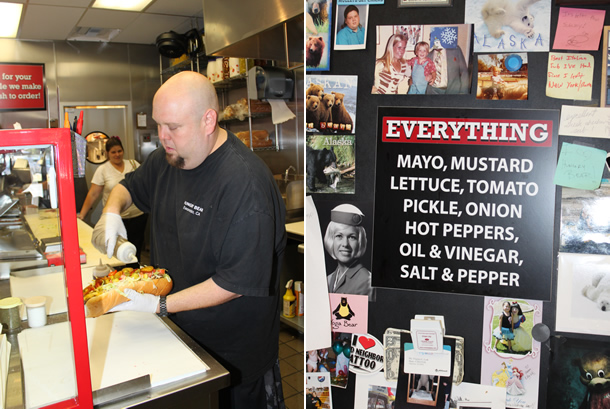 Like the subs, the burgers have tons of options so you can customize your burger. You choose your bread (white, wheat, rye), types of cheese (Swiss, provolone, Munster, cheddar, pepper jack, White American, Yellow American, Feta and Parmesan) and can add "everything" on your burger (which includes mayo, mustard, lettuce, tomato, pickle, onion, green peppers, oil, vinegar and salt and pepper). There are also many add-ons such as bacon, extra cheeses, avocado, pepperoncini, black olives, cucumber, grilled onions, bell peppers and mushrooms.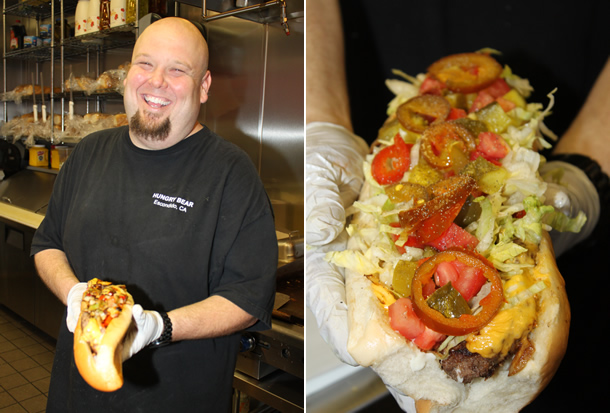 Owner "Big Mike" offered to personally make our "Burger Bomb" hamburger sub and made some amazing recommendations on the toppings.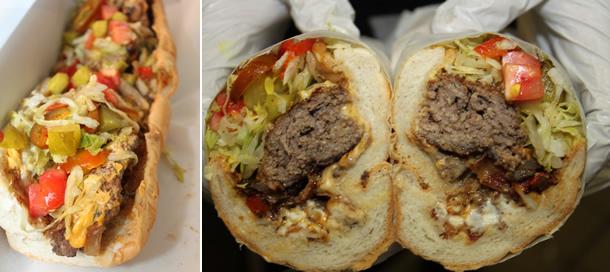 If you want a bomb burger that will blow your mind and socks off you may want to write this down. Get it with white bread, "everything" on it (but no BBQ sauce), white and yellow American cheese and add bacon, grilled onions, mushrooms, bell peppers, avocado and ketchup. The burger was cooked to perfection, super tasty, chock-full of veggies and well…the bomb! One of the best tasting burgers we've had hands-down.

Once again we thoroughly enjoyed our experience at Hungry Bear Sub Shop. It's everything one could want in a sub shop and more – Cheerful and superb service, amazing food, fun hole-in-the-wall atmosphere, amazing subs (including burger subs), excellent prices and huge portions. There are only a slim few sub shops we'd highly recommend — Hungry Bear Sub Shop is definitely one of them! Two thumbs up. You will not be disappointed.