Food Smackdown Donates to the Big Brothers Big Sisters of Orange County's Mardis Gras Event!
Food Smackdown's Top OC Burger Spots and Food Trucks Silent Auction Gift Basket!
For interviews, for permission to use content… or for additional questions, contact steve@foodsmackdown.com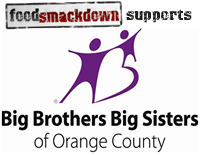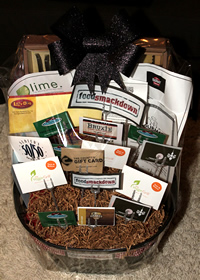 FoodSmackdown.com, the restaurant critique website every SoCal foodie should bookmark, is using their insider connections to help charities in need one bite at a time.
They've partnered up with the brightest and tastiest burger spots and food trucks in Orange County California to provide a helping hand to Big Brothers Big Sisters Orange County's September silent auction. They're donating a gift basket packed full of restaurant gift cards to help raise much needed funds for this charity that has been helping nurture children since 1904.
Meet the generous restaurants that have been able to donate to the cause, and get acquainted with their offerings. You never know when hunger will strike next.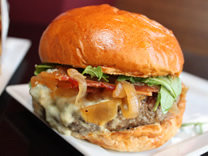 TWENTY FIVE DEGREES – HUNTINGTON BEACH, CA. 25 Degrees is the bordello meets burger bar in downtown Huntington Beach where customers can get a delicious burger paired with high class wine, handcrafted specialty cocktails, or adult-inspired milkshakes and sodas. The fun and swanky vintage Hollywood ambiance and build your own burger menu has made this a must visit. http://www.foodsmackdown.com/2011/06/25-degrees-huntington-beach-california/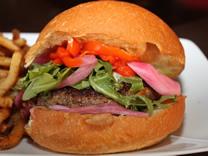 HAVEN GASTROPUB – ORANGE, CA. Haven Gastropub in Orange is a family friendly venue with a signature burger that's to die for. The Haven Burger may not be easy on the wallet but it's an adventure for the taste buds worth every penny. A juicy patty comes paired with pickled red onions, roasted bell peppers, wild arugula, and saint agur cheese and served with a side of delicious house-cut French fries. http://www.foodsmackdown.com/2011/07/haven-gastropub-orange-california/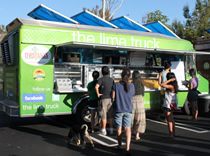 THE LIME TRUCK – ORANGE COUNTY, CA. As seen on the Food Network's The Great Food Truck Race hosted by Tyler Florence, Orange County's Lime Truck offers culinary classics with an exotic twist. Their Yum Yum Lamb Sandwich features lamb on pita bread that's then topped with Tzaziki sauce (think along the lines of a traditional Greek gyro). When in need of a bite on-the-go, the Lime Truck is hard to miss. http://www.foodsmackdown.com/2011/08/the-lime-truck-orange-county-california/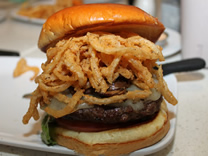 THE COUNTER – NEWPORT BEACH, CA. The Counter in Newport Beach and Irvine are hip build your own burger joints with a relaxed feel and modern design that appeals to all ages. They offer over 300,000 different burger combinations for a dining experience that changes every time. It's no wonder it's not only one of OC's favorite burger joints, but Oprah's favorite burger too! http://www.foodsmackdown.com/2011/06/the-counter-newport-beach-california/
THE VEGGIE GRILL – IRVINE, CA. Even vegans and vegetarians can have some burger-themed fun with The Veggie Grill in Irvine. Their Vegan VG-Cheeseburger is one of best of its kind with a wheat meat soy burger and vegan cheese that tastes and feels as close to the real meat thing as it gets. It's also a great nutritious option for the health conscious burger lover.
http://www.foodsmackdown.com/2011/07/the-veggie-grill-burger-irvine-california/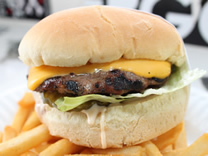 TK BURGERS – HUNTINGTON BEACH, CA. For a quick and delicious burger that won't break the bank, TK Burgers in Huntington Beach, Mission Viejo, Newport Beach, Costa Mesa and Anaheim Hills delivers. A cheeseburger paired with their perfectly crispy fries special is only $5.59, and goes well with the surfing theme and chill atmosphere.
http://www.foodsmackdown.com/2011/09/tk-burgers-huntington-beach-california/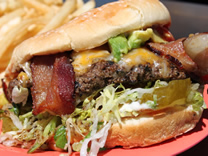 PETER'S GOURMADE GRILL – TUSTIN, CA. Peter's Gourmade Grill in Tustin offers gourmet burgers without gourmet prices. This fun mom-and-pop shop is located in a Valero Gas Station but is far from the heat lamp, junk food stops found on the highways. Thanks to their flavorful burgers they've been named one of O.C.'s twenty five best restaurants of 2010!
http://www.foodsmackdown.com/2011/06/peters-gourmade-grill-tustin-california/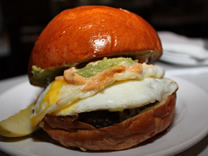 SLATER'S 50/50 – ANAHEIM, CA. Slater's 50/50 in Anaheim Hills and Huntington Beach has a sports bar vibe and an enormous "50/50″ burger that has guests salivating while reading the menu. The burger comes with a patty topped with an over medium fried egg, avocado mash, pepper jack cheese, and chipotle mayo that has breakfast for dinner written all over it. And their Vamp Dip starter is to die for! http://www.foodsmackdown.com/2011/06/slaters-50-50-anaheim-hills-california/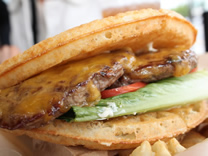 BRUXIE – ORANGE, CA. Bruxie in Orange is another hole-in-the-wall eatery boasting a retro design with unique and reasonably priced burgers and Waffle sandwiches. The Bruxie Burger is served on a folded Belgium waffle for a uniquely crispy and delicious twist. Instead of skimping on dessert, order one of their specialty frozen Wisconsin custards for a sweet treat or taste one of their delicious old-fashioned sodas made from pure cane sugar.
http://www.foodsmackdown.com/2011/06/bruxie-tustin-california/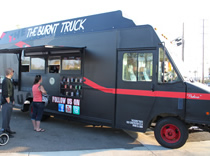 THE BURNT TRUCK – ORANGE COUNTY, CA. The Burnt Truck is an Orange County favorite among foodies and gourmet food truck fanatics. It's an on-the-go eatery that specializes in $2.50 gourmet sliders, tater tots, and yummy combos. Take a break and kick back in the parking lot with friends and family at one of their weekly OC food truck stops and eat as many sliders as it takes to fuel up.
http://www.foodsmackdown.com/2011/08/the-burnt-truck-orange-county-california/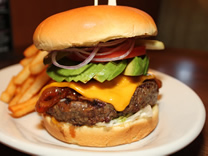 THE LAZY DOG CAFE – WESTMINSTER, CA. The Lazy Dog Café in Westminster, Irvine and Orange has an expansive menu but their cooked-to-perfection Lazy Dog Burger really stands out. In addition to this American classic, they offer a number of gastronomic delights including the Baja California Burger with roasted jalapenos and the Asian Ahi Tuna Burger.
http://www.foodsmackdown.com/2011/09/the-lazy-dog-cafe-westminster-california/

BARBEQUES GALORE – IRVINE, CA. Last but not least is the one-stop-shop for all things for grilling, Barbeques Galore in Irvine heats things up by donating a 5-piece grill set and an amazing cooking class voucher so you can learn how to grill like a pro while enjoying a five-star meal by their professional culinary team.
To see some pictures of Big Brothers Big Sisters of Orange County's 11th Annual Mardi Gras Extravaganza event held at Ralph Brennan's Jazz Kitchen in Downtown Disney click here.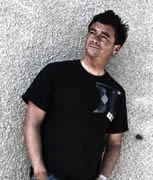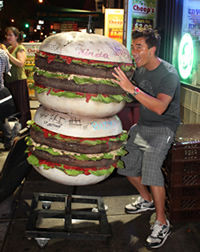 Head honcho of FoodSmackdown.com, Steve Carlson, has a number of plans for upcoming charity events. Food Smackdown will be sponsoring and organizing the first Food Truck Event at Star 94.1 FM's 8th annual "AJ's Kids Crane" charity event.
This event kicks off November 7th in San Diego and will be raising money and collecting toys for patients at Rady's Children's Hospital. Food trucks participating at the event will be donating at least 25% of the profits from each item sold to the charity.
For additional information about Food Smackdown, or to schedule an interview with editor, writer, and foodie expert Steve Carlson, contact steve@foodsmackdown.com.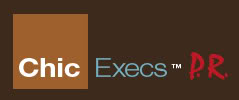 ChicExecs PR is an "out of the box" PR company which represents over 100 clients. ChicExecs has created an innovative approach to PR dedicated to helping businesses receive media coverage. Our revolutionary automated system is changing the face of PR. To learn more about ChicExecs visit www.chicexecs.com.