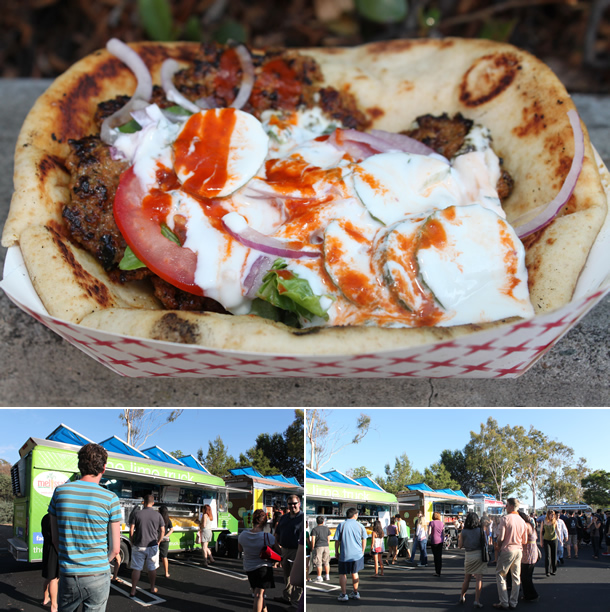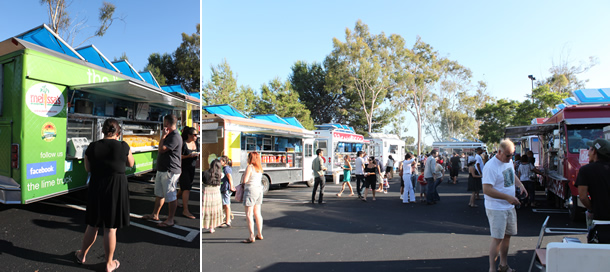 Continuing on our food truck journey this month it led us to an amazing food truck in Orange County California called The Lime Truck (from the Food Networks "Great Food Race"). The Lime Truck was founded by Executive Chef Jason Quinn and CEO/Visionary Daniel Shemtob. The Lime Truck delivers amazingly fresh food made from high quality ingredients to people every day — whether they're on the go, breaking away from the office cubicle, or grabbing a late night bite to eat. More information about The Lime Truck and the dynamic duo founders can be found on their website.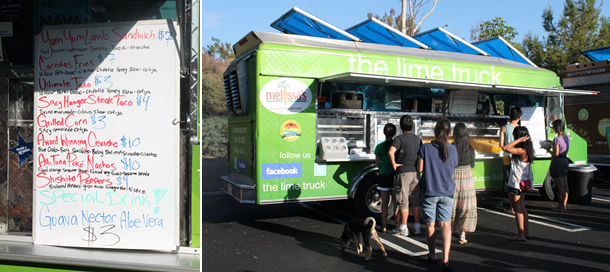 We actually saw The Lime Truck (its brilliant lime green color makes it almost impossible to miss) about a week prior at a food truck gathering in Orange but didn't get a chance to try their food (we were too stuffed from all the yummy sliders we ate at The Burnt Truck). So we visited The Lime Truck the following Wednesday between 5:30pm-9:00pm at 3415 Michelson Drive, Irvine, CA (OC DinDin-a-GoGo at Irvine Lanes). When we arrived there were several food trucks present which provided patrons plenty of options to choose from. There was a solid turnout at this Irvine food truck event, however, it was not quite as packed as the food truck event in Orange from the week before (which was nice for shorter lines and faster service).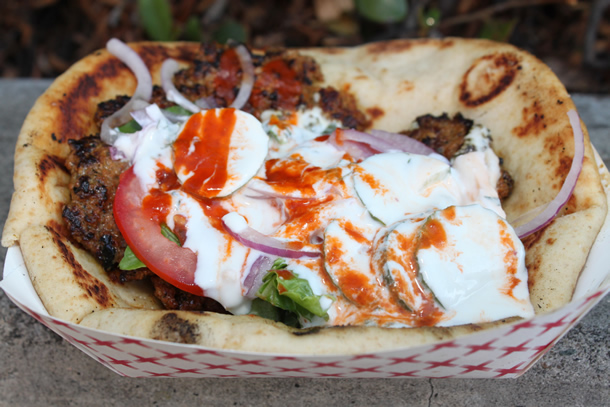 We ordered the popular Yum Yum Lamb Sandwich ($7). It came with red onion, lettuce, tomato, Tzaziki sauce and Sriracha hot chili sauce. The yummy sandwich was served on fresh pita bread so it looked more like a gyro than a sandwich.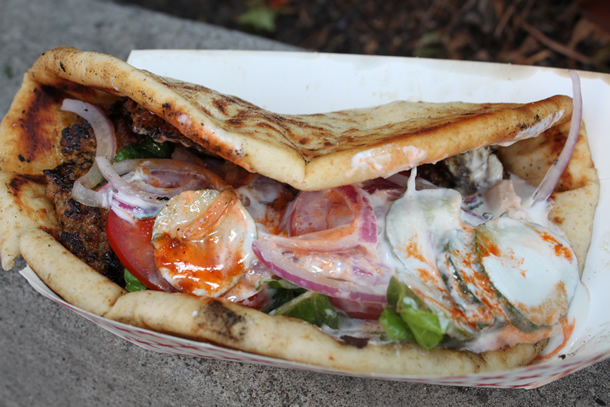 The Yum Yum Lamb Sandwich was amazing! The lamb was delicious (juicy, flavorful and cooked to perfection). And the Tzaziki sauce (yogurt and cucumber blend) was super tasty, thick and tangy. Served with lamb and veggies and topped with Tzaziki sauce and Sriracha hot chili sauce on pita bread this sandwich was to die for (but it won't kill you because it's healthy too:)!


Overall we really enjoyed our experience at The Lime Truck in Irvine. The workers were hip, friendly and cheerful and the service was fast! For an amazing food truck experience and delicious lamb sandwich The Lime Truck in Orange County is a must try! Check out their weekly truck schedule or visit their new permanent SoCo location (open all day Tues-Sat 11am-9pm and Sun 11am-9:30pm) on 3303 Hyland Avenue in Costa Mesa. You won't be disappointed!