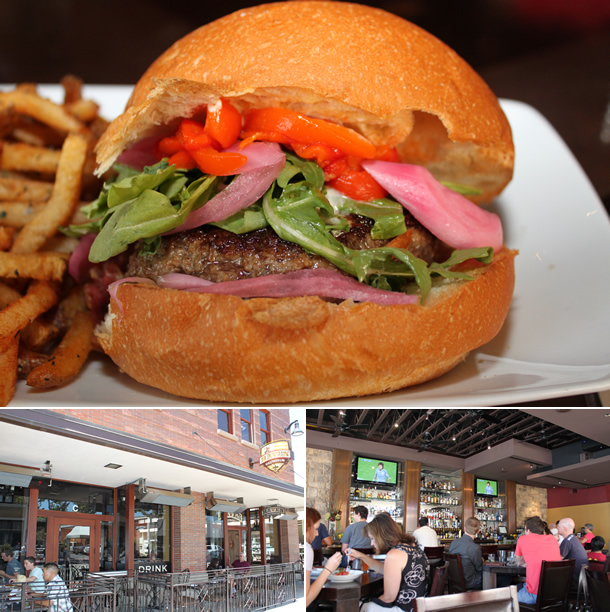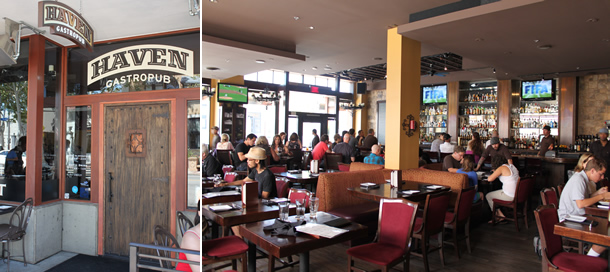 We heard a lot of hype about the signature burger at a place called Haven Gastropub in Orange. With plenty of reviews, fans and press to back up the hype we wanted to check this place out. Although Haven Gastropub had mixed reviews one thing that seemed to be pretty consistent was the love for the Haven Burger. And after eating it ourselves, we must say we're a fan! The Haven Burger is up there with some of our favorite gourmet burgers in Orange County (The Counter, Slater's 50/50, Houston's and 25 Degrees)!


We visited Haven Gastropub in Orange on a Sunday afternoon. The Women's World Cup championship soccer game (USA vs. Japan) was on so it sounded like a good fit. The atmosphere was casual, kicked-back and quite mellow (especially during a sporting event) and appeared to be quite family friendly too (there were people of all ages from families with children, teens, adults, seniors).

The establishment was dimly lit (mostly natural lighting during the day) and had an intimate yet welcoming ambiance with a British pub twist to it. The inside had dark wooden interior, a couple dark chandeliers (with candles) and dark pub tables and chairs for seating. There was additional seating outside (facing Glassell Street) and a good size bar inside with several flat screen TV's distributed throughout for watching sports.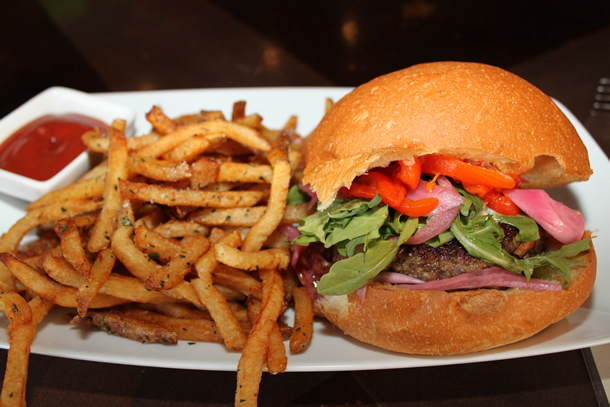 We ordered a Haven Burger ($14.00) which came with fries – It's one of just two burgers on the menu (the other burger is a lamb burger). Our total bill after tax came to $15.09 and after throwing in a $3.00 tip put our meal at $18.09. This was pretty expensive for a burger and fries but it was worth it. We shared the burger and fries and drank water which kept the cost down.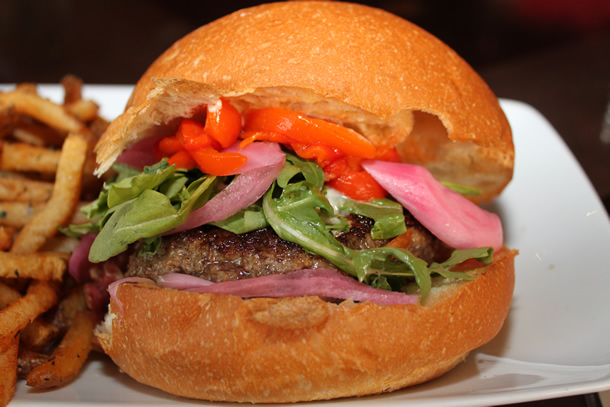 The Haven Burger came with pickled red onions, roasted bell peppers, wild arugula, saint agur cheese (a type of blue cheese) and was served on a delicious fresh, light and fluffy bun. It was one of the tastiest burgers we've had in OC.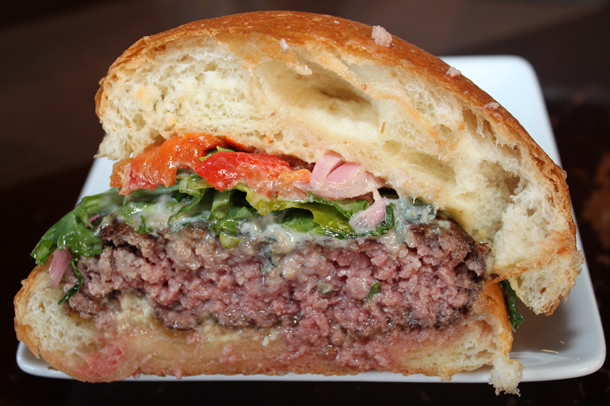 The burger was cooked to a perfect medium rare (light pink throughout) just the way we like it. The burger was super juicy and full of flavor. The pickled red onions were uniquely amazing (we even took a couple out just eat by itself). Although not huge fans of bell peppers it actually tasted good on this burger. And we loved the st. agur cheese which melted onto the burger and added a flavorsome somewhat salty blue cheese taste.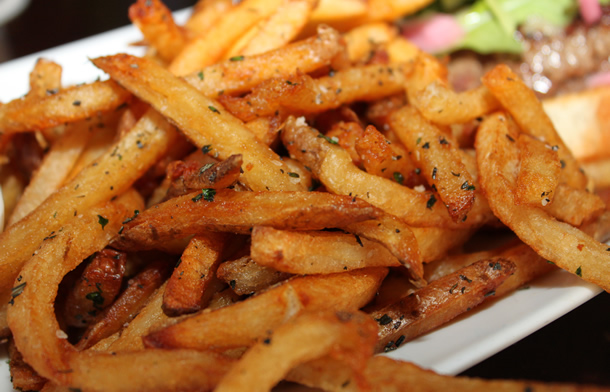 The house-cut French fries that came with the burger were very good. They were lightly seasoned with fresh herbs and served with house-made ketchup for dipping. The fries were crispy on the outside and a little oily (as we read in some reviews) but we thought they were delicious (we loved the herb flavoring).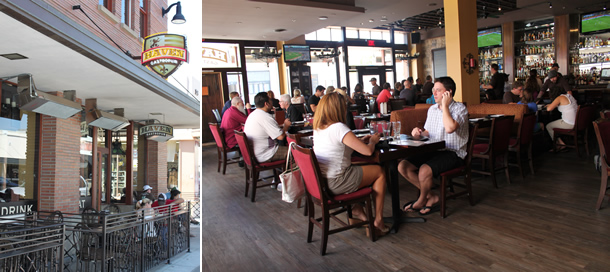 Overall, we enjoyed our experience at Haven Gastropub. After reading mixed reviews (not knowing what to expect) we were in fact pleasantly surprised with the food and atmosphere. Haven Gastropub had a nice chill pub setting (it wasn't very loud), friendly service and a delicious burger. If you're looking for a tasty burger and you're in Orange County, although it's not cheap, Haven Gastropub is worth a visit!