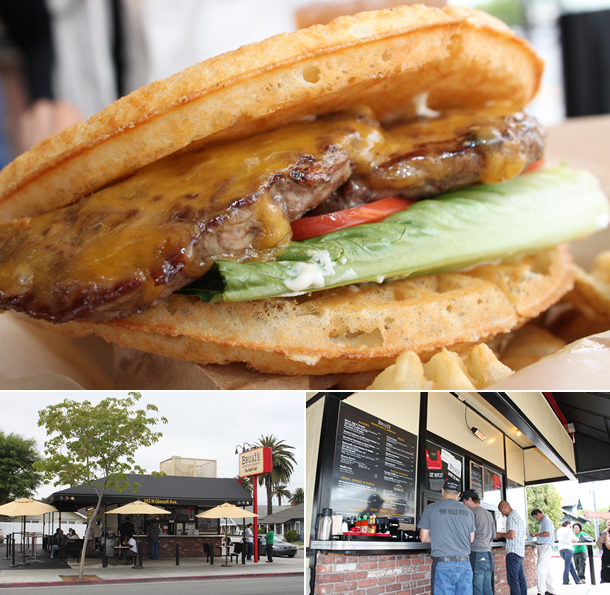 While searching for the best burger joints in Orange County we kept hearing about a place in the city of Orange called Bruxie. With plenty of press coverage (by the Orange County Register, OC Weekly, Los Angeles Times, and more), numerous reviews, and a large Facebook following (almost 3000 fans) we had to try this place out. Bruxie did not disappoint!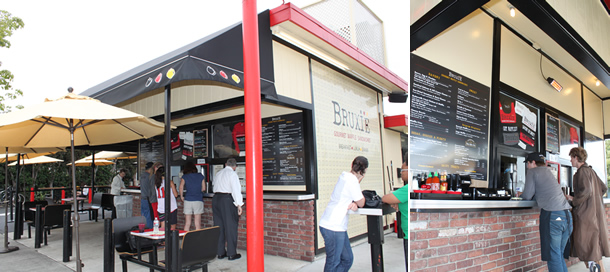 Bruxie (which opened in November 2010) is located in Old Towne Orange (in the city of Orange) on the Southwest corner of North Glassell Street and West Palm Avenue (across from Chapman University). Bruxie was founded by chefs and friends of 25 years Dean Simon, Kelly Mullarney and Philippe Caupain.


Bruxie's story began in Belgium in 1999 when Dean and Philippe were visiting on business and were fascinated by the homemade waffles sold by local street vendors. Motivated by their visit, Dean and Philippe formed a waffle mix business in 2005 (Brux Waffles) and spent the next several years selling product to some of America's finest hotels, restaurants and cruise ships. In 2009, Chef Kelly Mullarney was hired as a consultant to Brux Waffles in hopes of furthering sales and through much collaboration between the friends they came up with the idea of making waffles an all-day offering and soon Bruxie was born. Bruxie's name comes from a combination of "Bruxelles" and "Belgie." In French, Brussels (the capitol of Belgium) is spelled "Bruxelles" and Belgie being a slang term for waffles.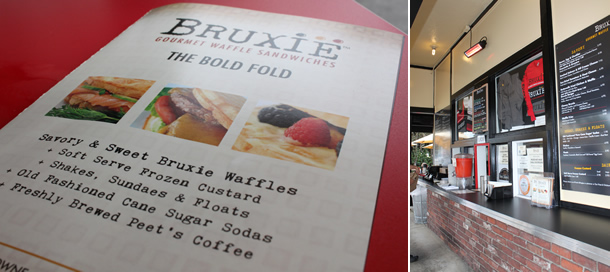 Bruxie offers over a dozen sweet and savory gourmet waffle sandwiches, waffle fries, old-fashioned "pure cane sugar" sodas, freshly brewed Peet's Coffee & Tea, soft-serve frozen custard, sundaes, shakes and floats. Everything on Bruxie's menu is under $8. The atmosphere was fun, casual and clean with a retro vibe to it.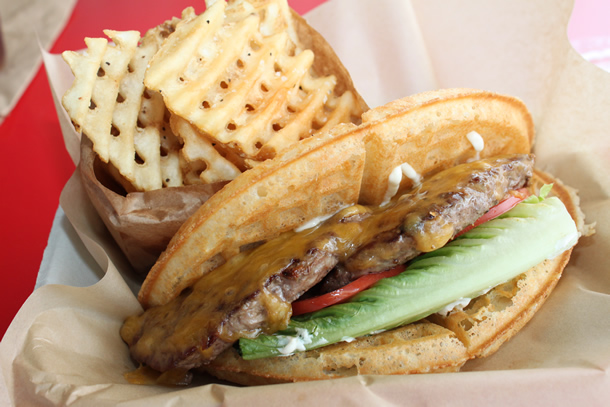 During our visit we ordered a Bruxie Burger ($6.95), Waffle Fries ($2.95 as a side or $2 as a combo), a float ($3.95) and a pure cane sugar soda ($1.95 and $1.00 for refills).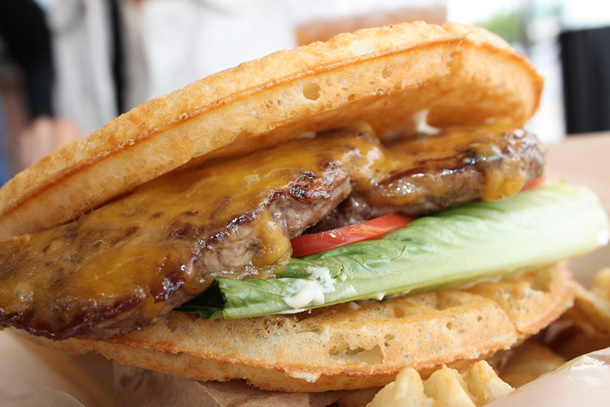 The Bruxie Burger came with two Angus beef patties, cheddar cheese, sliced tomatoes, pickles, crisp lettuce and mayo. The Bruxie Burger was served on a delicious folded gourmet Belgium waffle. The waffle was light, not sweet and had an amazing light crisp to it. The burger was cooked to perfection and was delicious with the waffle.

The Waffle fries were also excellent. The fries were cooked in 100% peanut oil, lightly salted and the outside had a perfect light crunch to it. The Waffle Fries were made with potatoes (not waffles) and had a waffle cut to emphasize the waffle theme.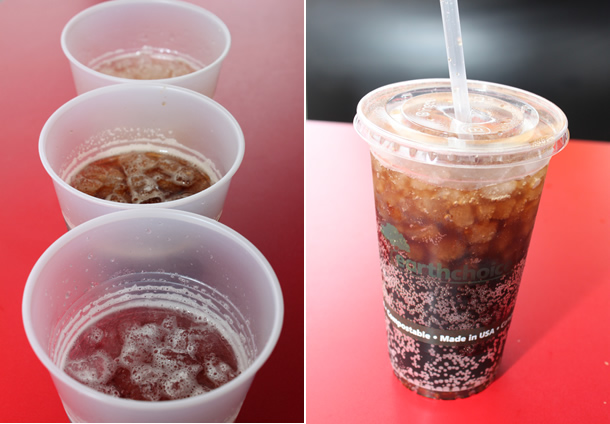 We had an old-fashioned Root Beer "pure cane sugar" soda. We also sampled the vanilla cream, black cherry and cola. The old-fashioned sodas are specifically produced for Bruxie and locally crafted with pure cane sugar. All of the sodas were excellent (you can't go wrong with your choice of flavors).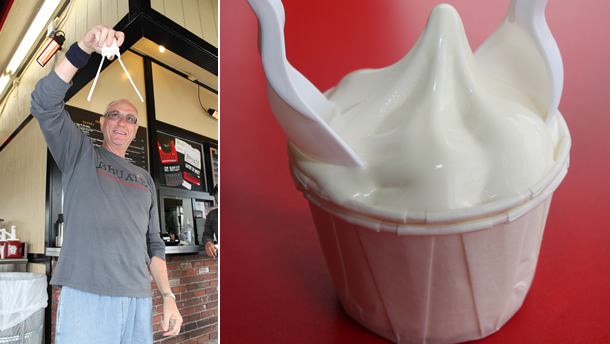 The frozen custard we tried was to die for! The frozen custard is from Wisconsin and tasted much better to us than traditional ice cream. It was super thick, rich, and creamy and had the most amazing flavor to it. Kelly Mullarney described the frozen custard as a rich fresh ice cream enhanced with egg yolks and far less airy (giving it its thick and creamy texture). He even demonstrated the thickness of the custard by holding it upside down for us!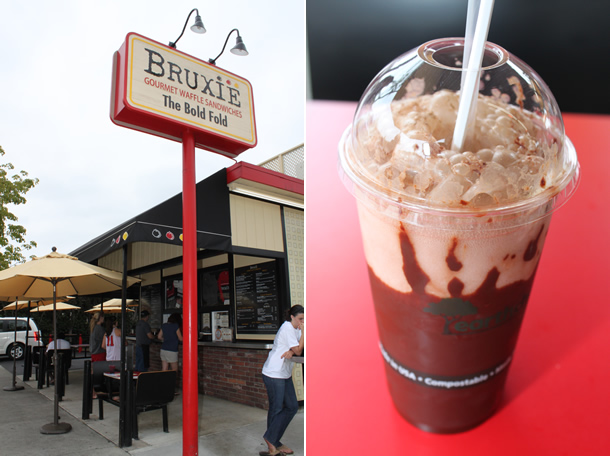 The floats at Bruxie are made with old-fashioned "pure cane sugar" soda and frozen Wisconsin custard (instead of ice cream). The floats with frozen custard are excellent and a must try! We tried a Chocolate Cherry Kiss (not on the menu) which came with Belgian dark chocolate, black cherry soda and frozen Wisconsin custard. It was tasty and had a distinct flavor from the chocolate and black cherry mixture (if you like those flavors you'll love this float). However, if you want to play it safe we recommend going with Root Beer or Orange (Creamsicle) soda float.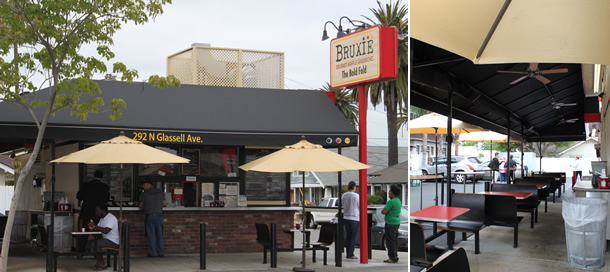 Overall, we really enjoyed our experience and the food at Bruxie in Orange. Bruxie definitely lived up to the hype! The gourmet waffles used for the burgers and sandwiches and frozen custard desserts were unique, memorable and delicious. During our visit we had the opportunity to meet and speak with Kelly Mullarney (one of the owners). Kelly was very friendly, sociable and spent time talking and checking in with us and other customers. The superb service and friendly atmosphere added to our positive experience. If you're in the Orange County area you've got to try Bruxie's unique waffle burger (and sandwiches), waffle fries and frozen custard desserts. You will not be disappointed!