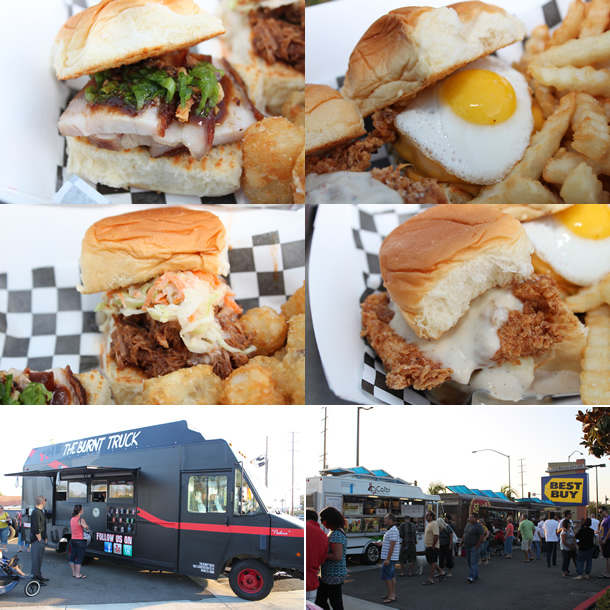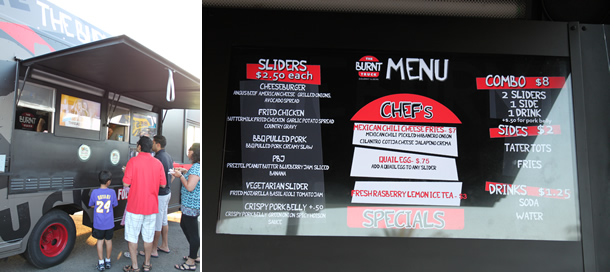 We finally caught up with The Burnt Truck which is a popular gourmet food truck in Orange County, California. The Burnt Truck specializes in gourmet sliders and is owned and operated by long-time friends Paul Cao, Minh Pham, and Phi Nguyen. We've heard amazing things about The Burnt Truck's mini-burgers so we've been itching to try them. And we're so glad we did. The little burgers were indeed gourmet and delicious!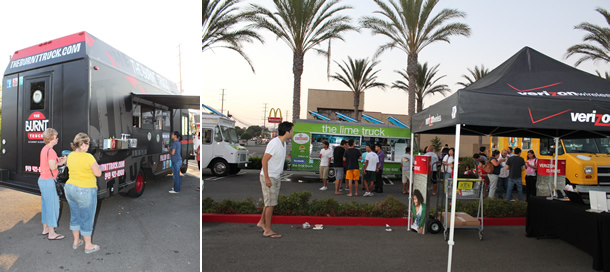 Every Thursday evening a variety of food trucks stop in a designated area in the parking lot at Best Buy in Orange at 2375 N. Tustin Avenue (The Burnt Truck was one of them that week). We happened to be in the OC area on a Thursday when we heard about it…So we headed on over to get the Smackdown on The Burnt Truck and attend our first food truck event!


When we arrived at the Best Buy parking lot it was packed (it was obvious the Thursday food truck affair in Orange wasn't a secret). The Burnt Truck was easy to spot among the food trucks with its cool matted black design with a red stripe on the side and unforgettable hot red colored rims. Also, it had by far the longest line of customers.


The food truck event was fun, entertaining and would be a wonderful outing for families with kids, friends, couples, etc. (we even saw The Lime Truck from the Food Networks "Great Food Race" there). The atmosphere reminded us of an Angels baseball game tail-gate party (but without the hassle of packing up the BBQ and coolers as the food trucks provided all the cooking, food and drinks – No alcohol of course). There were people gathered around their cars and in the parking lot eating, hanging out socializing and kicking back on beach chairs.


We ordered two combos ($8 each). The slider combos came with two sliders of your choice (add $0.50 for pork belly), a side (fries or tater tots) and a drink. To get a good variety we asked one of the owners (Minh Pham) which four sliders he'd recommend – We went with his excellent recommendation and got a cheeseburger slider (and added a quail egg to it), a fried chicken slider, a BBQ pulled pork slider and a crispy pork belly slider. Our total bill was $17.25. All the sliders were served on a soft Hawaiian roll and each one was uniquely delicious!!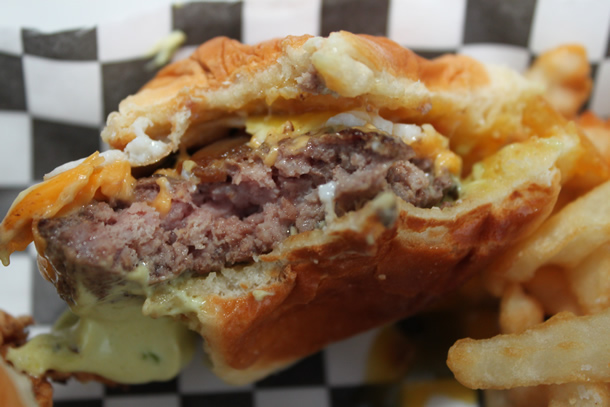 The cheeseburger slider was amazing and the burger was juicy and cooked to perfection. It came with angus beef, American cheese, grilled onions and a tasty avocado spread.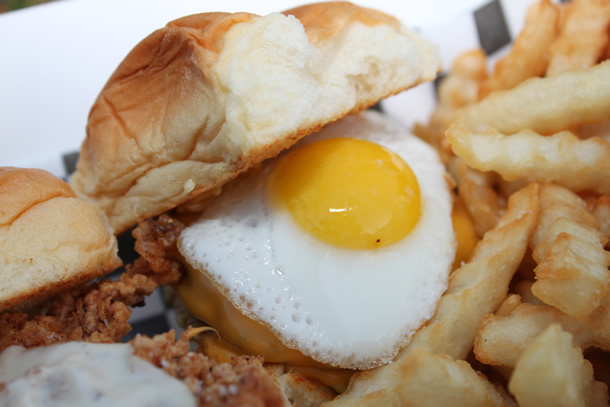 To mix things up a little we added a quail egg to the cheeseburger (recommended by Minh). It was a great addition (and the first quail egg we've ever had on a burger).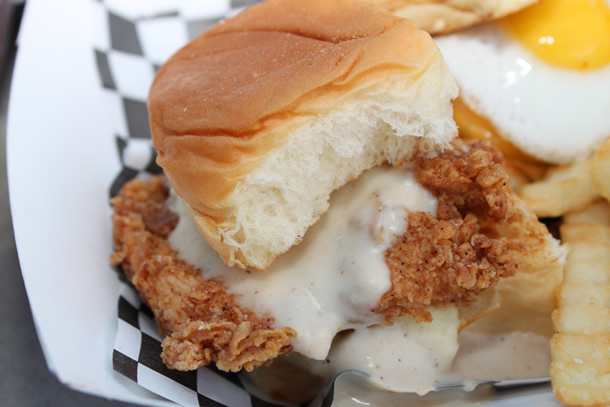 The fried chicken slider was also excellent. It came with buttermilk fried chicken, flavorful garlic potato spread and country gravy. The chicken was juicy, tasty and had an excellent crunchy outside texture.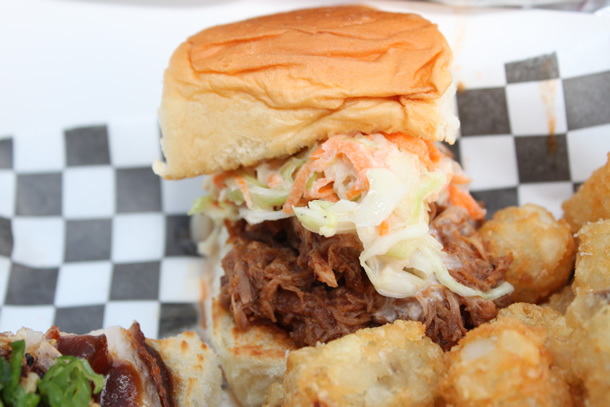 The BBQ Pulled Pork was also very good. It came with BBQ pulled pork and was topped with fresh and creamy coleslaw.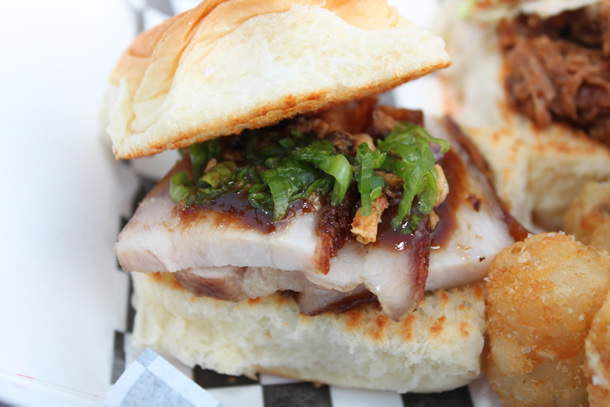 The Crispy Pork Belly was the most unique. Not knowing what to expect this mini-burger put us out of our usual beef burger comfort zone – but it was delicious! It came with crispy pork belly, green onions and a flavorsome spicy hoison sauce.


Both the tater tots and the fries that came with the combos were good. They were served hot, fresh and had a nice crisp on the outside.


Overall we really enjoyed our Burnt Truck experience. The Burnt Truck in Orange County offers high-quality sliders, superb service (workers were hip and very friendly) and an entertaining food truck experience with a gourmet twist. If you're in the Orange County area The Burnt Truck food truck is a must try (be sure to check out their website for their weekly truck stop schedule)!