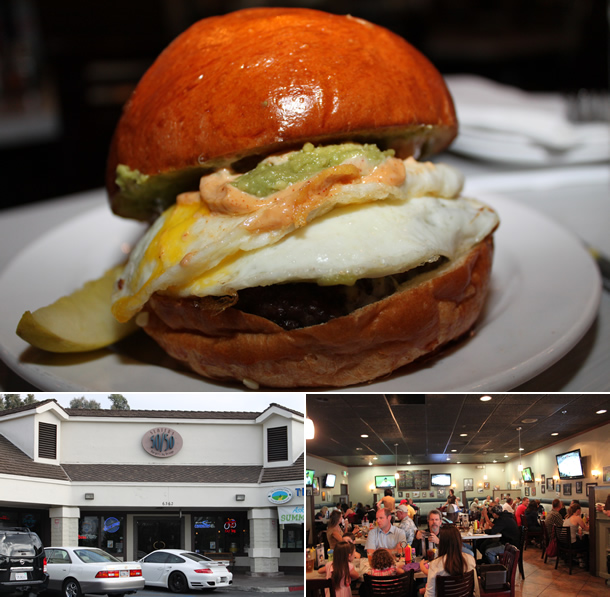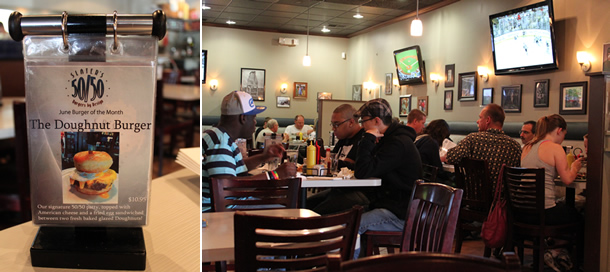 Slater's 50/50 Burgers by Design in Anaheim Hills California caught our attention with all the hype surrounding its build your own burger concept (similar to The Counter) along with its signature 50/50 burger (half ground beef and half ground bacon). With plenty of positive reviews and press (winning Best Burger in Orange County in 2010 by OC Weekly) to back up all the hype Slater's 50/50 was a must try for us. And our experience did not disappoint.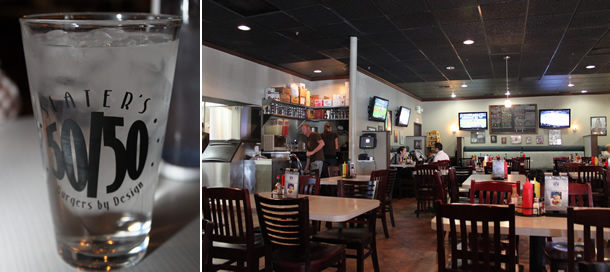 Slater's 50/50 (the Anaheim Hills location) is unassumingly located in strip mall off the 91 freeway on the corner of E Santa Ana Canyon Rd and S. Fairmont Blvd. It is tucked away in a corner so it's easy to pass up if you're not looking for it. Slater's 50/50 is scheduled to open up another location in Huntington Beach (8082 Adams St. in Huntington Beach) on or around July 1, 2011.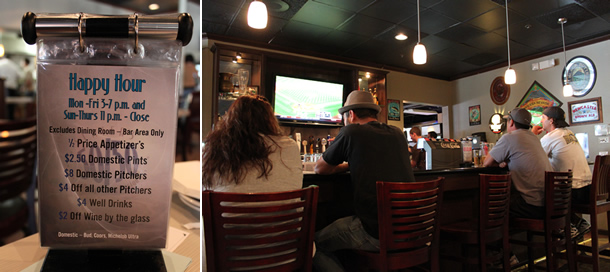 Slater's 50/50 had a fun, energetic and casual environment with a modern sports bar feel to it. Slater's 50/50 offers a wine list and an extensive draft/bottled beer list with over 50 beers. There was plenty of seating in a large dining area with a nice size bar and an additional bar room in a separate room (emphasizing the sports-bar setting). There were at least a dozen flat screen TV's throughout with every sports channel imaginable (which added to the sports-enthusiast appeal) so you could watch sports in the dining area or at the bar. Slater's 50/50 can get crowded and very busy during peak hours, sporting events and on weekends so if you go during this time be prepared to wait before seating opens up. We visited Slater's 50/50 on a Wednesday evening around 6pm. While we were seated right away it filled up very quickly.


We ordered "The 50/50" burger ($9.95), sweet potato fries appetizer ($4.45) and the Slater's Vamp Dip ($8.95). And because we visited during Happy Hour (Mon-Fri 3-7pm and Sun-Thurs 11pm-close) our appetizers were HALF OFF!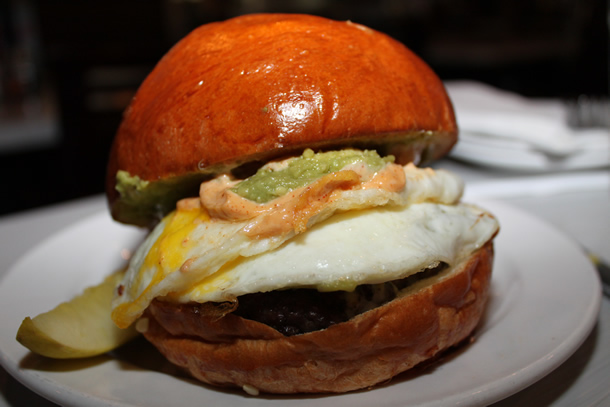 "The 50/50" burger came with an over medium fried egg, avocado mash, pepper jack cheese and chipotle mayo and served on an oversized bun (the bun was so big we did not finish it). The burger had the signature 50% bacon and 50% beef blend and was cooked to perfection (light pink color).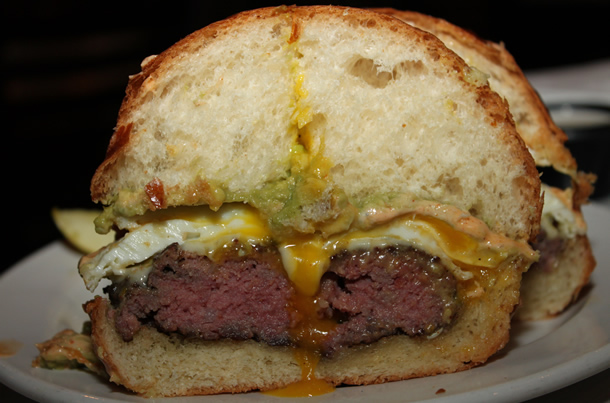 The equal bacon and beef burger blend was definitely unique and we liked the flavor. The spicy chipotle mayo also added a nice little kick to the burger. While "The 50/50" burger was good, it was different than what we expected (appealing more towards our breakfast taste buds with the egg, oversized bun and bacon/beef patty).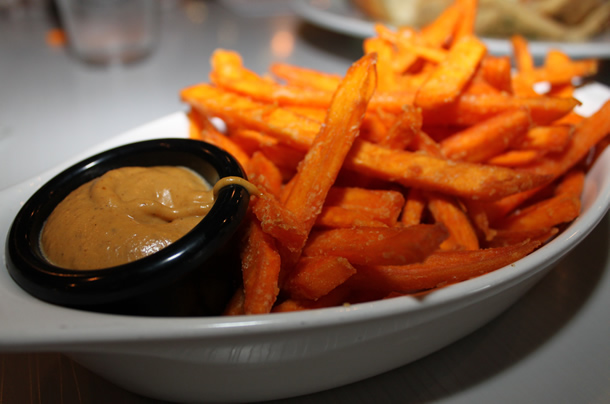 The sweet potato fries we ordered were excellent. The sweet potato fries came with a delicious pumpkin sauce for dipping and the outside of the fries had a perfect light crisp to them. These were hands-down some of the best sweet potato fries we've had.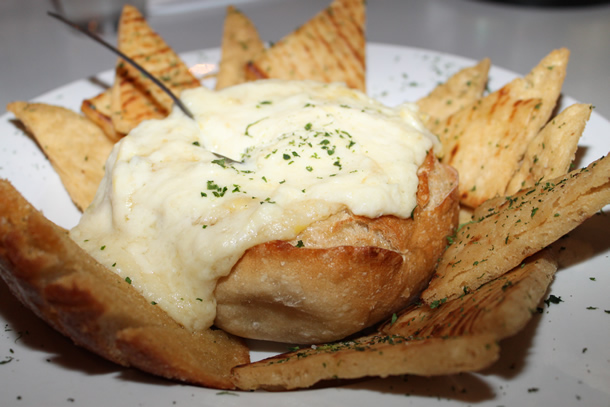 Slater's Vamp Dip was to die for (and not because of the fat or calorie content but because it was so good)! Slater's Vampire Dip came with garlic, cheese and artichoke dip served in a bread bowl with toasted garlic and pita bread. The dip was warm, thick and super tasty (hopefully you and your date don't mind garlic breath for the next 24 hours). This was one of our favorite appetizers to date!


Overall, we really enjoyed our experience at Slater's 50/50 in Anaheim Hills. Great sports-bar atmosphere, fun crowd, excellent service and amazing appetizers (we heard the shakes and beer are good too). "The 50/50" burger was good and we probably would have enjoyed it more during breakfast or brunch (with the egg, oversized bun and bacon/beef patty) and if the appetizers (sweet potato fries were amazing and the Slater's Vamp Dip were to die for) weren't so darn good! If you're in the Orange County area Slater's 50/50 is a must try – You will not be disappointed!