Top 10 Burger Spots in Orange County California
Rated by the premier food critic, Steve Carlson of FoodSmackdown.com
For interviews, for permission to use content… or for additional questions, contact steve@foodsmackdown.com

When the battle over where to eat lunch heats up, consult the food blog and expert Steve Carlson, who has Southern California buzzing. FoodSmackdown.com is the only place to get honest, good-eats advice about the best places to dine on burgers, pizzas, sandwiches, wings and food trucks. From mouthwatering photos to helpful articles rating restaurants in four areas: economics (E), atmosphere (A), taste (T) and service (S) — Food Smackdown's ranking system known as EATS — this food blog takes note of the best of the best.
After sampling nearly 100 different burger joints' best offerings, expert Steve Carlson, has created the list of top ten burger joints in Orange County California and what they're doing right to create a stand-out experience.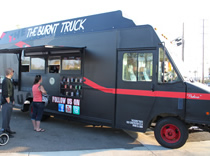 10. THE BURNT TRUCK – ORANGE COUNTY, CA. Coming in at #10 is the The Burnt Truck, an Orange County favorite among foodies and gourmet food truck fanatics. It's an on-the-go eatery that specializes in $2.50 gourmet sliders, tater tots, and yummy combos. Take a break and kick back in the parking lot with friends and family at one of their weekly OC food truck stops and eat as many sliders as it takes to fuel up. http://www.foodsmackdown.com/2011/08/the-burnt-truck-orange-county-california/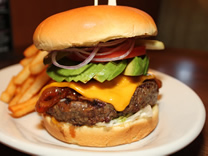 9. THE LAZY DOG CAFE – WESTMINSTER, CA. At #9, the Lazy Dog Café in Westminster is a fun stop for the whole family thanks to its warm atmosphere and cooked-to-perfection burgers. They offer the classic Lazy Dog Burger as well as a number of gastronomic delights including the Baja California Burger with roasted jalapenos and the Asian Ahi Tuna Burger. Each burger is served with the customer's choice of either coleslaw, sweet corn salad, or fries. http://www.foodsmackdown.com/2011/09/the-lazy-dog-cafe-westminster-california/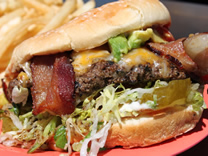 8. PETER'S GOURMADE GRILL – TUSTIN, CA. Next is Peter's Gourmade Grill in Tustin offers gourmet burgers without gourmet prices. This fun mom-and-pop shop is located in a Valero Gas Station but is far from the heat lamp, junk food stops found on the highways. Thanks to their flavorful burgers they've been named one of O.C.'s twenty five best restaurants of 2010 and come in at #8 on the list. http://www.foodsmackdown.com/2011/06/peters-gourmade-grill-tustin-california/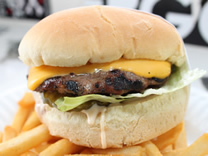 7. TK BURGERS – HUNTINGTON BEACH, CA. For a quick and delicious burger that won't break the bank, #7 on the list, TK Burger in Mission Viejo, Huntington Beach, or Costa Mesa is sure to please. Their fresh burgers are prepared with meat delivered daily and showcased on custom baked buns. Relax in their surf themed dining area while munching on a cheeseburger paired with their perfectly crispy fries special for only $5.59. http://www.foodsmackdown.com/2011/09/tk-burgers-huntington-beach-california/
6. THE VEGGIE GRILL – IRVINE, CA. The Veggie Grill in Irvine takes the #6 spot and has got all the vegetarians covered with their own take on burgers. Their Vegan VG-Cheeseburger has been touted as one of the best of its kind with a wheat meat soy burger and vegan cheese that tastes and feels close to the real meat thing. Fast, friendly service and an inviting atmosphere make The Veggie Grill a safe place to take the plunge into a veggie-centric meal. http://www.foodsmackdown.com/2011/07/the-veggie-grill-burger-irvine-california/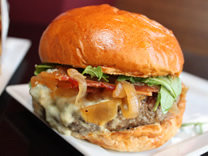 5. TWENTY FIVE DEGREES – HUNTINGTON BEACH, CA. Don't let the bordello mood at 25 Degrees confuse you. This Huntington Beach staple, rated #5 by Food Smackdown, is a high class burger bar where customers can get a truly gourmet burger paired with specialty wine, handcrafted cocktails, or adult-inspired milkshakes and sodas. Old Hollywood charm pairs well with their Number One burger topped with caramelized onions, prelibato gorgonzola, crescenza, bacon, arugula, and Thousand Island dressing. http://www.foodsmackdown.com/2011/06/25-degrees-huntington-beach-california/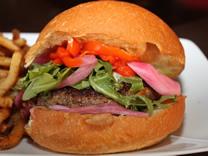 4. HAVEN GASTROPUB – ORANGE, CA. Haven Gastropub in Orange, #4, is a family friendly venue with a signature burger that's to die for. The Haven Burger may not be easy on the wallet but it's an adventure for the taste buds worth every penny. A juicy patty comes paired with pickled red onions, roasted bell peppers, wild arugula, and saint agur cheese and served with a side of delicious house-cut French fries. http://www.foodsmackdown.com/2011/07/haven-gastropub-orange-california/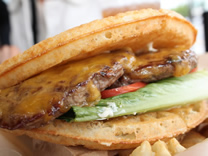 3. BRUXIE – ORANGE, CA. Taking the #3 spot, check out Bruxie in Orange and now in Brea for a unique burger and delicious desserts. This little hole-in-the-wall stop boasts a retro design and a strong love for the waffle. Choose from over a dozen sandwiches served on waffles, including their delectable waffle burger, and complete with waffle fries. Top it all off with one of their soft serve frozen custards, shakes, sundaes or floats. http://www.foodsmackdown.com/2011/06/bruxie-tustin-california/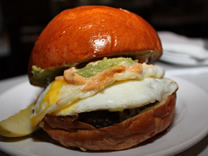 2. SLATER'S 50/50 – HUNTINGTON BEACH, CA. At #2, Slater's 50/50 in Anaheim Hills and Huntington Beach is home to Slater's 50/50, a fun sports bar stocked full of reasonably priced food and an extensive beer list of over 50 brews. Their claim to fame is the enormous Peanut Butter and Jellousy Burger and their "50/50″ burger that comes with a patty topped with a fried egg, avocado mash, pepper jack cheese, and chipotle mayo. Pair it with their incredible appetizers half off at happy hour! http://www.foodsmackdown.com/2011/12/slaters-5050-huntington-beach-california/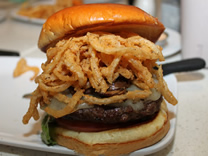 1. THE COUNTER – NEWPORT BEACH, CA. And coming in at #1…drumroll… is The Counter in Newport Beach and Irvine's very own build your own burger joint offering over 300,000 different burger combinations for a dining experience that changes every time. Relax in their hip atmosphere while picking out every ingredient from the bun to the cheese. They've also got scrumptious pre-selected burgers like their Signature Burger complete with 1/3 lb patty, cheddar, a lettuce blend, onion, pickle, and tomato. http://www.foodsmackdown.com/2011/06/the-counter-newport-beach-california/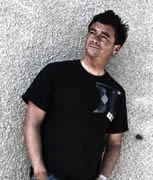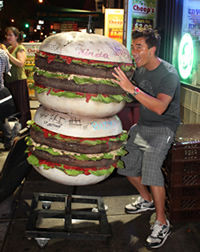 ABOUT FOOD SMACKDOWN: When the battle over where to eat lunch heats up, consult the website that has Southern California buzzing. FoodSmackdown.com is the only place to get honest, good-eats advice about the best places to dine on burgers, pizza, sandwiches, wings and food trucks. Founded by foodie, food photographer, and consultant Steve Carlson, known as a "famous food critic" by San Diego locals, Food Smackdown revolves around his personal experiences in some of the most highly recommended joints to small, hole-in-the-wall restaurants. Food Smackdown puts a wealth of delectable knowledge right at the fingertips of SoCal's populace, so there's never another dining fiasco. The site features reviews that include mouth-watering photos, directions and pricing, atmosphere and service ratings, and of course how it all adds up on the taste buds.
For additional information about Food Smackdown, or to schedule an interview with editor, writer, and foodie expert Steve Carlson, contact steve@foodsmackdown.com.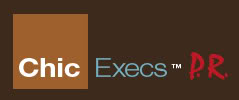 ChicExecs PR is an "out of the box" PR company which represents over 100 clients. ChicExecs has created an innovative approach to PR dedicated to helping businesses receive media coverage. Our revolutionary automated system is changing the face of PR. To learn more about ChicExecs visit www.chicexecs.com.