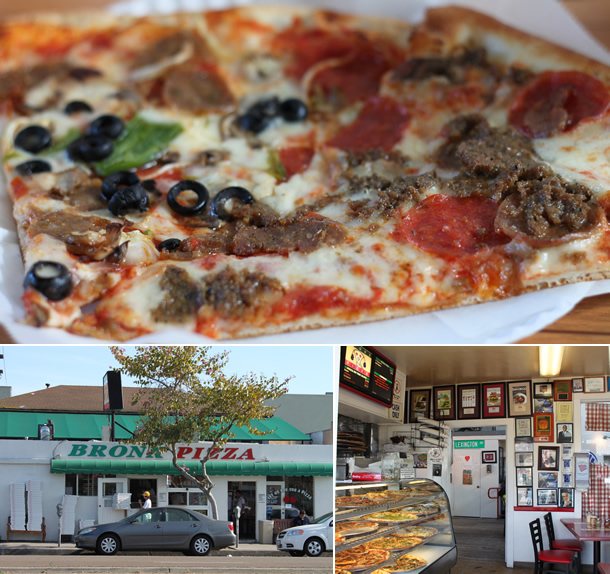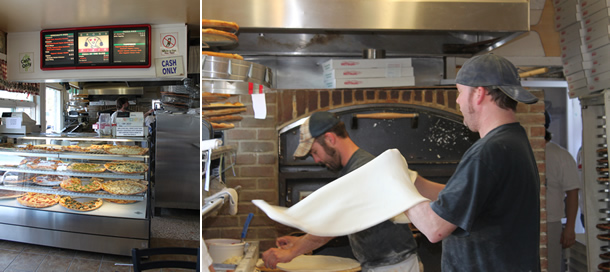 Being one of San Diego's most popular pizza place and having tons of positive reviews and several winning awards for best pizza in San Diego we had to try Bronx Pizza out to see for ourselves if this place could live up to all the hype. We had high expectations for Bronx Pizza and our experience did not disappoint! Bronx Pizza is cash only so if you visit be sure you have cash with you before ordering!


Bronx Pizza is easy to spot as it is located off the main street and typically having a line forming out the door. Parking was not the best when we visited – We parked in the neighborhood behind Bronx Pizza near a school. Upon arriving at Bronx Pizza there was a short line that we stood in but the line moved very fast. Upon entering the door we saw a large display of picture perfect pies, several best pizza awards hung on the wall and a sign that said "cash only" (good thing we planned ahead and brought cash with us). There were only a couple tables inside where you order but more seating was available in the back. Bronx Pizza had a very friendly and casual atmosphere with a lot of décor and material on the walls that had a New York vibe to it. The inside was decorated with tons of Bronx New York material including pictures of famous boxers and sports figures (mostly boxers though).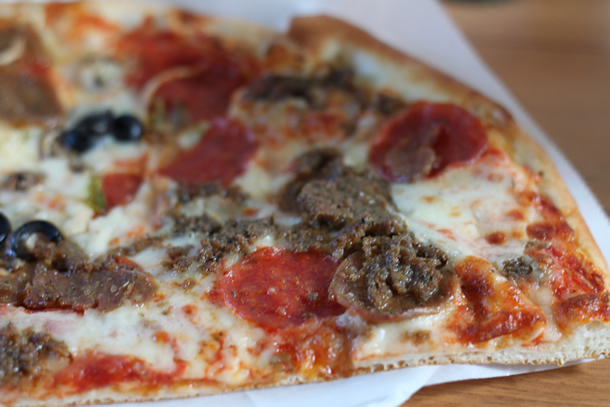 We ordered 2 slices of pizza ($5.00 total) and a refillable fountain drink ($1.00). With so many good looking pies we had a hard time deciding. But because the line was moving so quickly we played it safe and went with a slice of pepperoni pizza ($2.50) and a slice of the Bronx Deluxe pizza ($2.50). The pepperoni and sausage slice had two types of sausage. Both types of sausage tasted really good with the pepperoni.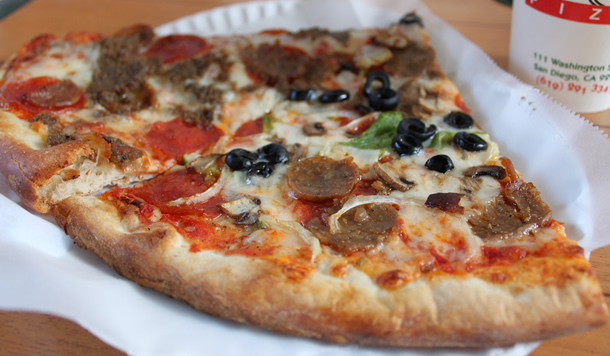 The Bronx deluxe pizza slice came with pepperoni, sausage, olives, mushrooms, green peppers and onions. It was also very good. Both slices were delicious and the crust was amazing. The New York style thin crust had the perfect light crunch to it and the pizza was cooked to perfection in a large oven. All of the toppings were fresh and very tasty too!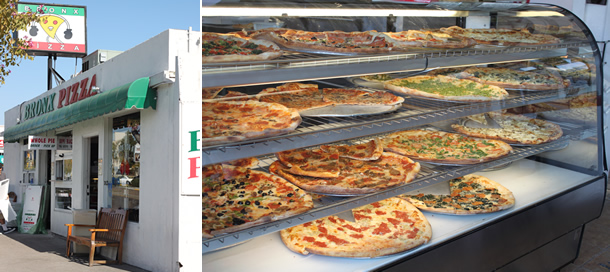 Overall Bronx Pizza had great service, a fun and relaxed atmosphere and the pizza we had was delicious! With all the positive reviews and hype surrounding this pizza place we felt there's no way this place could be that good – We found out for ourselves it actually was! One of the best tasting pizza slices we've had to date. If we're in the area we will definitely be back to grab some of those New York style pizza slices!