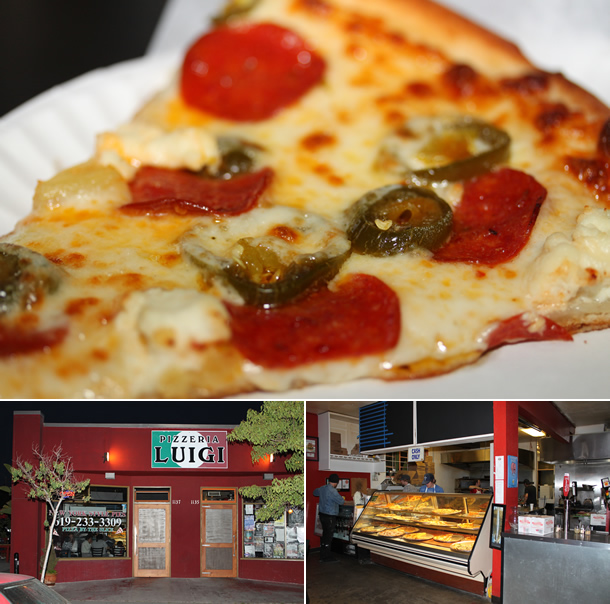 We wanted to visit Pizzeria Luigi (the North Park location), not only because Guy Fieri visited Pizza Luigi in Golden Hill in 2008 (Guy Fieri is host of Food Network's Diners, Drive-Ins and Dives), but because of all the awards, hype, and positive reviews about Pizzeria Luigi having some of the best pizza in San Diego. And our experience definitely did not disappoint! Pizzeria Luigi truly lives up to the hype and then some – The pizza slices we ordered were delicious and one of the best in San Diego we've had to date (if not the best)! Pizzeria Luigi has two San Diego locations – One in Golden Hill and one in North Park. The menu includes not only whole pizza pies and pizza by the slice but also baked items, pasta dishes, lasagna, salads and Panini's. Pizzeria is cash only!


Pizzeria Luigi was tucked into what looked like residential neighborhood and the atmosphere was fun and kicked-back and definitely had a hole-in-the-wall feel to it. The outside paint on the residential establishment was red so it's easy to spot. Inside was also red with some brick walls and few framed pictures and awards hung on the wall. Upon ordering at the cashier was a large and appealing display of pizza by the slice. There was seating outside and few tables for seating inside. We visited Pizzeria Luigi on a Friday evening around 7pm and it was busy with a constant line of new customers forming at the cashier ready to place their order.


We ordered a 2 slices of pizza – one slice of BBQ chicken ($2.75) and one slice of pepperoni, pineapple, jalapenos and ricotta cheese ($2.75).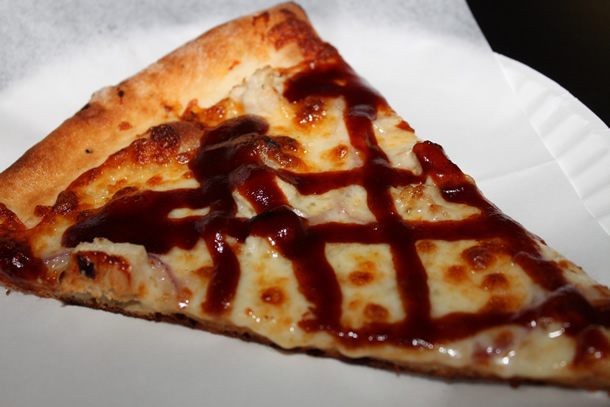 The BBQ chicken slice was delicious. The BBQ chicken pizza had chunks of chicken on it with BBQ sauce squirted on top in a crisscross pattern. The BBQ chicken pizza was super tasty with a thin New York style crust cooked to perfection with a light crisp to it. This was one of the best BBQ chicken pizza's we've had.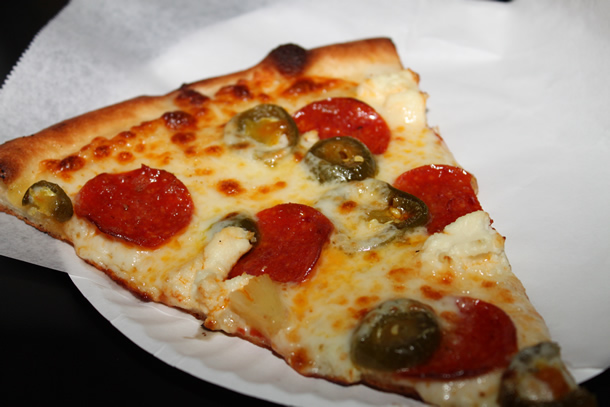 The pepperoni, pineapple, jalapeno and ricotta cheese combination was equally delicious. The ricotta cheese melted and mixed with the mozzarella cheese and added to the flavor. The toppings were fresh, tasty and a great mixture (sweet ricotta cheese and pineapple mixed with jalapeno and pepperoni). There was no sauce on this pizza but it was amazing! The crust was thinner and had a light crisp to it as well.


Overall, our visit to Pizzeria Luigi exceeded our expectations (even with all the hype surrounding it). The service was fast and the workers were super friendly. The slices of pizza we ordered were one of the best we've had in San Diego (and quite possibly the best)! The prices were reasonable, atmosphere fun, food portions were good, ingredients fresh and pizza slices we had were amazing! If you're looking for some excellent pizza we'd recommend Pizza Luigi. We'll definitely be back. Just make sure you have cash because it's a cash only establishment!