With stand-out reviews and a lot of hype about Brooklyn Boyz Pizza being the best pizza in North San Diego (and some stating this place being right in there with Bronx Pizza and Pizzeria Luigi in San Diego) we had to try it out. Brooklyn Boyz Pizza is family owned and operated and the atmosphere really made you feel like you were in New York. There are famous New York baseball player photos hanging on the wall and a cool Brooklyn Bridge art piece painted on a wall in the back. There is also a flat screen TV in the back for watching sports. There are several small tables for seating inside along with several pub chairs facing the oven where you can eat and watch the pizza being made to perfection. The service was super friendly and we could sense the pride of ownership and how new customers were important and made to feel welcome as well as the locals who came in.


Brooklyn Boyz Pizza is located in a strip mall (sandwiched between Los Tacos and Submarina) in Oceanside conveniently off the 78 freeway on Vista Way. Tucked in the strip mall it can be a little difficult to find (unless you have a GPS handy of course). A Starbucks and McDonald's are nearby (which will be a good guiding point if you get lost).


Upon visiting Brooklyn Boyz Pizza we ordered the pizza by the slice special which came with two slices of pizza and a soda ($6.50). One of the workers recommended the pepperoni slice so that's what we tried. We also tried three garlic knots (sold 3 for $2 or 6 for $3.50).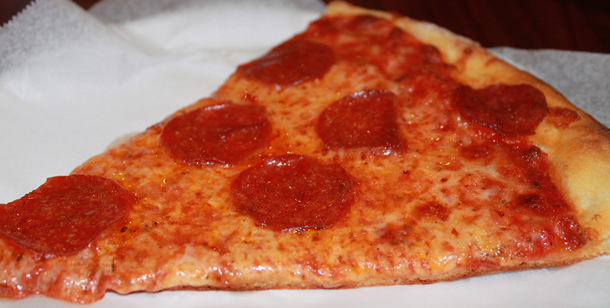 The pepperoni slices were a good size and very tasty (one of the best New York style pepperoni slices we've had so far). The traditional New York style pizza crust was thin with the perfect crisp and made to perfection. The sauce and cheese were also excellent along with our selected topping of pepperoni. The slices were premade and re-heated in the oven (which may have added to the perfect crisp of the crust).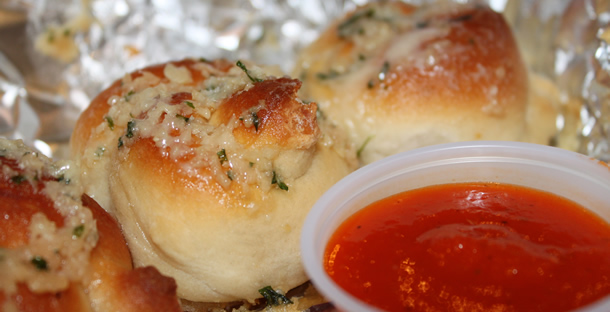 The garlic knots were pretty good (but not quite as good as our favorite garlic knots at Carmine's in Oceanside). The garlic knots at Brooklyn Boyz Pizza had real garlic on it which was good but was a little overpowering for us. If you have concerns about garlic breath for a few hours after or if you're on a date you may want to pass on the garlic knots and try them some other time when you are alone.
Brooklyn Boyz Pizza was reasonably priced. A large 18" pie (the only size pies sold) with cheese will run you $14 with additional toppings $1.75 each. They also sell pizza by the slice – cheese slice $2.25, stuffed slice $4.25, Sicilian slice $2.75, all other slices $2.75 or 2 slices of pizza and a soda (refillable) special for $6.00 (which turns out to be $6.50 after tax). There are also other menu items such as specialty pies (white pies no sauce), garlic knots, mozzarella sticks, buffalo wings, calzones, Brooklyn rolls and a few spaghetti and pasta type dishes.
Overall, we really enjoyed our Brooklyn Boyz Pizza experience. The New York style pizza we ate was delicious and made to perfection. The food was also very reasonably priced. Brooklyn Boyz Pizza had one of the best New York style pizzas (we really liked the crust) in North San Diego we've had and we can see why others ranked it as a top contender for best pizza in San Diego. We plan to return to try out an 18" pie or some of the many other pizza slice options offered.