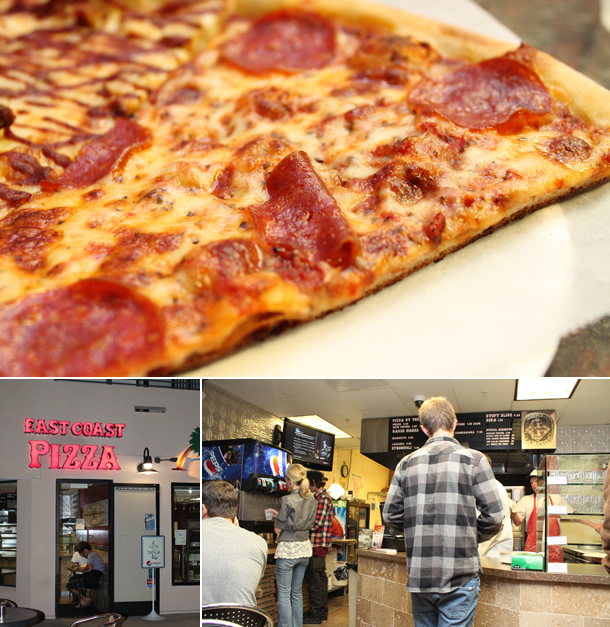 With tons of positive reviews and hype about East Coast Pizza in Cardiff by the Sea having some of the best New York Style pizza in town we had to try it out. East Coast Pizza had a cool close-to-the-beach vibe with friendly service. And the New York style pizza slices we tried were indeed good!


East Coast Pizza is located in a beach community called Cardiff by the Sea ("Cardiff") which sits between Encinitas and Solana Beach. It is unassumingly positioned (tucked away) inside a strip mall on San Elijo Avenue between Birmingham Drive and Liverpool Drive just a block or so away from the beach. There was plenty of parking available in the strip mall parking lot.

The atmosphere at East Coast Pizza in Cardiff had a distinct beach community feel to it with a lot of local (surfers and skaters) passing through who clearly knew the workers. Even though we were not locals to this community we were made to feel at home by the cool friendly staff. The inside was small (maybe three two-seater tables) but added to the hole-in-the-wall experience. The inside was very clean and had a somewhat modern feel to it (tiled floors) which one might expect with a newer strip mall establishment. There was a flat screen TV inside for watching sports and several tables outside for additional seating.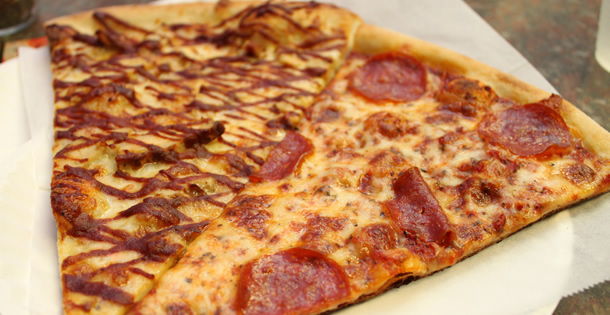 We ordered one slice of pepperoni pizza ($3) and one slice of BBQ chicken pizza ($3). For $6 (a popular special) you can get two slices of pizza and a drink.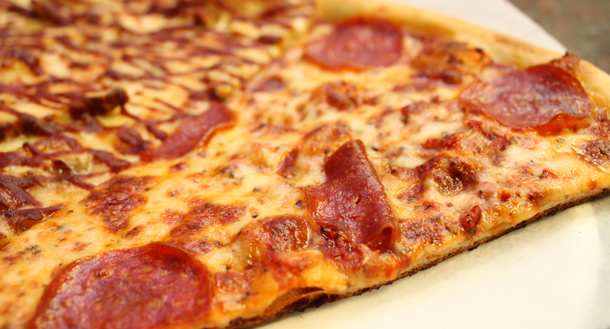 The pepperoni pizza slice was delicious. It had great flavor and wasn't as greasy as many of the other pepperoni pizza slices we've tried were. The New York style thin crust it came on was excellent and cooked to perfection.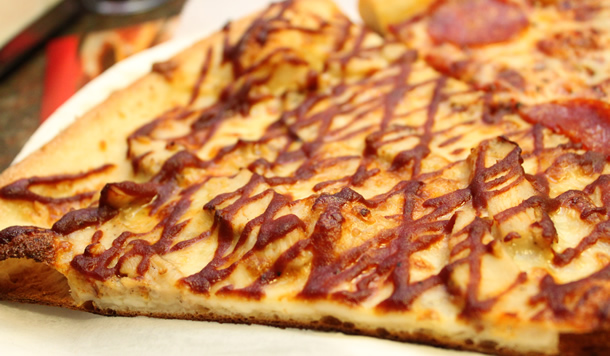 The BBQ chicken pizza came with whole milk mozzarella, marinated chicken breast on a white pie covered in sweet BBQ sauce on a yummy thin New York style crust (with the perfect light crunch to it). The marinated chicken on the pizza had a distinct flavor (almost tasted like it was marinated in Italian dressing). Overall, it was a good BBQ chicken pizza. Although both pizzas were really good, between the two pizzas we were most impressed with the pepperoni (simple yet delicious).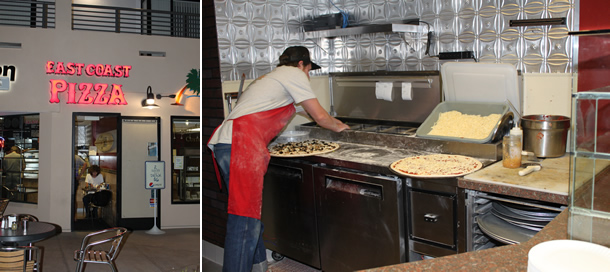 Overall, we enjoyed our East Coast Pizza in Cardiff by the Sea experience. We loved the cozy hole-in-the-wall and cool beach community vibe this place offered. The pizza slices we had were very good. The thin New York style crust was excellent (perfect light crunch to it) and the service was friendly. We can see why East Coast Pizza is a local hit!