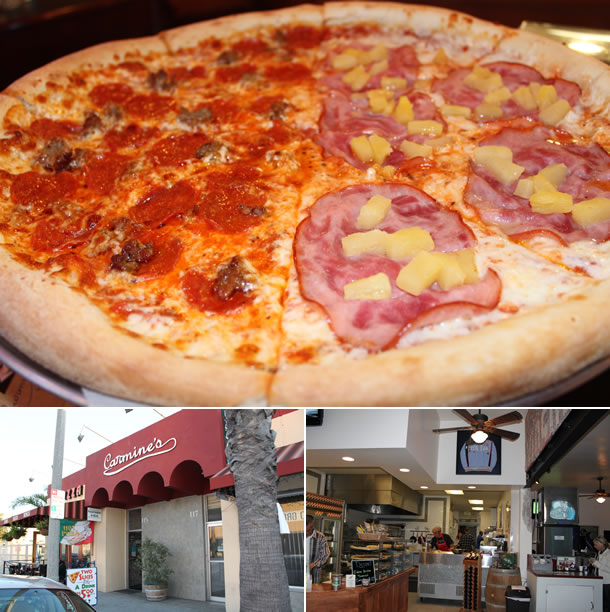 We had a great experience at Carmine's Pizza in Oceanside California. The food was excellent, good quality, fresh and very tasty. The service was super friendly and the atmosphere was fun and casual. It was also nice to meet the owner "Tony" and to see pride of product and business ownership. Carmine's menu includes not only New York Style pizzas (and specialty pies) but Panini's, pasta, salads, antipasto, hot wings and even a small dessert menu (on a chalkboard near counter where you order). Draft beer and wine is also served. Carmine's offers dine-in as well as the convenience of take-out and limited delivery.
We ordered a dine-in Family Feast ($20) special which came with a large (18") 1 topping pizza (although Yelp "Special Offer" said 2 toppings), 2 orders of garlic knots and a large house salad. The pizza came with one topping but we ordered half Hawaiian (ham and pineapple) and half pepperoni on our pizza (we were charged for 3 additional toppings even though each topping covered half the pizza). We also ordered a fountain drink ($1.50) that came with free refills and also tried the Crème Brule dessert ($4). The pizza has a New York style puffy, bread-like, outer crust tapering down to a very thin, crisp middle (hand tossed-dough) and made with the finest ingredients.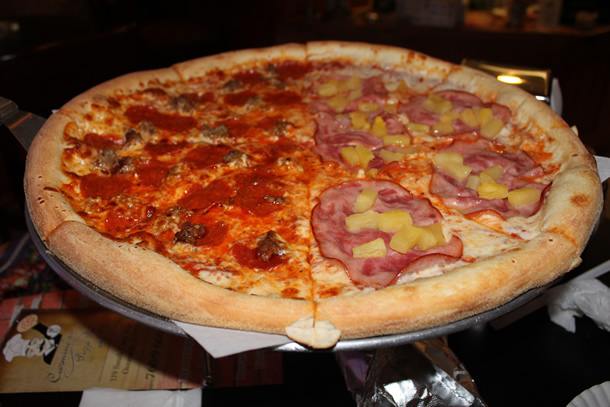 On our 18" pizza we had half Hawaiian (ham and pineapple) and half pepperoni and sausage. The toppings on our pizza (ham, pineapple, pepperoni and sausage) were all very good (especially the sausage which was the real-deal chunky Italian sausage we like). The cheese quality and sauce were also excellent. And the pizza was cooked perfectly in a large oven.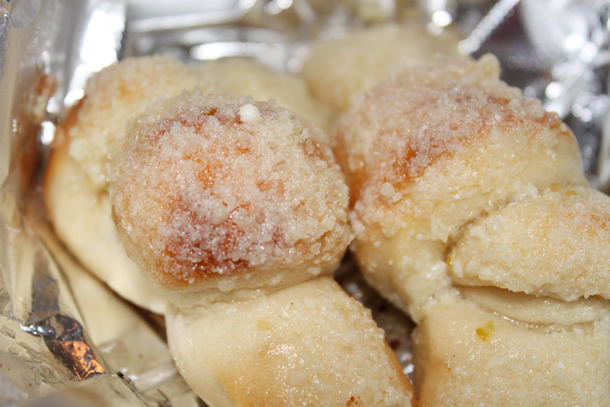 The garlic knots were some of the best we've ever had! Soft, tasty and made with home-made dough and wrapped in tin foil pockets (2 garlic knots per pocket) to keep them warm and fresh.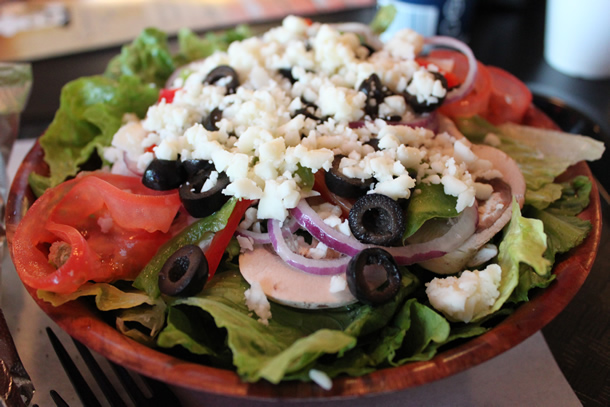 The large house salad came with a variety of fresh veggies – mushrooms, onions, green and red bell peppers, tomatoes, and olives. On the side was a delicious home-made sweet peppery vinaigrette salad dressing.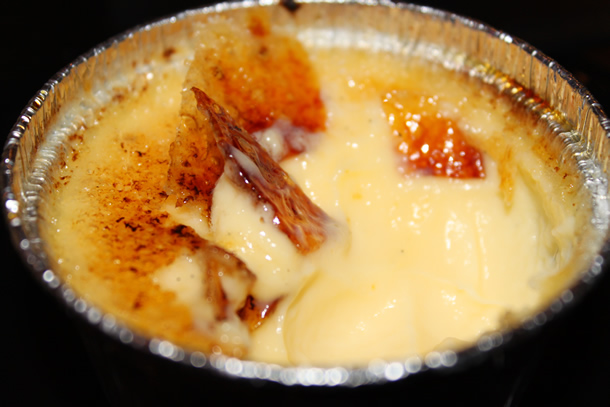 The Crème Brule dessert was delicious and made to perfection. The Crème Brule melted in our mouths and was topped with a thin, crispy, sugar shell. Who would have thought a pizza joint would serve one of the best Crème Brule's we've ever had!

Carmine's pizza in Oceanside may very well be a top contender for the best pizza joint in North County San Diego. We can't wait to go back to eat the delicious New York style pizza, amazing garlic knots, yummy sweet peppery vinaigrette salad dressing and surprisingly tasty Crème Brule! We can see why Carmine's would be a local favorite!