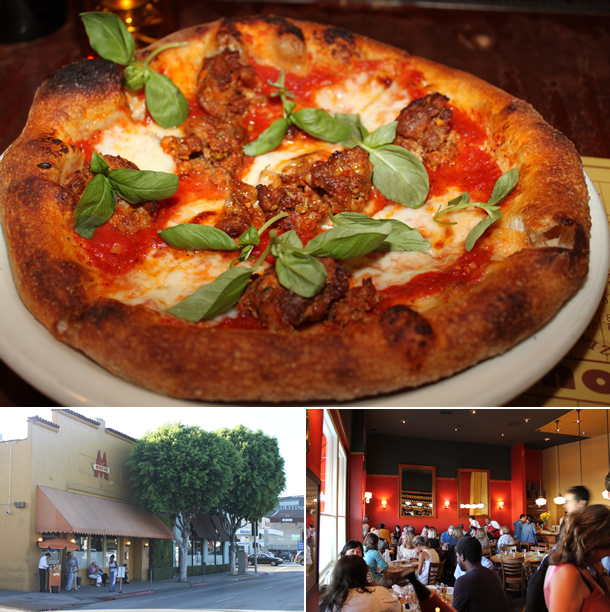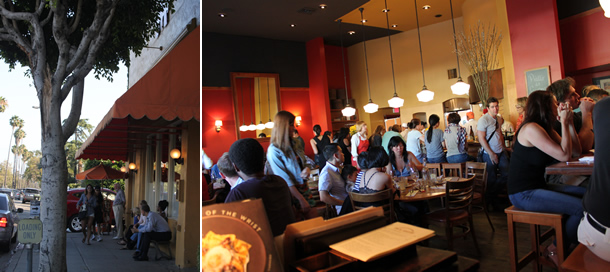 Being from San Diego we don't frequent Los Angeles Restaurants as much as we'd like. So when we head up to Los Angeles we make the most of our trip. Enter Pizzeria Mozza. We heard and read great things about this place so it was on our list of must try pizzas in Los Angeles. While Pizzeria Mozza was somewhat expensive, it was a nice treat and we enjoyed our visit.


Pizzeria Mozza is located on the corner of North Highland and Melrose Ave. The atmosphere was cool, crowded and trendy with a Hollywood vibe to it. The inside was pretty small (with tables pretty close together) and had a modern design with recessed lighting, warm colors, rustic wooden tables and chairs, a small bar area and a popular pizza bar (where you could watch pizzas being made).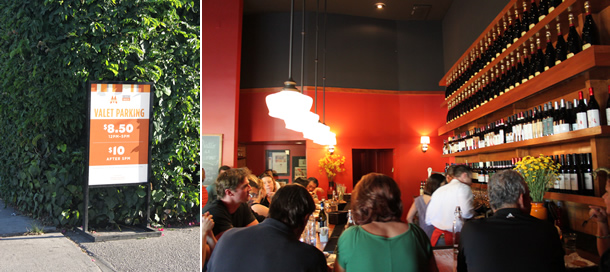 When we visited Pizzeria Mozza on a Saturday evening it was very busy. Parking options are limited to Valet Parking ($8.50-$10 depending on time) or street parking (which can fill up quickly during peak hours). We didn't want to fork over $10 for valet parking so we ended up parking in a residential neighborhood off North Highland about a block away. When we arrived we put our name in with the hostess and waited about 45 minutes to be seated at the bar. We would have preferred to sit at the popular pizza bar (for the experience) but we were running late for a show at the Hollywood Bowl so we took the first available seating.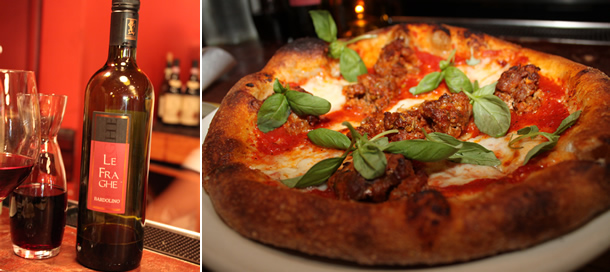 We ordered an individual Margherita Pizza ($14) and added fennel sausage to it ($6). We also had a glass of wine ($14). Our total bill was $35.89 and with tip put our bill around $43. The pizzas at Pizzeria Mozza only come in one size (a small personal size with four slices) and range in price ($14-$24 depending on choice and toppings can be added for extra upon request).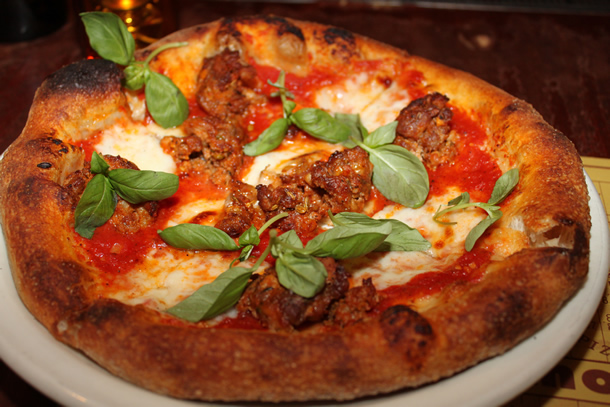 The Margherita Pizza with fennel sausage we ordered was small (individual size with four slices) but it was excellent! The Margherita pizza came with fresh mozzarella, tomato and basil (we also added the house-made fennel sausage) and was served on a fantastic crust. The outside of the crust was light and crispy and transitioned into a thin crust as it tapered towards the middle of the pizza (where it can get a little limp when picking up to eat).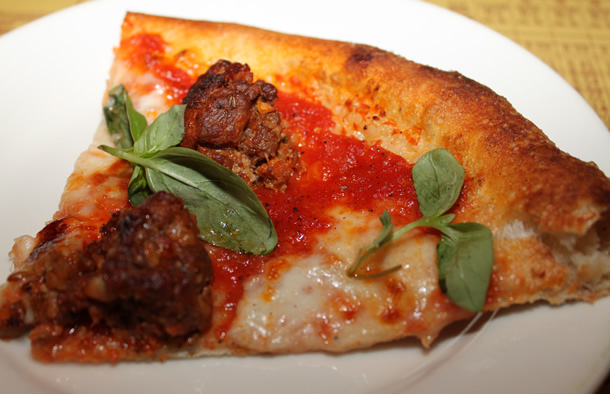 The tomato and basil toppings that came on the Margherita Pizza were fresh and tasty but we're so glad we added the house-made fennel sausage to it. The fennel sausage was to die for and a must try topping if you visit Pizzeria Mozza.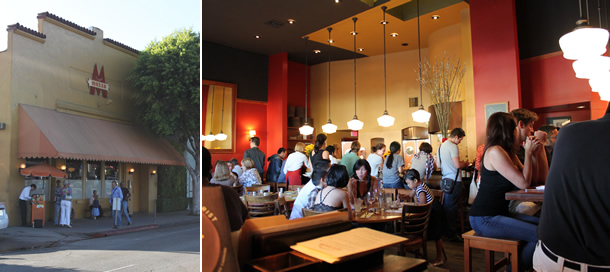 Overall, we enjoyed our visit to Pizzeria Mozza in Los Angeles. We loved the trendy Hollywood atmosphere, service and excellent pizza. It is pretty expensive for a personal pizza ($14-$17) but it makes for a great date or special occasion and definitely is worth a visit!