Food Smackdown Arranges Top OC Food Trucks for Vineyard USA National Leadership Conference 2013 – July 16-18
Food Smackdown has arranged a gourmet food truck line-up for The Vineyard USA National Leadership Conference 2013 July 16-18 at Anaheim Vineyard! Over two thousand people are expected to attend for a mix of worship, ministry, teaching and training. There will also be plenty of time to connect with each other, one of the most valued and valuable aspects of the National Leaders Conference.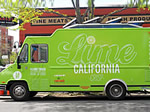 THE LIME TRUCK
Tues 7/16, Wed 7/17 & Thu 7/18
http://thelimetruck.com/
Always a hit, The Lime Truck (Season 2 Winner of Food Networks "Great Food Truck Race") will be serving their delicious short rib fries, epic quesadillas, ceviche, limeades and more.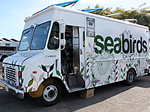 SEABIRDS TRUCK
Tues 7/16, Wed 7/17 & Thu 7/18
http://seabirdstruck.com/
Also from Season 2 of Food Networks "Great Food Truck Race", try Seabirds avacado tacos (featured on The Ellen DeGeneres Show), jackfruit tacos, gluten-free rice dish, veggie side, sweet potato fries, kale salad and more.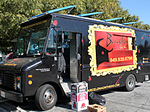 BARCELONA ON THE GO
Tues 7/16, Wed 7/17 & Thu 7/18
http://barcelonaonthego.com/
Barcelona OntheGo is a new mobile concept in Spanish cuisine. They will be serving mouthwatering Spanish cuisine with Latin influences, a grilled chicken sandwich, shrimp tacos and more.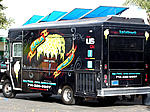 KALA TRUCK
Tues 7/16, Wed 7/17 & Thu 7/18
http://kalatruck.com/
Kala Truck is family owned and operated and offers incredible authentic and artful Mexican cuisine made from top-quality ingredients from recipes passed through generations. They will be serving tacos, burritos, sliders and more.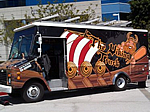 THE VIKING TRUCK
Tues 7/16, Wed 7/17 & Thu 7/18
http://www.thevikingtruck.com/
The Viking Truck is a trendy, upcoming and super popular gourmet sausage truck that can be seen roaming the streets of Orange County. They will be serving delectable gourmet corn dogs, hot dogs, tater tots and more.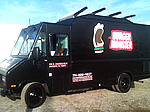 BURGER MONSTER
Tues 7/16, Wed 7/17 & Thu 7/18
http://burgermonster.net/
Burger Monster is known to be one of Orange County's most popular choices for on-the-go burgers and sliders. Burger Monster is a gourmet food truck that serves a frenzy of delicious sliders and burgers.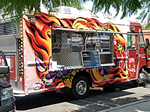 TASTING SPOON
Tues 7/16, Wed 7/17 & Thu 7/18
http://chefjoeyoukhanstastingspoon.com/
Tasting Spoon will have you drooling w/ their specialty pizzas, Tuscan garlic burger, calamari taco, calamari basket, sweet potato fries and a special quinoa veggie fonduta salad w/ baby arugula and balsamic reduction.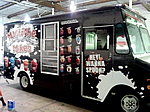 MUSTACHE MIKE'S
Tues 7/16, Wed 7/17 & Thu 7/18
http://mustachemikes.com/
Mustache Mike's will be serving their refreshing, famous, family-made Italian ice made from the finest ingredients. It's the smoothest and creamiest Italian ice available anywhere and always a crowd pleaser.
Be sure to register and save the date for the 2013 Vineyard USA National Leadership Conference. It's an event you don't want to miss!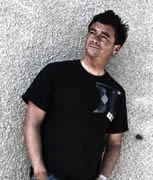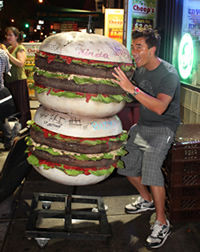 ABOUT FOOD SMACKDOWN: When the battle over where to eat lunch heats up, consult the website that has Southern California buzzing. FoodSmackdown.com is the only place to get honest, good-eats advice about the best places to dine on burgers, pizza, sandwiches, wings and food trucks. Founded by foodie, food photographer, and consultant Steve Carlson, known as a "famous food critic" by San Diego locals, Food Smackdown revolves around his personal experiences in some of the most highly recommended joints to small, hole-in-the-wall restaurants. Food Smackdown puts a wealth of delectable knowledge right at the fingertips of SoCal's populace, so there's never another dining fiasco. The site features reviews that include mouth-watering photos, directions and pricing, atmosphere and service ratings, and of course how it all adds up on the taste buds.
For additional information about Food Smackdown, or to schedule an interview with editor, writer, and foodie expert Steve Carlson, contact steve@foodsmackdown.com.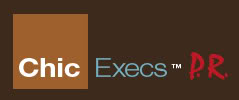 ChicExecs PR is an "out of the box" PR company which represents over 100 clients. ChicExecs has created an innovative approach to PR dedicated to helping businesses receive media coverage. Our revolutionary automated system is changing the face of PR. To learn more about ChicExecs visit www.chicexecs.com.