Food Smackdown Arranges Top NYC Food Trucks for JetBlue
Food Smackdown has arranged a gourmet food truck line-up for a private annual event in New York for JetBlue in March 2013! Over a thousand guests are expected to attend to enjoy food and desserts from some of the most popular and best gourmet food trucks in New York arranged by Food Smackdown.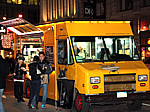 WAFELS & DINGES
New York, New York
http://wafelsanddinges.com/
Wafels & Dinges is one of the most desired trucks in NYC know for their famous and delicious wafel desserts and dinges on the side. The Liege dough is always made from scratch and a guaranteed crowd–pleaser.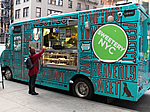 SWEETERY NYC
New York, New York
http://sweeterynyc.com/
Sweetery NYC is one of the most popular trucks in New York. The mobile bakery with a professional kitchen features European-inspired create-your-own croissants, muffins, scones, quiches, brownies and more.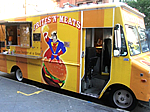 FRITES N MEATS
New York, New York
http://fritesnmeats.com/
Frites N Meats in NYC is known for their delectable high-quality burgers using the best meats, cheeses and breads all locally sourced from New York. If you haven't tried one of these burgers it's a must!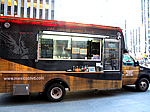 MEXICO BLVD.
New York, New York
http://mexicoblvd.com/
Mexico Blvd. brings some of the best food and culture of Mexico to the streets of New York. The menu is chock-full of authentic dishes made with unique flavors that will have you always craving for more.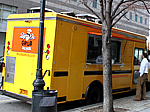 BIG D'S GRUB TRUCK
New York, New York
http://bigdsgrub.com/
Big D's Grub Truck is a crowd-favorite know for big flavors and big taste. The popular gourmet food truck in NYC is famous for their delicious Korean tacos, burritos, grinders, rice bowls and more.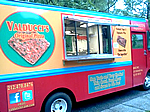 VALDUCCI'S PIZZA
New York, New York
http://valduccisoriginalpizza.com/
Valducci's Original Pizza is a popular pizza truck in New York serving tasty Sicilian-style pizzas. Valducci's offers a variety of unique toppings such as fresh ricotta cheese, fried eggplant, sliced sausage and more.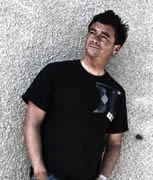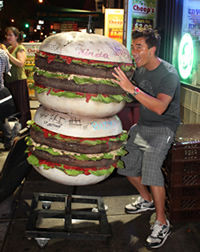 ABOUT FOOD SMACKDOWN: When the battle over where to eat lunch heats up, consult the website that has foodies buzzing. FoodSmackdown.com is the only place to get honest, good-eats advice about the best places to dine on burgers, pizza, sandwiches, wings and food trucks. Founded by foodie, food photographer, and consultant Steve Carlson, known as a "famous food critic" by San Diego locals, Food Smackdown revolves around his personal experiences in some of the most highly recommended joints to small, hole-in-the-wall restaurants. Food Smackdown puts a wealth of delectable knowledge right at your fingertips, so there's never another dining fiasco. The site features reviews that include mouth-watering photos, directions and pricing, atmosphere and service ratings, and of course how it all adds up on the taste buds.
For additional information about Food Smackdown, or to schedule an interview with editor, writer, and foodie expert Steve Carlson, contact steve@foodsmackdown.com.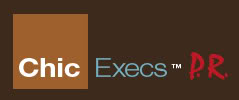 ChicExecs PR is an "out of the box" PR company which represents over 100 clients. ChicExecs has created an innovative approach to PR dedicated to helping businesses receive media coverage. Our revolutionary automated system is changing the face of PR. To learn more about ChicExecs visit www.chicexecs.com.