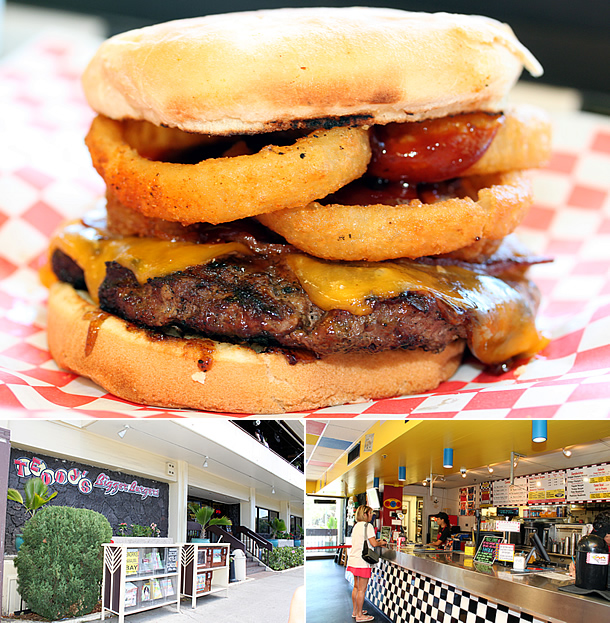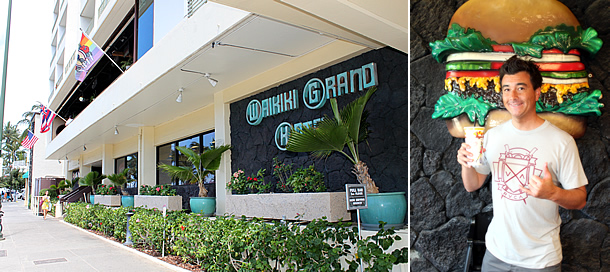 Say "Aloha" to Teddy's Bigger Burgers — A must try burger joint in the Waikiki neighborhood in Honolulu Hawaii. Teddy's Bigger Burgers began at the base of Diamond Head on Oahu in 1998 and has now expanded to 7 locations in Hawaii and one in Tokyo Japan and Washington.


The fun inside 50′s style fast-casual burger diner is high energy, a local favorite and sure to please your palate.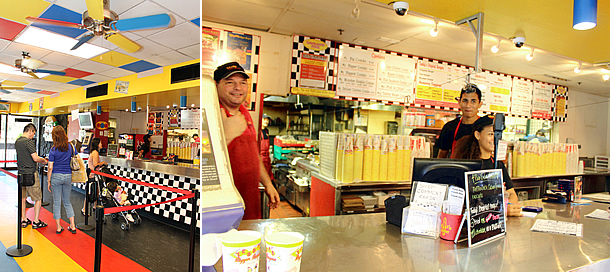 Founders and co-CEO's Ted Tsakiris and Rich Stula set out to create a restaurant that served the best quality burger in an energetic fast paced environment. And with Teddy's Bigger Burgers, they did just that — Reinventing the burger joint with a 50's theme and a simple menu of fries, shakes and lip-smacking delicious burgers!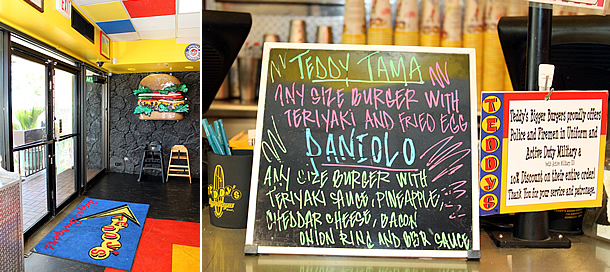 Teddy's Bigger Burgers features burgers hand formed daily using 100% ground chuck and the burgers are always charbroiled to order. Their tasty "Super Sauce" is Teddy's own sweet and tangy creation (not just the usual thousand-island dressing). Teddy's Teriyaki Sauce is a traditional recipe also made from scratch. And their produce and buns are the highest quality and are delivered fresh daily.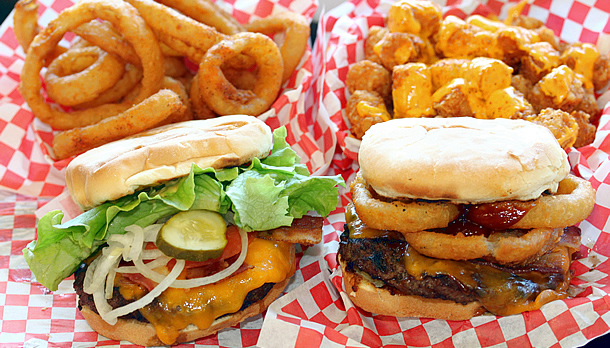 We ordered a Paniolo Burger with tater tots and a Waikiki Burger with onion rings. The burgers, tater tots and onion rings were all excellent.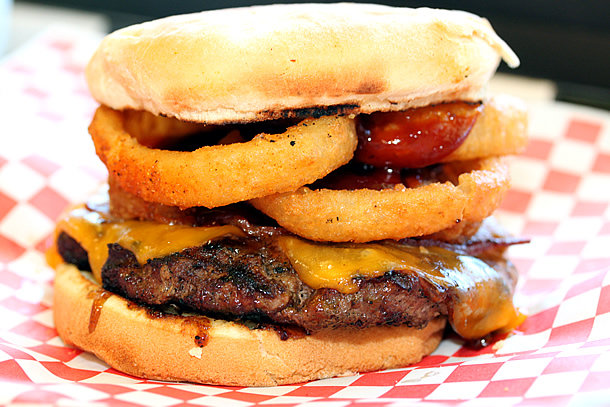 The Paniolo Burger was absolutely delicious.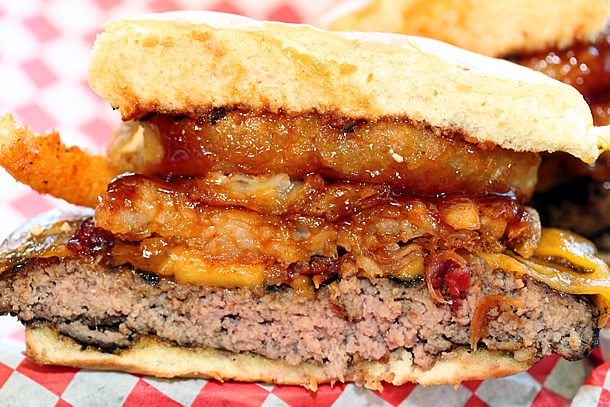 The burger was charbroiled to perfection and came with Teddy's tasty proprietary seasoning, bacon, onion rings, cheddar and Kilauea fire BBQ sauce.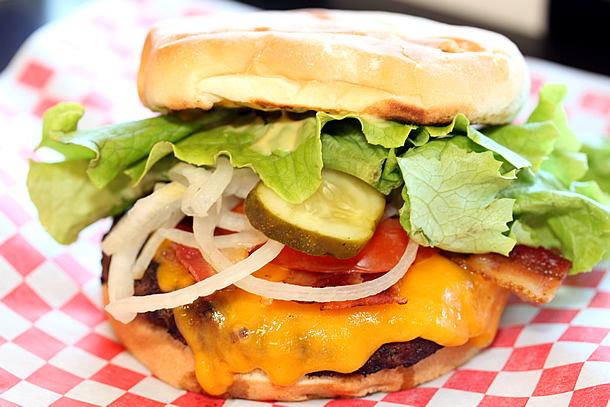 The Waikiki Burger (a store special) was packed with flavor and was also amazing. The burger came topped with lettuce, tomato, pickles, onions and Teddy's Secret Sauce (a delectable sweet and tangy mayonnaise based sauce).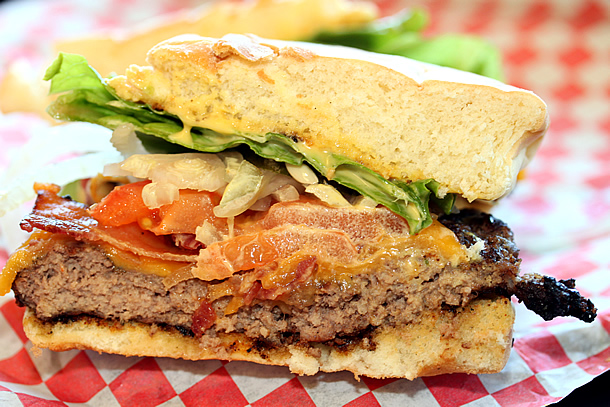 The Waikiki Burger is basted with Teddy's own house prepared Teriyaki sauce at every flip of the burger. And prior to pulling it off the grill, it is topped with cheddar, bacon and a "spud" (a classic hash brown patty).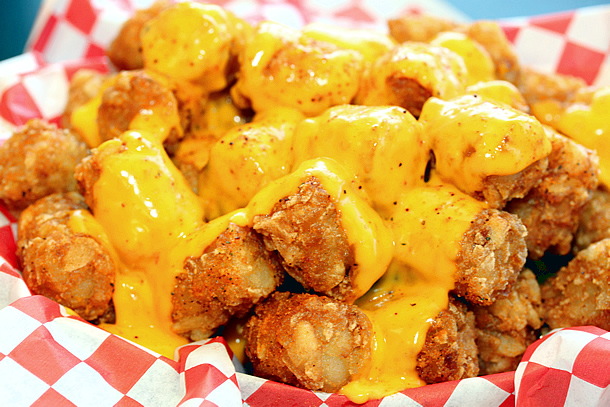 The tater tots with cheese were incredible and so addicting. The tater tots were lightly seasoned, crisp on the outside and hot and juicy in the center.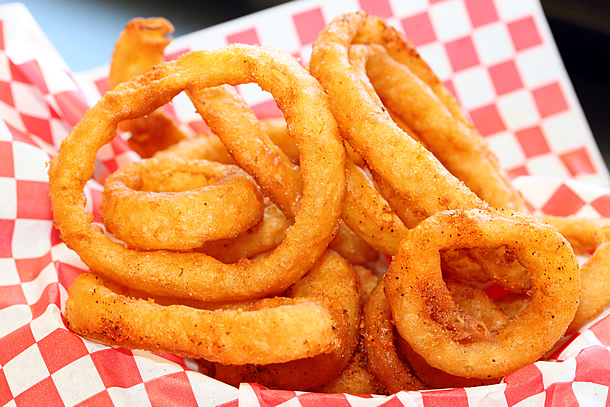 The onion rings were also delicious. The onion rings were cooked to perfection, lightly seasoned, and had a crisp outer layer of crunchiness.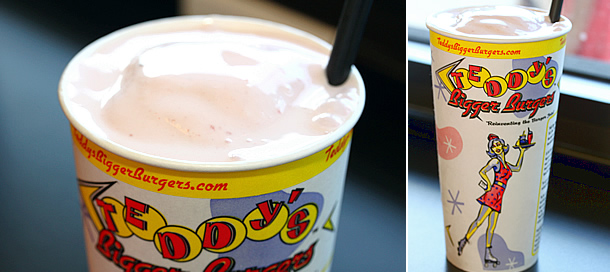 The strawberry-pineapple shake was to die for! It was the perfect Island treat. The strawberry-pineapple shake was thick, smooth, flavorful and full of delicious pieces of fruit emphasizing its freshness.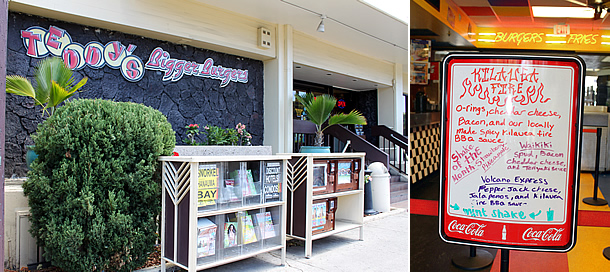 For high-quality burgers in a fun 50′s atmosphere in Waikiki, Teddy's Bigger Burgers is a must try. BIG MAHALO's to Jonathan Wendin (GM) from Waikiki store, Ted Tsakiris and Rich Stula (co-CEO's).