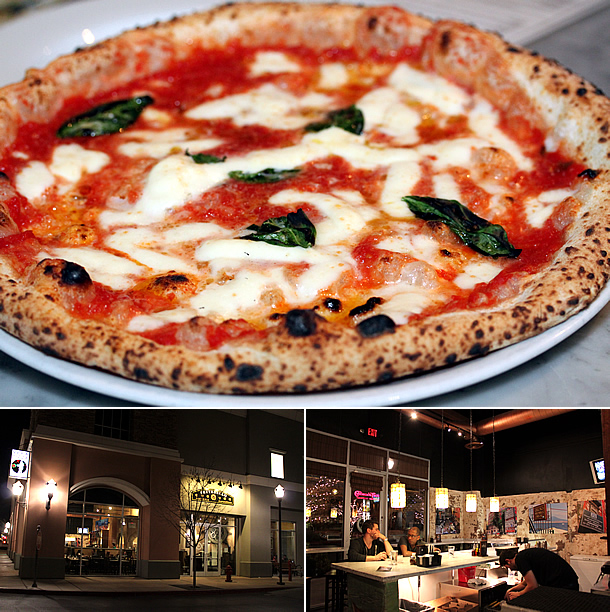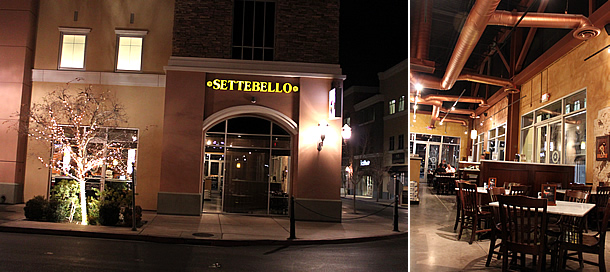 Hands-down, Settebello Pizzeria Napoletana has one of the best and most authentic Neapolitan style pizzas around. Settebello Pizzeria currently has three locations – Henderson Nevada, Salt Lake City Utah and Pasadena California. We visited Settebello Pizzeria Napoletana in Henderson Nevada about 10 miles away from the Las Vegas Strip in what looks like a new and modern shopping center off the I-215 on Green Valley Parkway. The atmosphere was fun, welcoming and visibly very popular.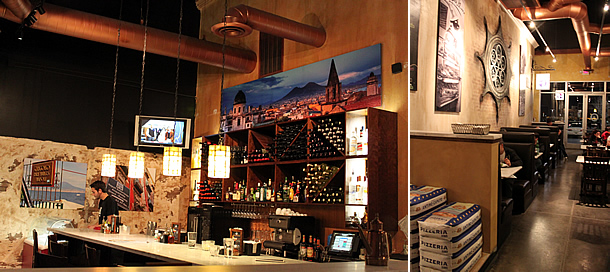 Settebello Pizzeria Napoletana is a Vera Pizza Napoletana (VPN) certified pizzeria owned by Brad Otton, former USC quarterback and Rose Bowl star. Brad created Settebello in 2005, after he and his family went to Naples to learn the art of pizza-making and after being trained as a pizzaiolo in Napoli by renowned pizzaiolo Enzo Coccia of La Notizia. Signore Coccia was one of the original founding members of the prestigious organization, Vera Pizza Napoletana (VPN).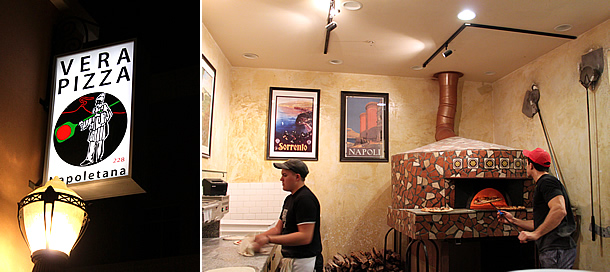 Vera Pizza Napoletana, established in 1984, was fashioned for the sole purpose of protecting the history and integrity of the Napoletana pizza making process which began in Napoli over 200 years ago. The VPN charter requires its members to only use specific raw ingredients in making pizza dough, work the dough using hands only (not a rolling pin), and the dough must be cooked directly on the surface of a wood-burning pizza oven solely fueled by wood. The charter also requires specific types of tomatoes be used (such as San Marzano tomatoes) and only the use of fresh milk or buffalo milk mozzarella is acceptable.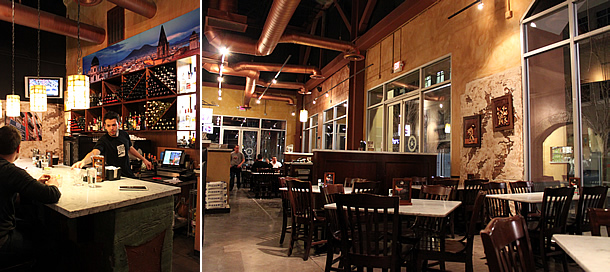 The inside of Settebello Pizzeria Napoletana we visited in Henderson Nevada had warm colors, dark trims and a very clean and modern Italian design with an industrial twist. There were large exposed pipes hanging from the ceiling, huge oversized windows and touches of Italian decor and pictures throughout. There was plenty of seating available in the main seating area at comfy dark brown padded leather booths and marble topped tables with dark wooden chairs. There was also small and cozy bar area separate from the main seating area with flat screen TV for watching sports.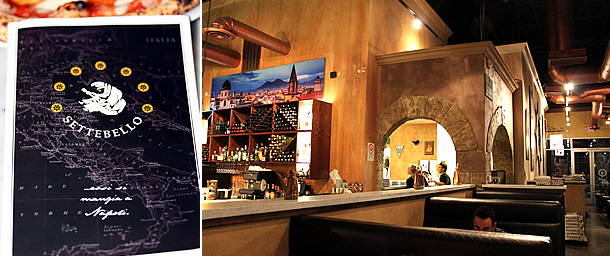 Connecting the bar area with the main seating area was a beautiful stone archway where you could watch pizzas being made and cooked to perfection in the brick made oven imported from Napoli, Italy which heats 800-950 degrees Fahrenheit (cooking pizzas in just 60-90 seconds).

In addition to the imported brick oven, other factors that make Settebello unique are their use of tomatoes, flour and cheese. The tomatoes used, usually San Marzano, are less acidity and are never mixed to create a fresh taste and dark heavy pizza sauce. The flour is imported from one of the oldest mills in Napoli, Molino Caputo. The flour made by Caputo is world renowned for its ability to make an elastic chewy crust. Only fresh mozzarella (known as fior di latte in Napoli) or buffalo mozzarella is used and most pizzas are also sprinkled with Parmigiano Reggiano or Pecarino.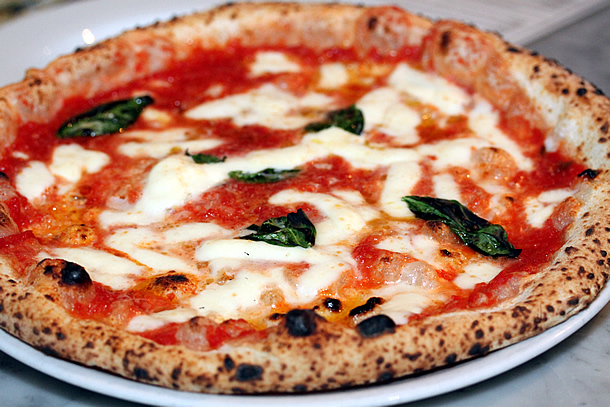 All the pizzas come in an individual size (about 12″) and are served unsliced in traditional Napoli fashion. However, if you want your pizza sliced, just ask, the servers will happily slice it for you. To fully taste the essence of Settebello's pizza, Brad Otton suggested we go simple and try the Margherita pizza – So that's what we did.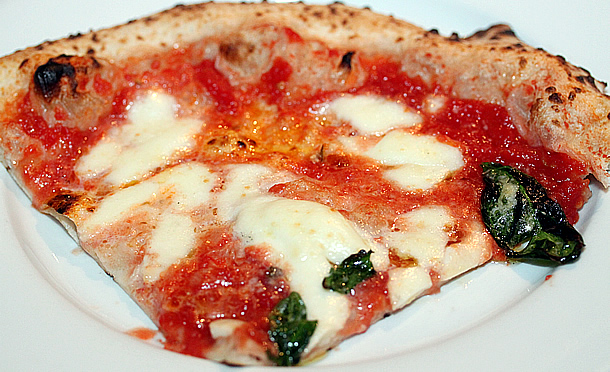 The Margherita pizza came with crushed tomatoes, mozzarella, basil, Parmigiano Reggiano and Extra Virgin Olive Oil (EVOO). The mozzarella cheese was delicious and the toppings fresh and flawlessly distributed and balanced with the dough and sauce.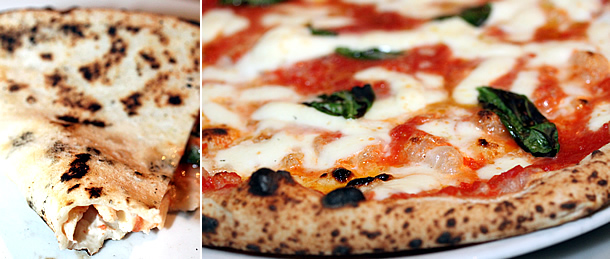 The dough was absolutely incredible. Parts of the dough were lightly charred from the fast wood-burning oven giving it a delectable smoky flavor. The dough was soft and foldable, slightly chewy and incredibly delicious.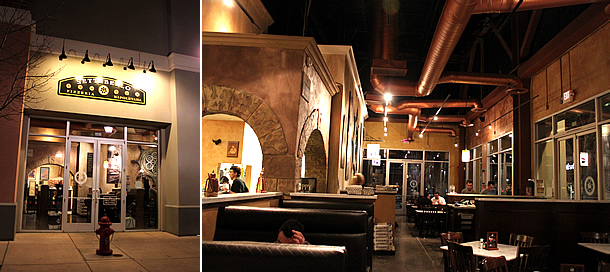 If you want to try some of the best authentic Napoli style pizza, be sure to visit Settebello Pizzeria Napoletana. You won't be disappointed. We recommend starting with the Margherita pizza to experience simple deliciousness then working your way up to other pizzas with more toppings.