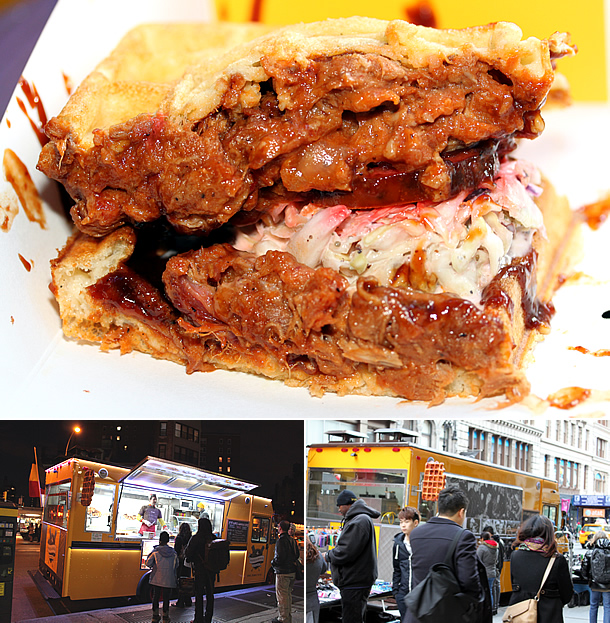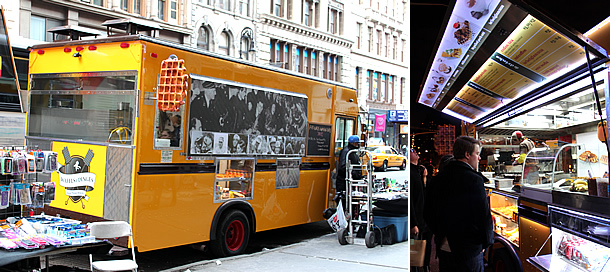 We caught up with Wafels & Dinges truck on the streets in Manhattan New York. It's one of the most popular food trucks in NYC and for good reason. The waffles are incredible and the truck staff and operation services were second to none! In 2009, Wafels & Dinges won the Vendy Award for Best Dessert, and in 2010, Thomas Degeest was the victor over Bobby Flay in a waffle Throwdown!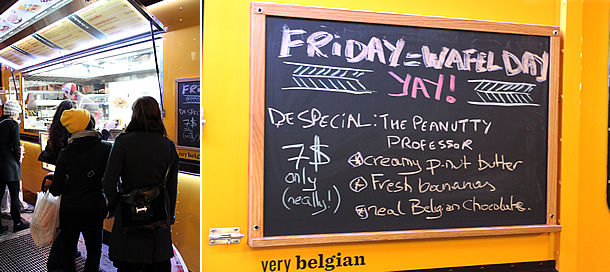 Thomas DeGeest, a Belgian native known as "the waffles guy" throughout New York, is the mastermind behind Wafels & Dinges. In 2007, he left his position as an IBM consultant to learn waffle making from the best waffle-makers in Belgian. He then brought his waffle craft to the streets helping launch the food truck craze in New York and his truck has been thriving ever since.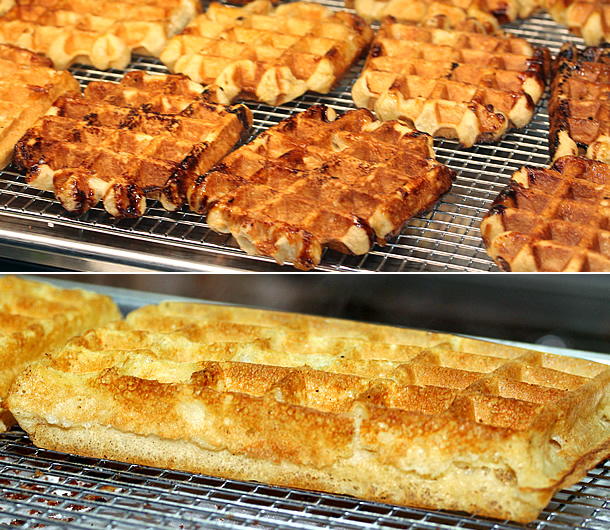 Wafel & Dinges is known for their unique and delicious waffles made fresh on the truck. The unique Liege waffle is a soft and chewy Belgian waffle with an irregular round shape. It's made with wheat based yeast sweetened dough with pearl sugar. The pearl sugar caramelizes when the dough meets the waffle iron, giving it a soft and chewy consistency with a delectable sugar coat. And the Belgian Brussels-style waffle has a light and crispy texture with a traditional rectangular shape.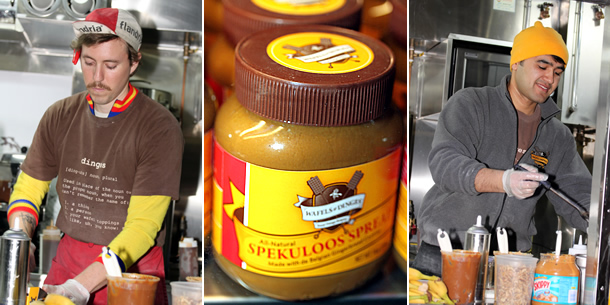 To go with the delectable waffles were plenty of great toppings (AKA Dinges) to choose from — Dulce de leche, Belgian chocolate fudge, fresh fruit, whip cream, butter and maple syrup, and the most popular, Spekuloos. Spekuloos is a spread that looks like peanut butter, but tastes like traditional Belgian gingerbread-cinnamon cookies. It's a great topping to add just the right amount of flavor to any of the waffles without overpowering it.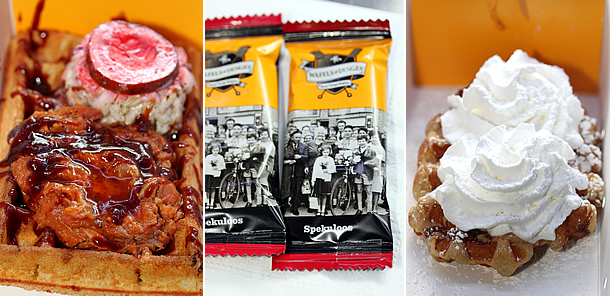 We ordered a BBQ Pulled Pork waffle and the famous de Throwdown wafel for dessert.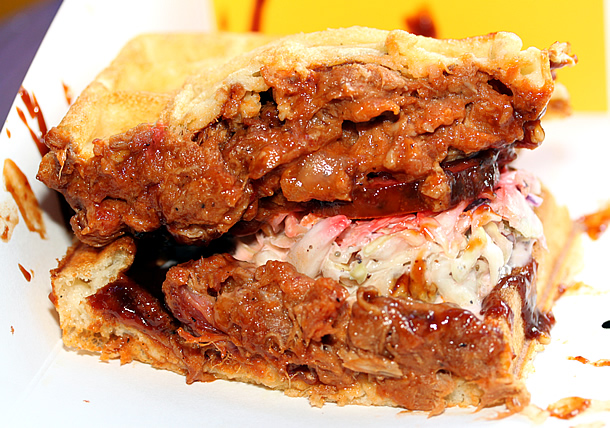 The BBQ pulled pork served on a Belgian Brussels-style waffle was mouthwatering and delicious.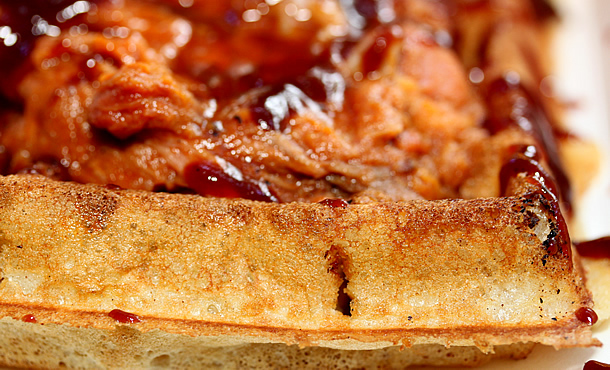 It came with coleslaw, bbq sauce and a coolickle (pickle + Kool-Aid).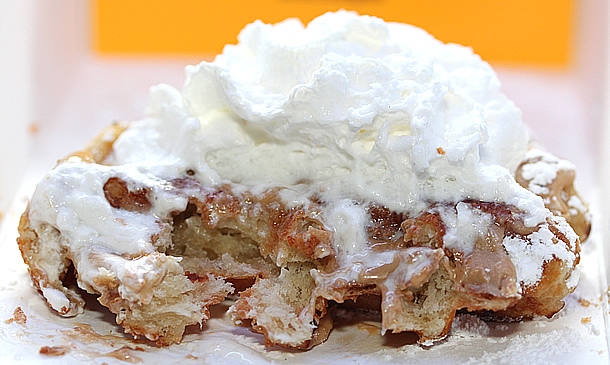 For dessert we had to try the famous de Throwdown wafel which beat Food Network's Bobby Flay in a waffle Throwdown. It was incredible and one of the best desserts we've had to date!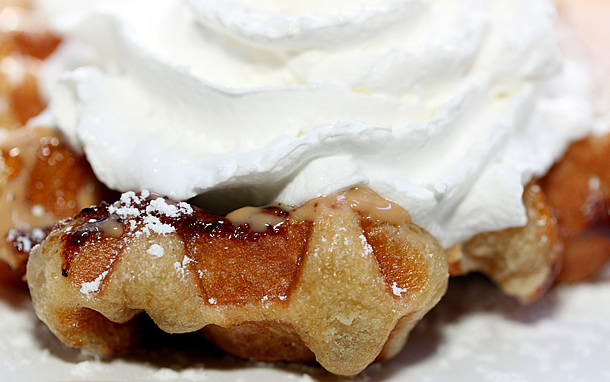 The de Throwdown wafel came with a delectable soft and chewy Liege waffle generously topped with Spekuloos (Belgian gingerbread-flavored spread) and whipped cream. It was chewy, sugary and absolutely delicious.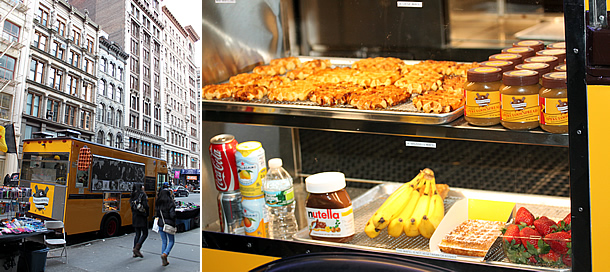 For some of the best waffles you'll ever eat, be sure to visit Wafels & Dinges in NYC. The staff is super friendly and it's very reasonable. Try their lip smacking BBQ pulled pork waffle or the de Throwdown wafel which defeated Bobby Flay in a waffle Throwdown. No matter what you order you won't be disappointed!