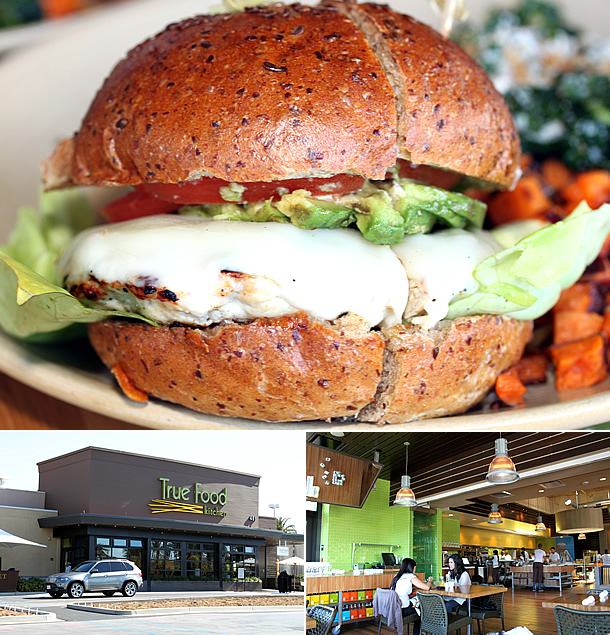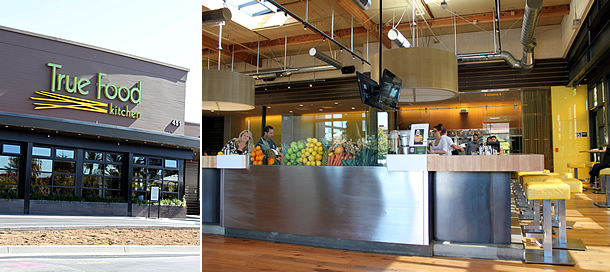 True Food Kitchen is a health-conscious, hip and trendy restaurant that believes simple, fresh, pure ingredients create the most memorable and satisfying meals. And while their healthy menu is packed with nutritious, good-for-you vegetables, whole grain and proteins, they never sacrifice flavor. We've heard great things about True Food Kitchen and were looking forward to visiting. And our experience exceeded our expectations.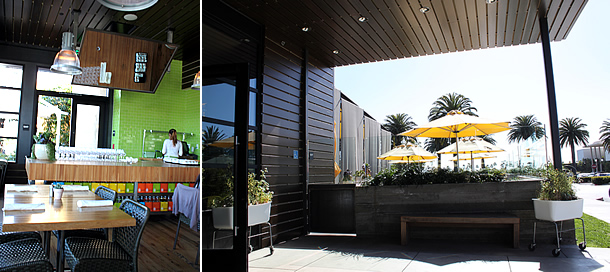 True Food Kitchen has two locations in Arizona and two in California. It is part of Fox Restaurant Concepts collection of boutique restaurants which owns and operates a chain of restaurants in Arizona, California, Colorado, Texas and Kansas. It is trendy, hip and super popular with plans to expand True Kitchen's popular brand to more locations throughout the country. Including plans to open a True Food Kitchen in San Diego this summer 2012 in Fashion Valley.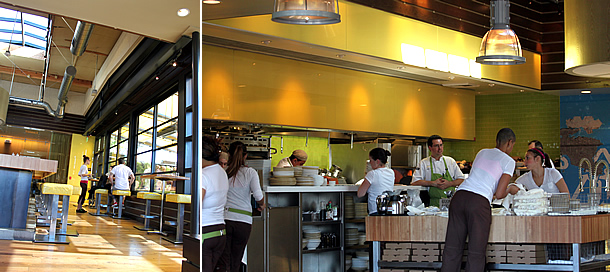 We visited True Food Kitchen in Newport Beach California in Orange County's premier coastal luxury shopping destination shopping area in Orange County. When customers walk into the posh building they are greeted by a clean and bright dining area with a modern look and feel. The inviting backdrop with environmental feel created a cheerful and relaxing atmosphere.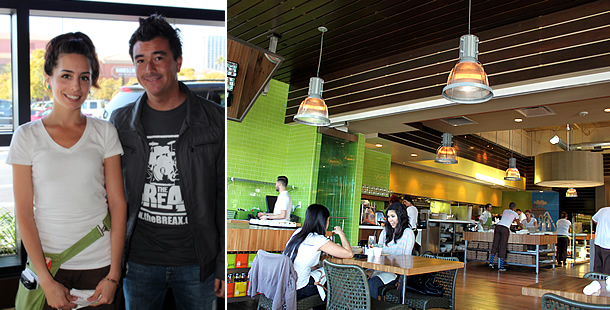 What added to our stand-out experience was the cheerful and friendly service. Our server (Casey) was one of the most attentive, friendly and sociable servers we've ever had. She took time to explain the menu, restaurant background and cheerfully checked-in often to see how we were doing.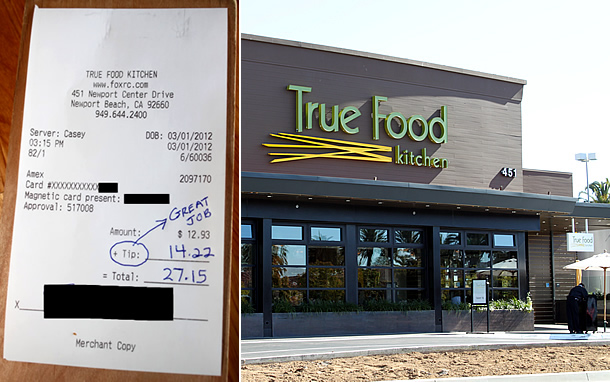 To express our appreciation of her amazing service, we left a 110% tip. With the controversy surrounding the 1% tip hoax we hoped this would set a positive tone by conveying a much different and more positive message.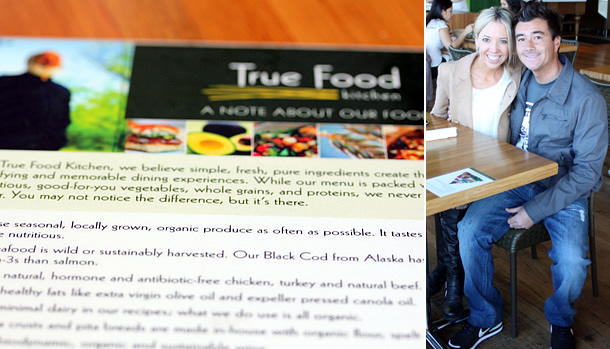 True Food Kitchen practices sustainability and uses fresh ingredients with an extensive list of vegetarian, vegan, and gluten free offerings. The dishes are influenced by Mediterranean, Asian and Californian cuisine, and include soups, appetizers, salads, pasta, rice and noodle dishes, wood grilled dishes, sandwiches and burgers, brick oven pizzas and desserts. And the entire menu is centered on the principals of Dr. Andrew Weil's Anti-Inflammatory Diet and Food Pyramid.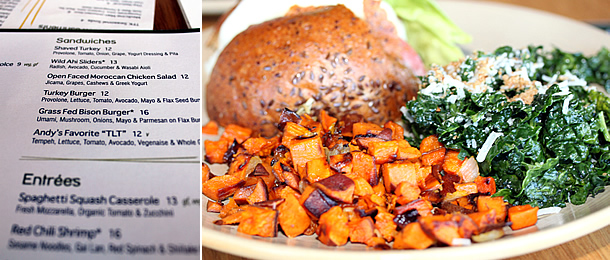 We ordered a Turkey Burger ($12) which came with a choice of a side dish (kale salad, sweet potato hash or both).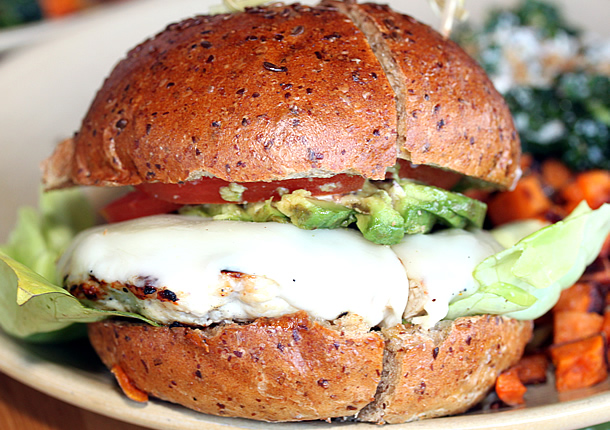 The Turkey Burger was excellent and one of the best turkey burgers we've had!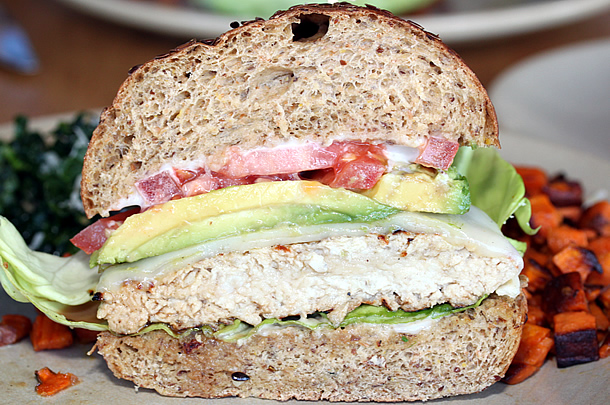 It came with melted provolone cheese, lettuce, tomato, avocado, mayo and served on a tasty flax seed bun. The burger was juicy, full of flavor and the bun tasty flax seed bun was amazing.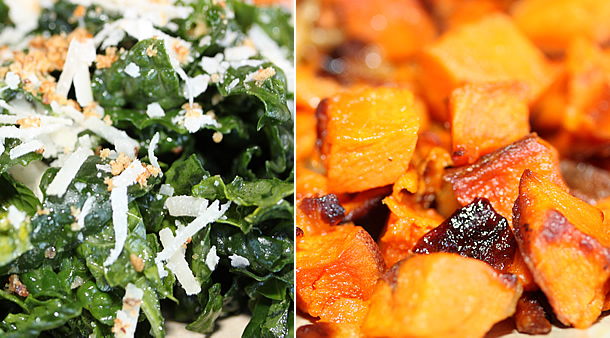 The side of kale salad and sweet potato hash were delicious, fresh and nutritious. It was nice change from the greasy and heavy fries often served with burgers. We walked out feeling full yet healthy.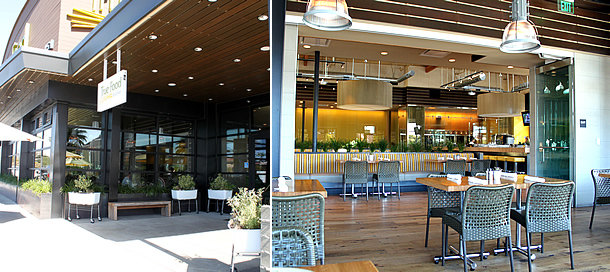 For an unforgettable dining experience at restaurant that offers delicious flavors, healthy nutrients, environmental awareness, friendly-service and an inviting atmosphere True Food Kitchen in Newport Beach California is a must try. It's the perfect atmosphere to grab a bite in while catching up with old friends or to escape the gloom of the office.