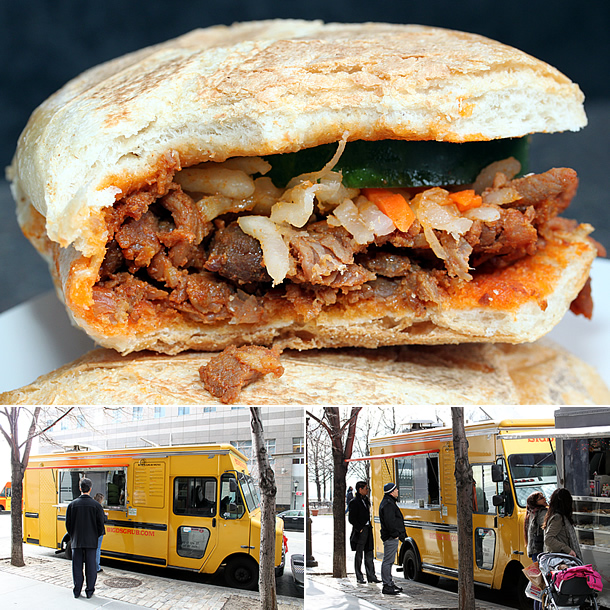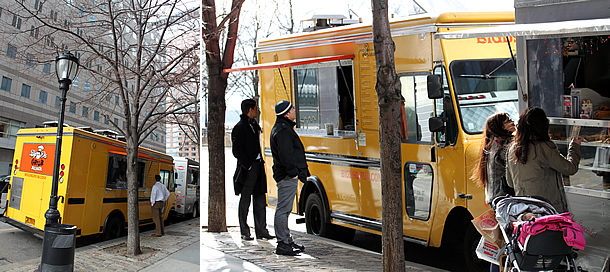 Big D's Grub Truck is a New York food truck offering a unique menu comprised of delectable Asian-style tacos, grinders (sandwiches) and more, and one of the few trucks in NYC to offer breakfast on-the-go.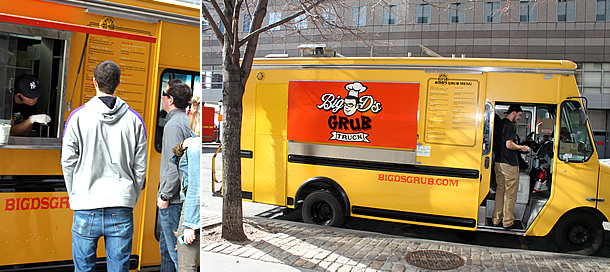 Big D's Grub Truck is owned and operated by Dennis Kum (Big D), a native New Yorker who was born and raised in Queens. Growing up in the culinary hub, his cooking-style was influenced by the community along with his family get-togethers which always had delicious and flavor infused food inspired by Guyana, the American South and China. Big D's Grub Truck was the perfect outlet for Dennis to live out his dream of sharing his passion for good eats with big flavors on the streets of New York.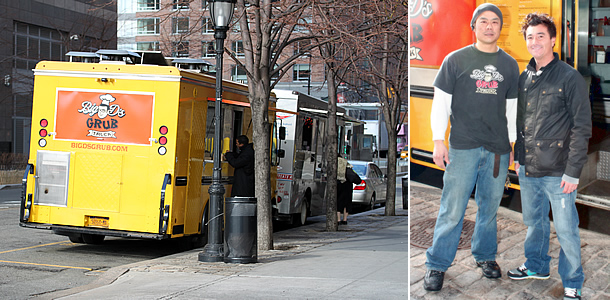 We caught up with Big D's Grub Truck on a Friday at the food truck court gathering at World Financial Center (WFC) in New York (at North End Avenue and Vesey Street). We had a chance to meet and speak with Dennis. He was super-friendly, welcoming and sociable. He filled us in on how the World Financial Center food truck court came together with the help of the New York Food Truck Association.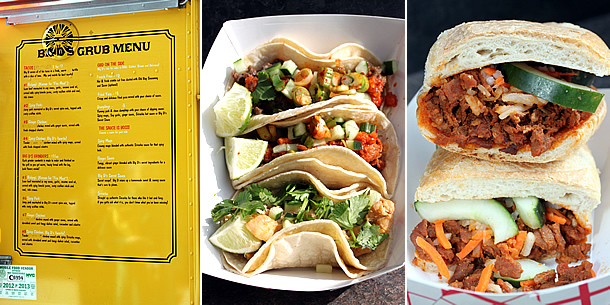 We ordered a three taco plate, a banh mi sandwich and a side of fried yuca. Everything we had was excellent.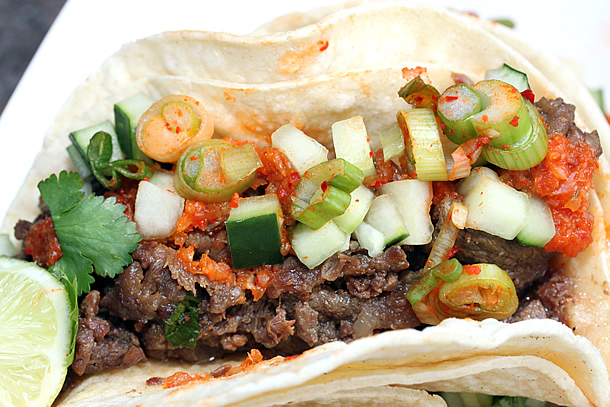 The tacos (3) with fresh warm tortillas accompanied by a slice of lime were all delicious. The tasty Bulgogi (Korean for "Fire Meat") taco came with lean beef marinated in soy sauce, garlic, sesame seed oil, served with spicy kimchi puree and zesty scallion relish.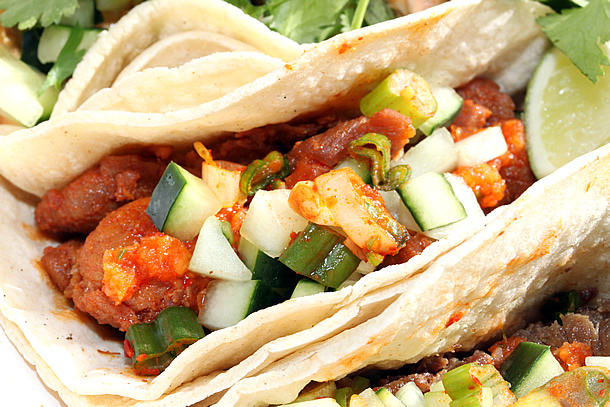 The spicy pork taco came with juicy pork marinated in Big D's secret spice mix, topped with scallion relish.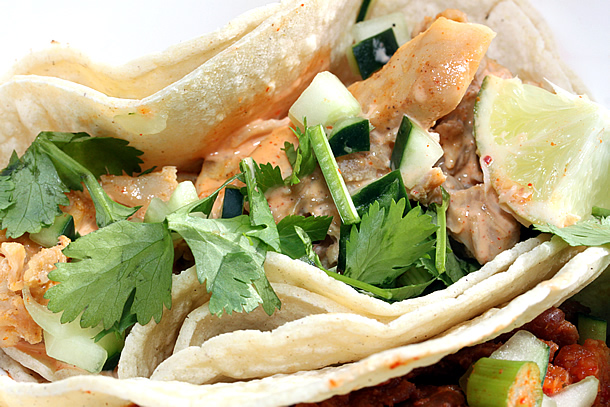 And the amazing spicy chicken taco (Big D's favorite) came with tender chicken mixed with spicy mayo, served with fresh chopped cilantro.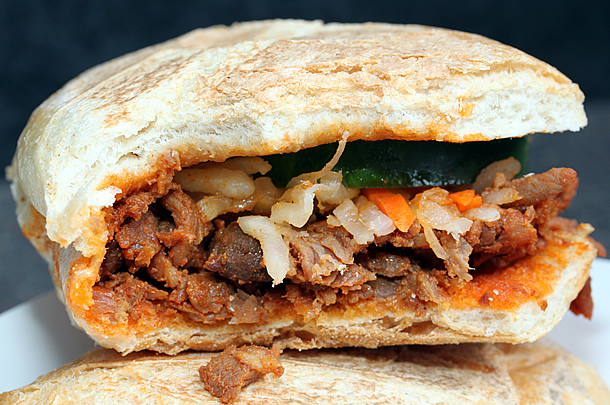 The Banh Mi Sandwich was amazing. It was made with juicy beef marinated in Korean sauce and served on fresh, warm and toasty bread and topped with daikon radish, cucumbers and cilantro.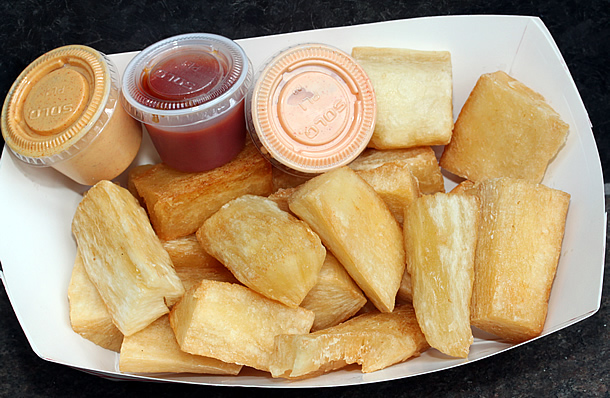 The Yuca fries were unique and delicious. And Big D's incredible blended homemade sauces (spicy mayo, fiery sriracha, and Big D's secret sweet and savory sauce) are a must try with the fries.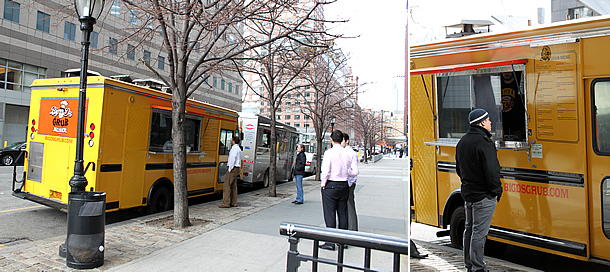 For delicious Asian-style tacos, sandwiches (grinders) or breakfast on-the-go, be sure to catch up with Big D's Grub Truck on the streets of New York. You won't be disappointed!