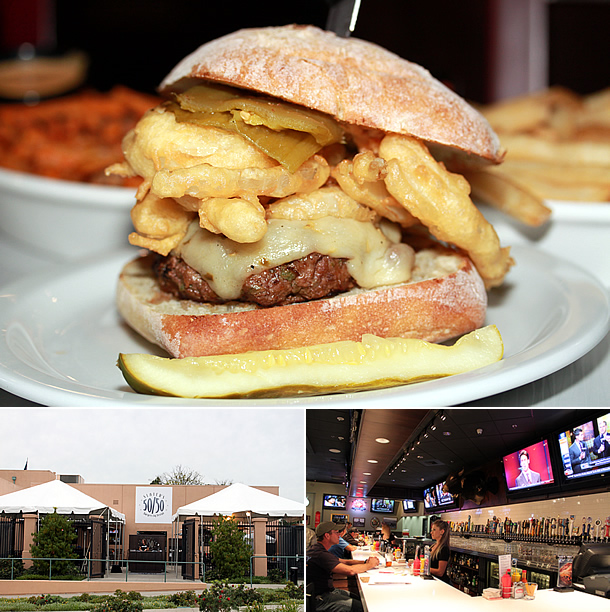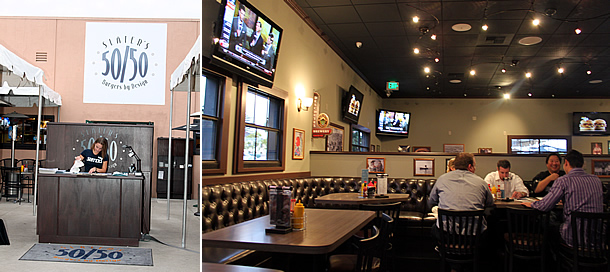 Slater's 50/50 is a sports-bar meets interactive gourmet burger dining experience with an upscale restaurant feel. Slater's 50/50 is known for its build your own burger concept and signature 50/50 burger creation (50% ground beef and 50% ground bacon). Not only does Slater's 50/50 have a huge loyal fan base, emphasizing their popularity, but they also have award winning burgers – They won Best Burger in Orange County in 2010 by OC Weekly and were even featured on Travel Channel's "Food Paradise."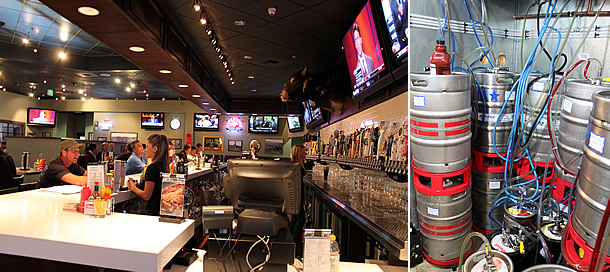 Slater's 50/50 opened its doors in Anaheim Hills (6362 E Santa Ana Canyon Road) in Orange County California in June 2009. And approximately two years later, in July 2011, they opened a second location in Huntington Beach (8082 Adams St. in Huntington Beach). Now, Scott Slater (owner of Slater's 50/50) has expanded his sports-bar and upscale gourmet burger brand, opening his third restaurant on November 1st, 2011 in Point Loma in San Diego.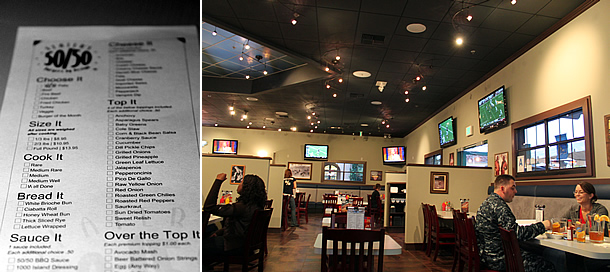 We decided to visit the recently opened Slater's 50/50 planted in an upcoming area in San Diego, Liberty Station, tucked away between Rosecrans Street and Cushing Road in Point Loma (2750 Dewey Road #193 in Point Loma). Liberty Station is evolving into one of San Diego's premier business and retail centers being home to a wide variety of hotels, restaurants, shops and high-end beauty salons.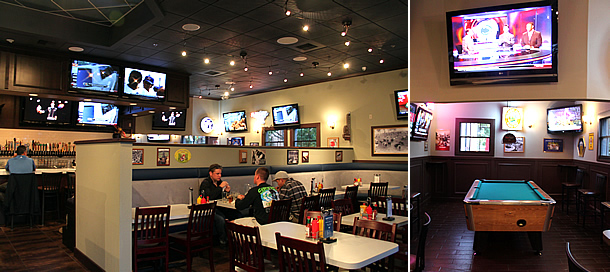 Slater's 50/50 had a fun, relaxed and contemporary environment yet was also a great place for entertainment and watching sports. There was a large sports-bar area inside with flat screens throughout and a small sectioned off area to shoot pool. And if you enjoy dining outdoors, there was plenty of seating in a heated patio area in front.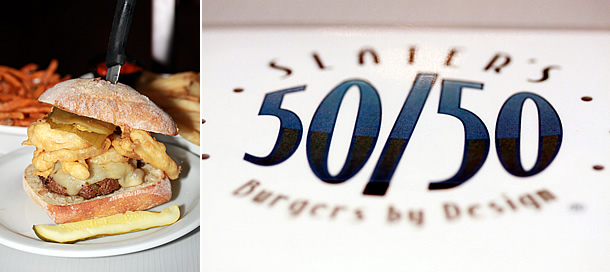 When we visited Slater's 50/50 in San Diego we ordered The Thanksgiving Burger ($9.95), The Flamin' Hot Burger ($9.95), an order of French Fries ($3.95) and an order of Sweet Potato Fries ($4.45).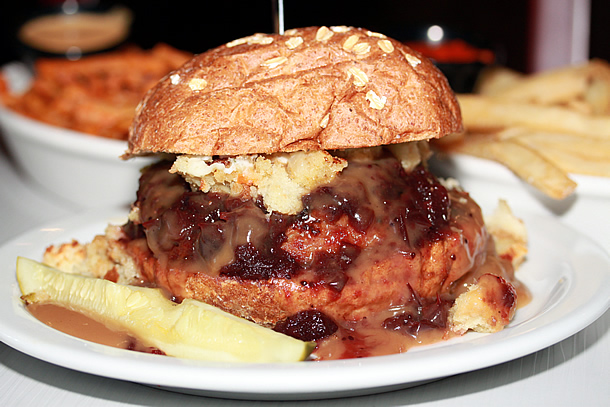 The Thanksgiving Burger was delicious. It came with a ground turkey patty with stuffing, turkey gravy, cranberry sauce and sage mayonnaise and was served on a honey wheat bun.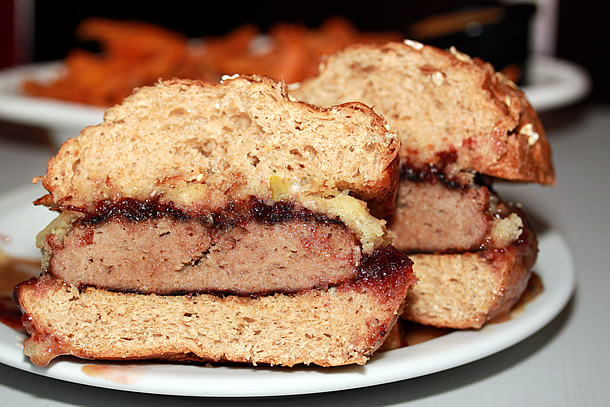 The burger was juicy, full of flavor and the perfect choice for those who want to experience Thanksgiving deliciousness any time of the year!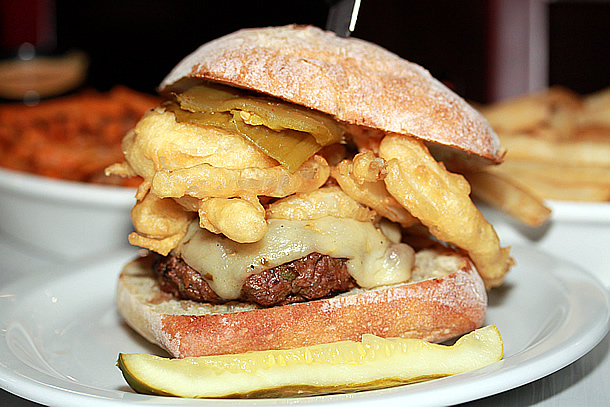 The Flamin' Hot Burger was amazing and one of our favorites. It came with Slater's signature fire beef patty, beer battered onion strings, fire roasted green chili's, pepper jack cheese and chipotle mayo and served on a ciabatta roll.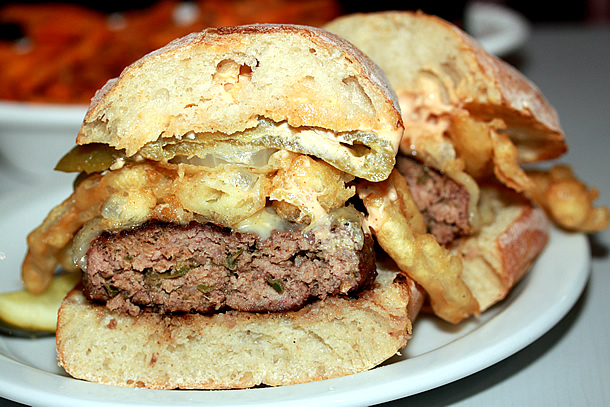 The meat was juicy and cooked to perfection. The roasted green chili and pepper jack cheese added the perfect little kick to the burger. And what put this burger over the top was the delectable beer battered onion strings and fresh ciabatta roll.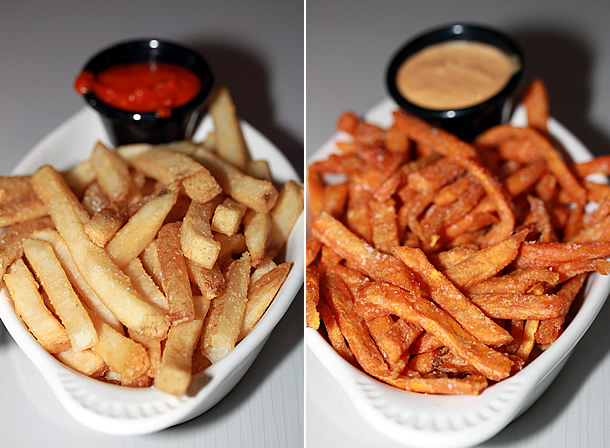 The French fries and sweet potato fries were excellent and some of the best in San Diego we've had. The French fries came with a side of Slater's bacon infused ketchup. And the sweet potato fries came with a side of delicious pumpkin sauce turning it into an instant pumpkin fries treat!

For a fun fast-casual dining experience in San Diego suitable for all ages and all occasions, Slater's 50/50 would be a great choice. Sports enthusiasts will love the sports-bar with flat screen TV's throughout the restaurant and casual diners will enjoy the fun, relaxed and contemporary environment where you sit back, relax and build your own gourmet burger!