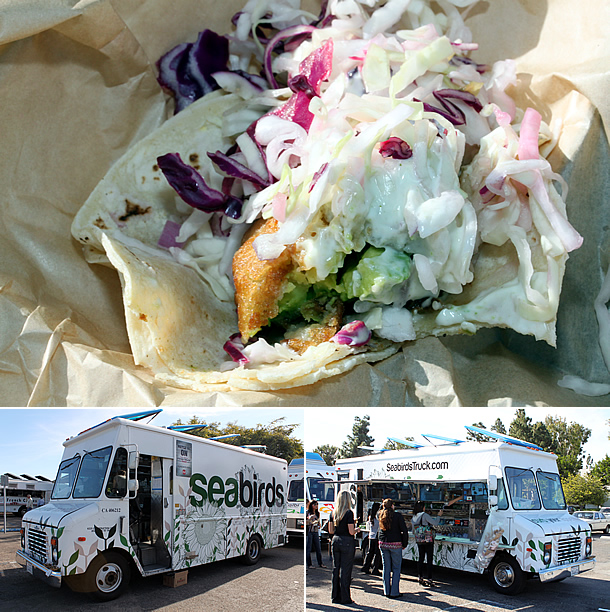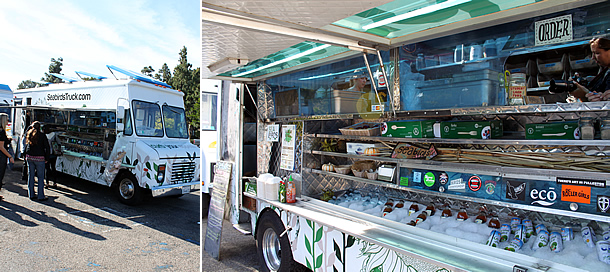 Seabirds Truck is a vegan food truck that focuses on organic products and supporting local growers and farms (such as Orange County Produce, Tanaka Farms and South Coast Farms). Seabirds is passionate about using the finest, locally grown, sustainable, organic, artisan, whole-food ingredients available. Several of the products are also gluten and/or soy free such as the Minestrone Soup, Beet and Apple Salad, Seared Brussels Sprouts with Vanilla Butter, Pecans and Pomegranate Molasses, Sweet Potato Fries, Roasted Butternut Squash and Greens over Rice, and some Organic Vegan Cupcakes.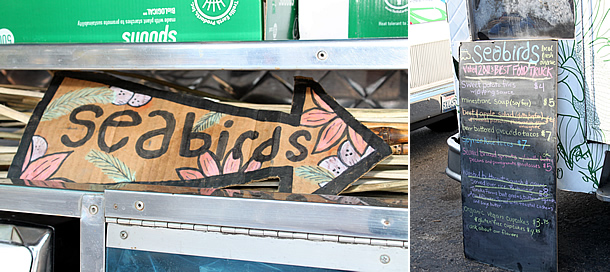 The Seabirds Truck has gained quite a bit of media attention. Nicole, Stephanie and Raya from Seabirds were contestants on Season 2 of The Great Food Truck Race and Seabirds has been featured on Good Morning America and recently The Ellen Degeneres Show (where they served the audience their delicious signature dish, Beer Battered Avocado Tacos). We caught up with Seabirds Truck at one of their weekly truck stops (Teller Lot in Irvine on Wednesday) to try their signature Beer Battered Avocado Taco.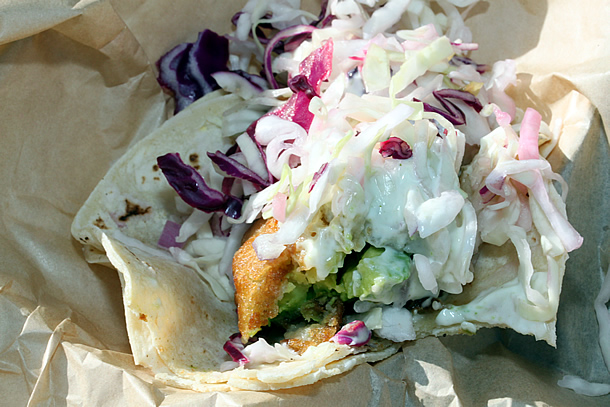 The Beer Battered Avocado Taco we had was amazing! The taco had a fried avocado wedge and was topped with creamy cilantro-jalapeño sauce and red cabbage slaw. It had a creamy inside texture with a crispy shell and was full of flavor! This would be a delicious treat for vegans and non-vegans alike.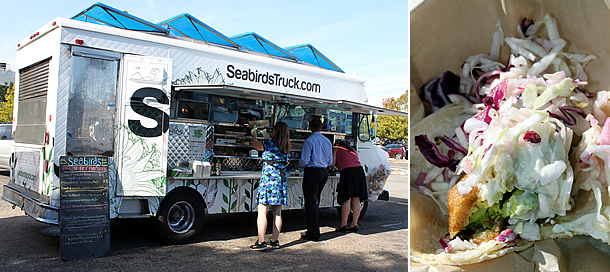 For delectable local, fresh, organic food truck fare from a 5 star vegan restaurant on wheels, Seabirds Truck in Orange County California is a must try – You won't be disappointed!