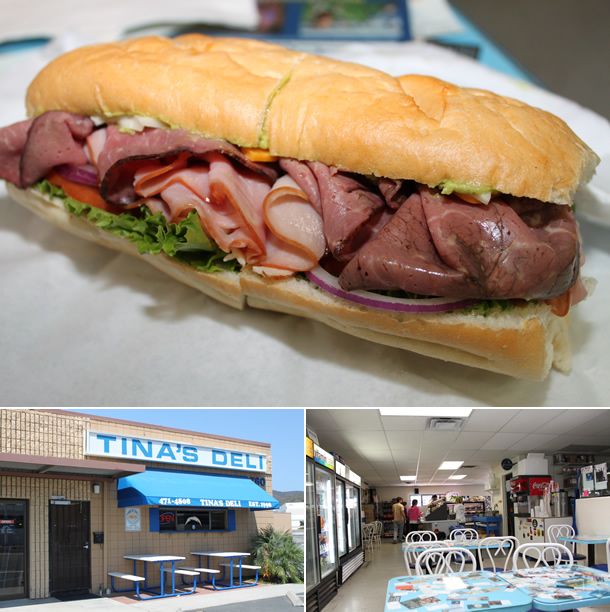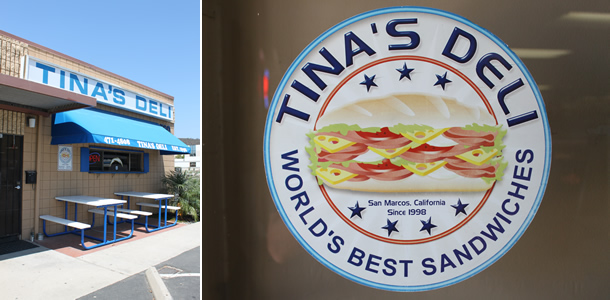 Tina's Deli is a hole-in-the-wall establishment unassumingly located off the 78 freeway (about 2 miles north) on North Twin Oaks Valley Road (at Borden Road) in the city of San Marcos. The mom-and-pop shop is located off the main street (sharing a one-level building with a glass company) in what felt like a secluded area with not much around it (just a few businesses).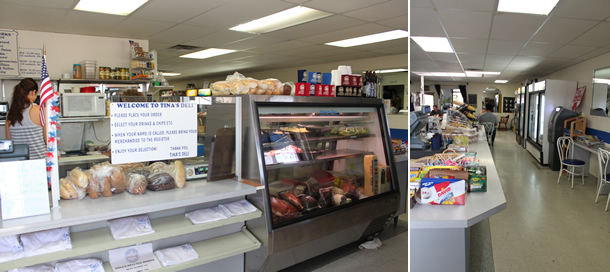 However, don't let the modest (and somewhat out-of-the-way-of-everything-else) location fool you! Tina's Deli is truly a hidden gem with one of the freshest and best deli sandwiches in North County San Diego we've had to date.


At Tina's Deli sandwiches are made to order with fresh deli meat and ingredients (build-your-own sandwich or choose one of Tina's specialties). In addition to sandwiches, the menu offers specialty soups and salads as well as a small breakfast selection (about half a dozen options served until 11am daily).


Tina's Deli also sells fresh deli meat which is on display and available for purchase at the front counter (we saw several people come in to buy deli meat). The inside had plenty of seating available which consisted mostly of table and comfy chair setups (you can even slip your business card underneath the glass covered table for free promotion of your business). And for fun or entertainment, there was even a dartboard in the back.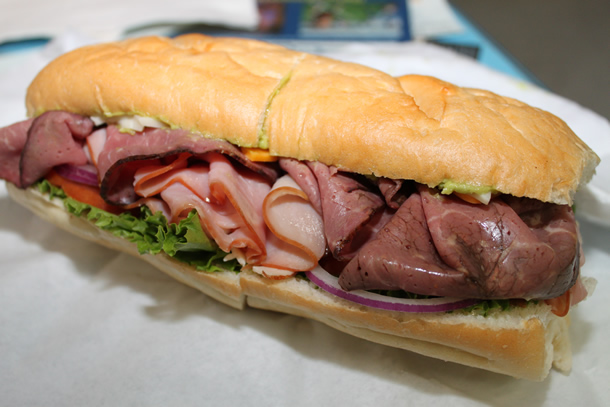 We ordered an 8-inch Ultimate Torpedo sandwich ($8.49) on the recommendation of one of the workers. The sandwich was enough for the two of us to share. And our total bill with tax was $9.15.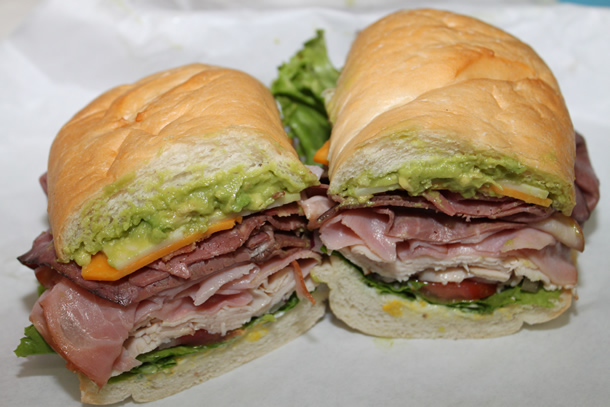 The Ultimate Torpedo Sandwich was delicious! It came with roast beef, ham, turkey, Swiss cheese, Cheddar cheese, bacon, avocado, Italian dressing and "The Works" (lettuce, tomato, onion, mustard and mayo) on a roll.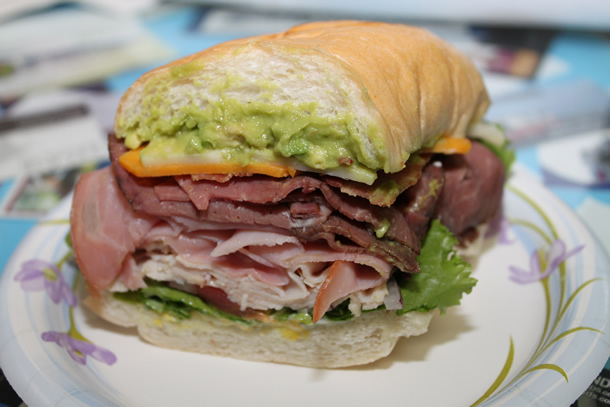 The sandwich was piled high with super fresh high-quality deli meats, cheeses and veggies. Super tasty and served on a delicious roll, The Ultimate Torpedo Sandwich was one of our favorite deli sub sandwiches in San Diego we've had to date.


Overall, our experience at Tina's Deli in San Marcos exceeded our expectations. The Ultimate Torpedo Sandwich was to die for and although not cheap worth every penny. Splitting the sandwich (less than $5 each) was enough for the two of us and justified the cost. For delicious sandwiches made to order, Tina's Deli will not disappoint!