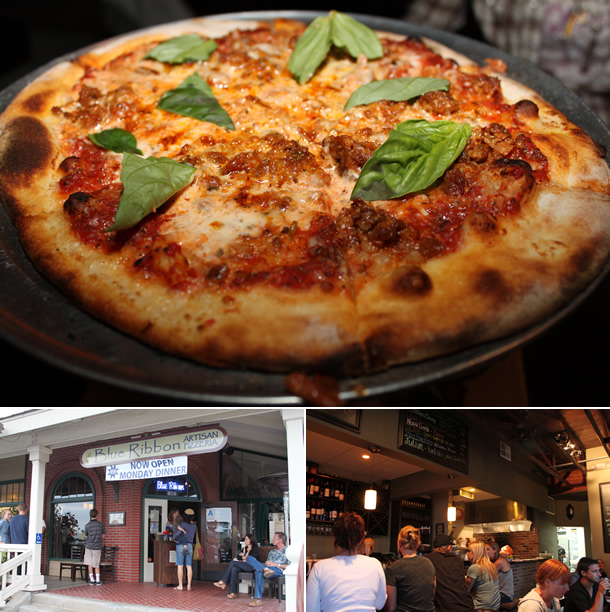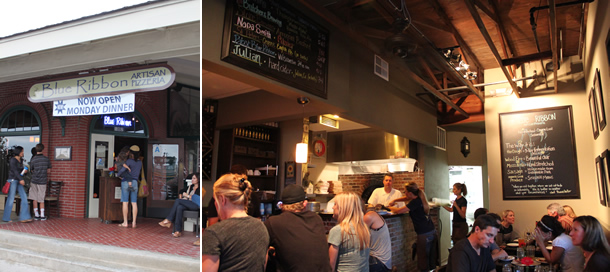 We visited Blue Ribbon Artisan Pizzeria in Encinitas once before to try My Father's Pizza. It was amazing and one of the best pizzas in San Diego we've had. Based on our exceptional experience we had to go back and try another pizza. This time we tried Staff's Favorite Pizza. Once again we were amazed!


Blue Ribbon Artisan Pizzeria is located in the Lumberyard Shopping Center on South Coast Highway in Encinitas. The establishment has been open since June 2010 (owned and operated by husband-and-wife team Wade and Kristi Hageman). The pizzas are made from dough that goes through a three day fermentation process and are overseen and cooked to perfection in an authentic wood burning oven by Wade.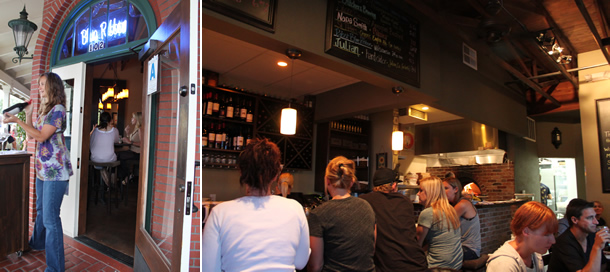 The atmosphere at Blue Ribbon Artisan Pizzeria was fun and relaxed with dim lighting that created a romantic setting. The inside was well-designed, comfy and elegant with a menu that gave you the feeling of fine-dining but without the high cost.


We ordered a "Staff's Favorite" traditional wood fired Artisan pizza ($15.00) and a baby greens with peaches salad appetizer ($9). We also splurged and tried the butterscotch pudding dessert.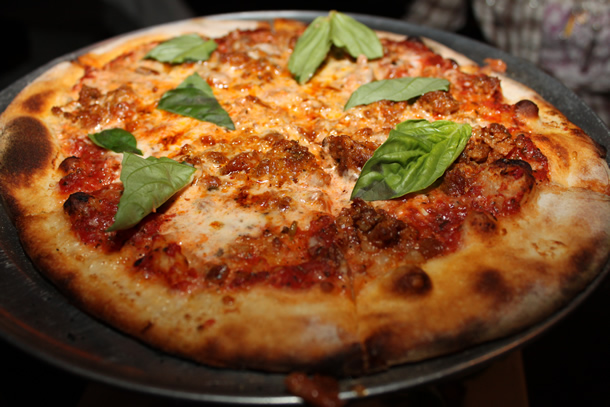 The Staff's Favorite pizza (approximately six slices) came with tomato sauce, fennel sausage, heavy cream, Parmigiano Reggiano and basil.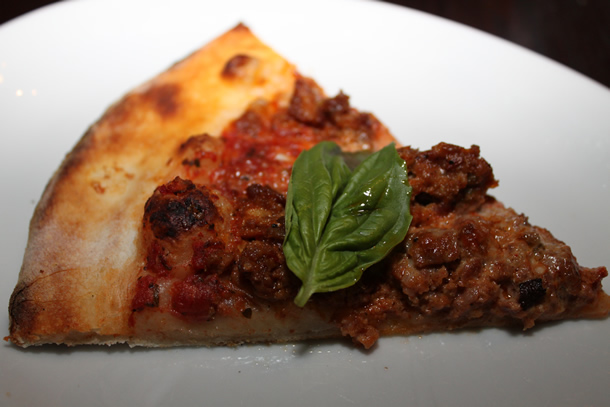 The pizza was cooked to perfection (by owner Wade) in an authentic wood oven. The crust had an amazing light crisp to it. The fennel sausage was outstanding and the heavy cream sauce was unique, creamy and delicious.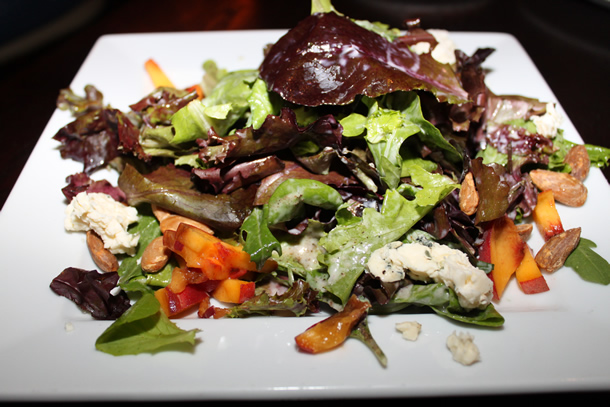 The salad we ordered came with baby greens, peaches, Pt. Reyes blue cheese, almonds and Muscat vinaigrette dressing. The baby greens, Pt. Reyes blue cheese and peaches were fresh and tasted great together. The almonds gave the salad a nice crunch. We loved the vinaigrette dressing and overall the salad was delicious.

The butterscotch putting dessert was to die for! It came with butterscotch pudding, caramel sauce, sea salt and whipped cream. It's the only dessert on the menu and it's so good there's really no reason for another option.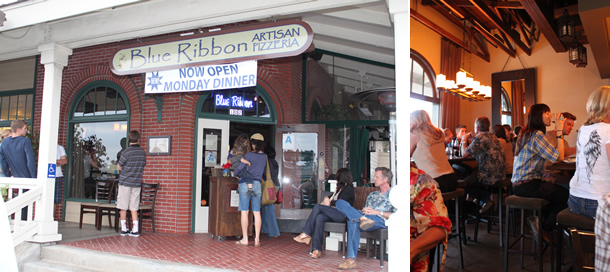 Blue Ribbon Artisan Pizzeria again exceeded our expectations. The atmosphere was fun and casual and would make for a fun night out with friends/family or a romantic date. The pizza and salad were both delicious. The crust, heavy cream sauce and house-made fennel sausage on the Staff's Favorite Pizza was excellent. If you're in the North County area in San Diego, Blue Ribbon Artisan Pizzeria is a must try — You won't be disappointed!