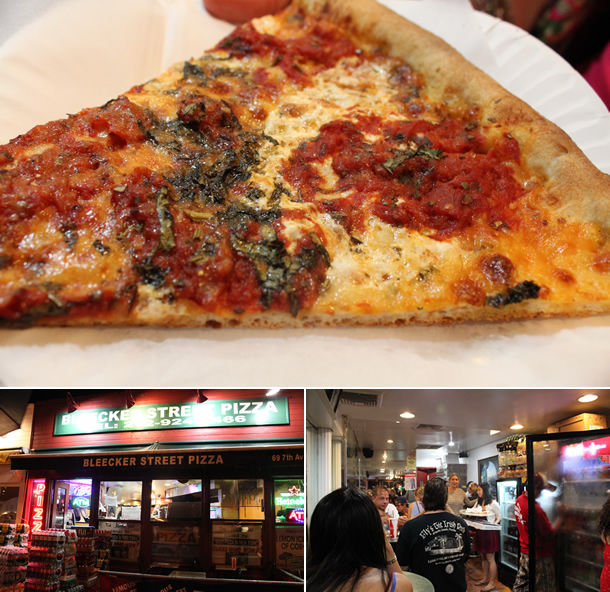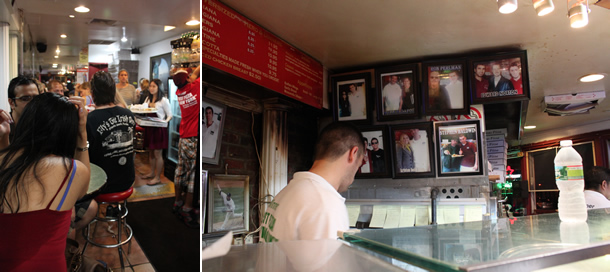 What do Luke Wilson, Stephen Baldwin, Edward Norton, Hugh Jackman, Mickey Rourke, Justin Long, Kristen Bell, Bethenny Frankel, Andrew Dice Clay, and Jimmy Kemmel have in common? Sure all are celebrities but did you know all are regulars and fans of Bleecker Street Pizza? Also, three years in a row The Food Network named Bleecker Street Pizza "Best Pizza in New York." With endorsements like that we had to visit Bleecker Street Pizza while visiting New York to see for ourselves if Bleecker Street Pizza lived up to the hype. And our experience did not disappoint! Bleecker Street Pizza serves up one of the best (if not the best) pizza slices we've had in NYC.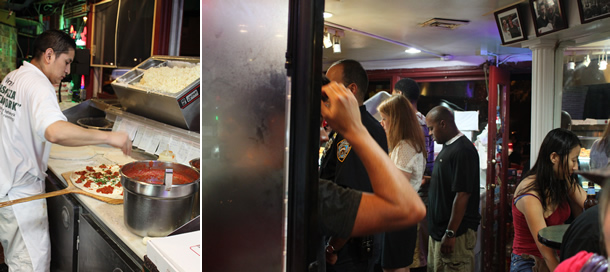 Bleecker Street pizza is located at 69 7th Street (between Commerce St & Bleecker St) in the West Village neighborhood in New York City. The atmosphere was fun, casual and super popular. During peak hours seating is a challenge – but like other popular hole-in-the-wall NYC pizza joints standing up and eating pizza was very common. There is also additional seating outside in a sidewalk café area.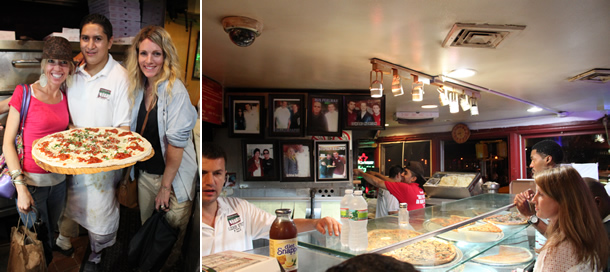 Bleecker Street Pizza is family owned and operated (owner Doug Greenwood). The staff was super friendly and cheerful which adds to the experience. The inside décor consisted primarily of photos of celebrities who have eaten at Bleecker Street Pizza. The inside was narrow putting you close to everything (and everyone) so you can watch as pizzas are tossed and made to perfection!


We ordered two slices of pizza – a slice of pepperoni pizza ($2.50) and a slice of the famous Nonna Maria ($3.25).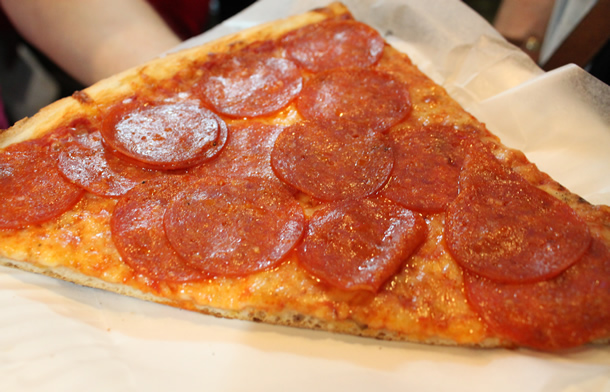 The pepperoni slice of pizza was excellent. It came with fresh mozzarella, homemade marinara sauce and tasty slices of pepperoni on Bleecker's Tuscan style thin-crust. The thin-crust was amazing and had the perfect light crisp to it.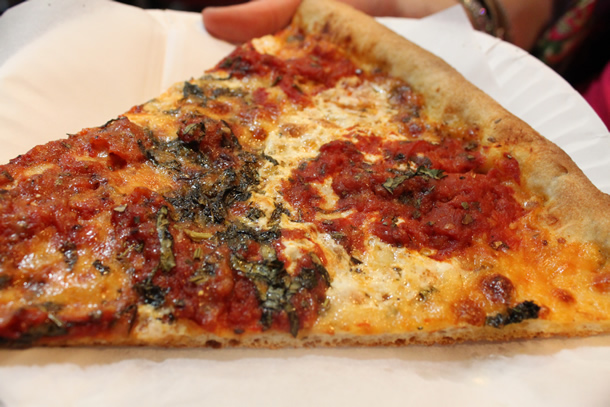 The Nonna Maria slice of pizza is the signature slice from Bleecker Street's old family recipe. It had a thin crust with fresh mozzarella, homemade marinara sauce, the finest parmesan and fresh basil. It was delicious and one of the best pizza slices in NYC we've had.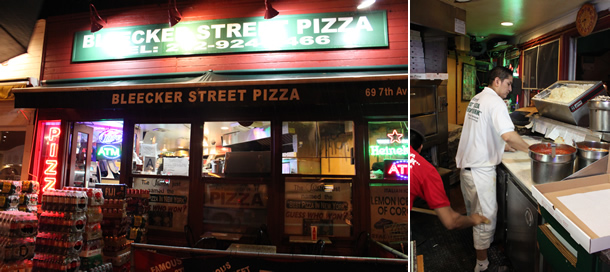 Bleecker Street Pizza offers an authentic Tuscan style thin-crust pizza that has been served in the family's home for generations. What makes the pizza at Bleecker Street Pizza stand-out is the amazing crust and real Parmigiano-Reggiano cheese mixed into the sauce which can be tasted in every slice! For one of the best slices of pizza New York has to offer, Bleecker Street Pizza is a must try!