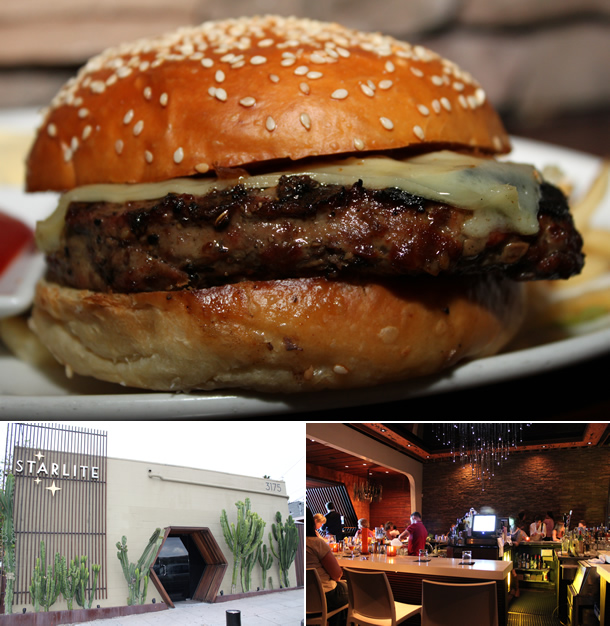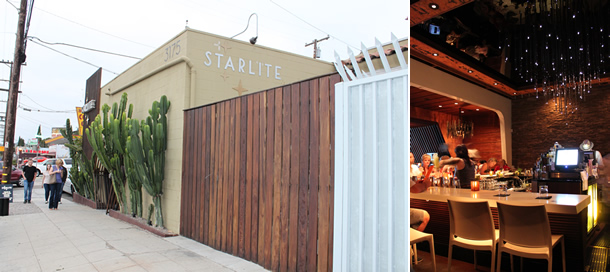 Starlite is located on India Street (on the corner of India St. and W. Spruce St.) just off the 5 freeway and pretty close to the airport. Although it is located on a main street (India St.) it is on a street with not much on it other than a few auto service type businesses making it unassuming and quite hard to find.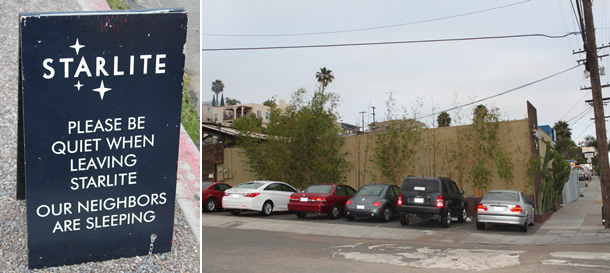 Parking at Starlite can be quite a challenge especially during peak hours. Parking consisted mainly of what was available in a close by residential neighborhood or if you're lucky you may find one of just half dozen or so parking spaces on the side of Starlite (off Spruce St.) all of which filled up quickly.


Despite its unexpected location and potential challenges with parking, it's easy to see why many have called Starlite a hidden gem. The atmosphere was fun, comfy and casual and if we had to grade the design and ambiance we'd give it an A+. The inside was dimly lit (which added to the setting) creating a dark lounge atmosphere with an upscale cocktail/bar feel to it.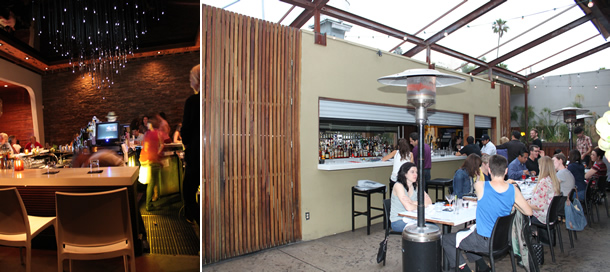 The inside led to an outdoor patio area in the back which had its own bar and additional seating. The atmosphere outside was fun, laidback and a great place to enjoy food, cocktails and lounge outdoors.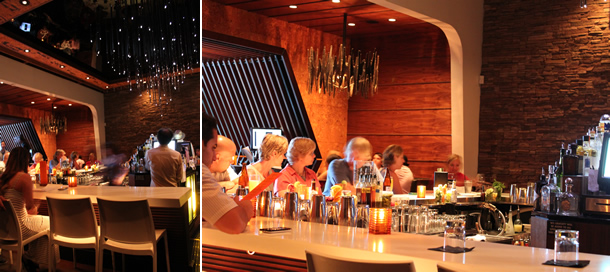 There was an eloquent bar centered inside (seemed to be the main focus) with sit-down seating around it. Upon arriving, the bar and patio was full so we took the first available seating at a small wall facing pub table inside. We heard positive things about Starlite's signature burger so we were anxious to try it.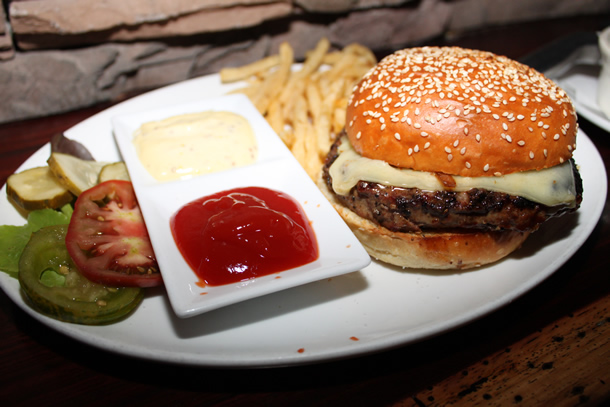 We ordered the Brandt Burger ($13) which came with French fries. It is the only burger on the menu. We also ordered a mac n' cheese dish ($8). Our total bill with tax and pre-tip was $22.63.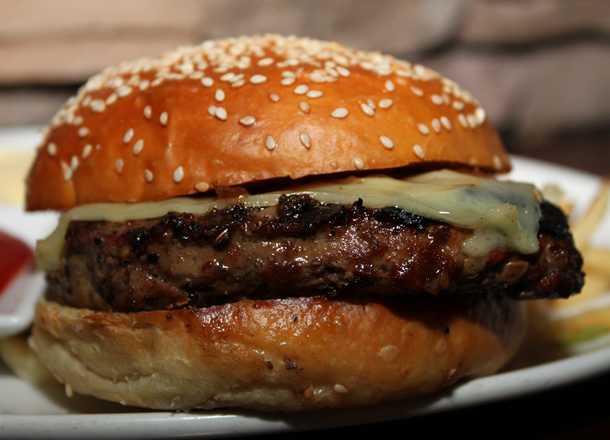 The Brandt Burger came with an all-natural Brandt beef patty, Gruyere cheese, caramelized onions served on a brioche bun with dijonaise, house-made pickles, lettuce and tomato. You can also add to the burger Van De Rose bacon ($2.50).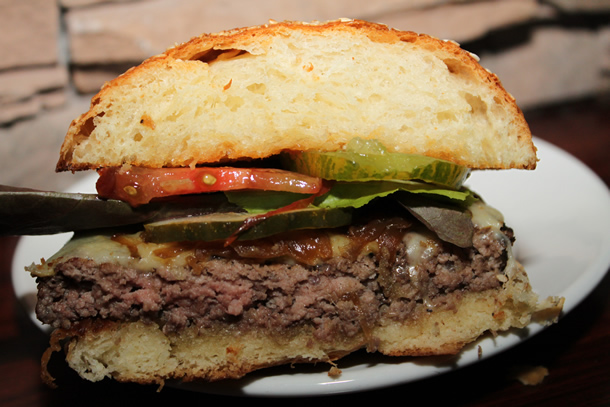 The Brandt burger was tasty and we loved the caramelized onions and Gruyere cheese that came on the burger which added to the flavor. Unfortunately, our burger was slightly overcooked and therefore just a little dry. But overall, it was a really good burger.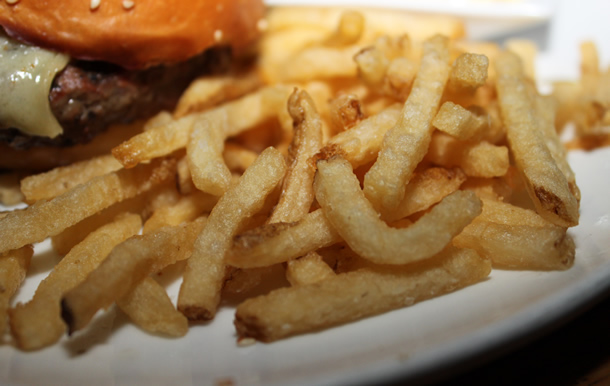 The fries that came with the burger were excellent. The crispy fries were served with a side of ketchup and some delicious house-made garlic-lemon mayonnaise for dipping.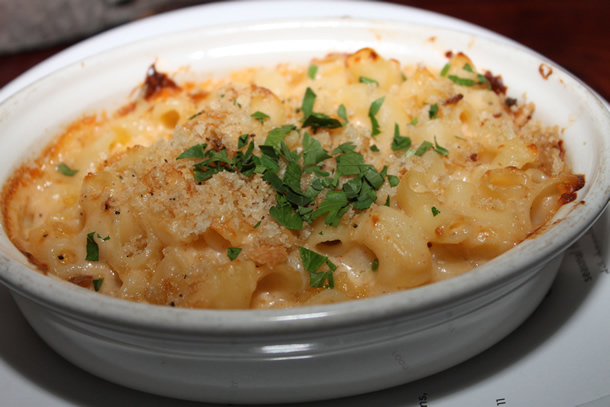 The macaroni and organic cheese was also good. It came with traditional baked elbows and Spring Hill white cheddar cheese sauce with a butter-crumb topping to give it a slight crunchy texture.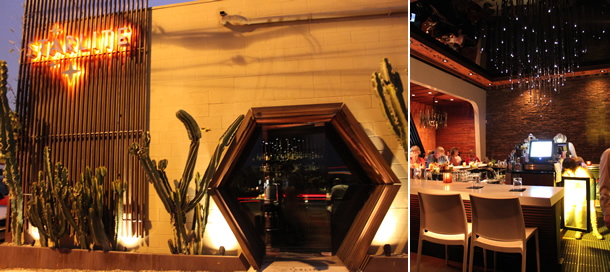 Overall we enjoyed our experience at Starlite in Mission Hills. Starlite had a cool night life vibe with a hole-in-the-wall feel to it that would make for a fun yet romantic date or cool place to lounge and drink cocktails. If you're looking for quality drinks, food and atmosphere Starlite in San Diego would be a great place to visit.