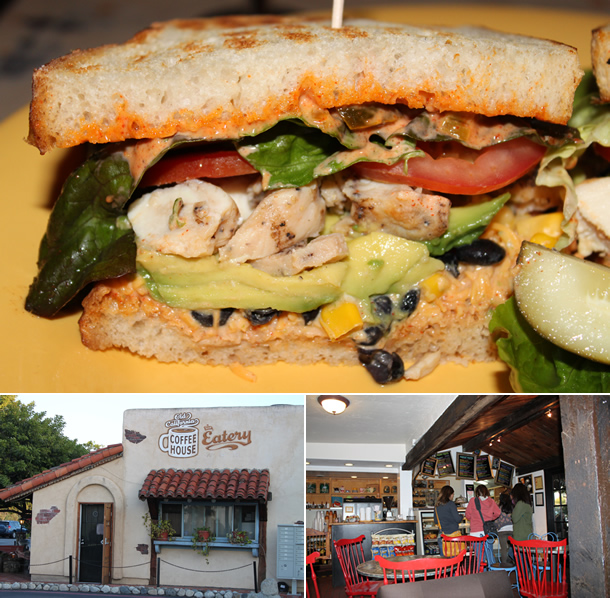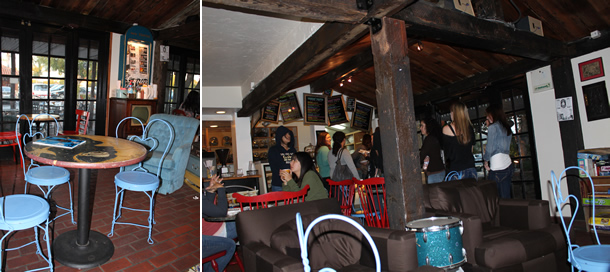 We had heard good things about the food and atmosphere at a hole-in-the-wall coffee shop called Old California Coffee House and Eatery in San Marcos. With plenty of reviews to back up the hype we decided to check this place out. And we're so glad we did! The food and atmosphere at Old California Coffee House and Eatery did not disappoint.


Old California Coffee House and Eatery is located in Restaurant Row on West San Marcos Boulevard between South Las Posas Road and Via Vera Cruz. It was established in 1990 and is the oldest coffee house in San Marcos. Old California Coffee House was once nothing more than a little coffee stand (called Mocha Marketplace) with one employee and limited hours. Over the years (and after several remodels) it transformed into a hip, eclectic and comfy lounge atmosphere with a full menu, comfort seating inside and out, outdoor fire pits, live local entertainment on the patio on weekends with expanded hours (Sun-Thurs 7am to 9pm and Fri-Sat 7am-10pm).


Old California Coffee House and Eatery is a great place to go to relax with friends, meet with business associates, work on your computer, surf the web, study, read, or just listen to music. There are several sofas, comfy chairs and table and chair setups throughout to sit and relax or hold informal meetings. The coffee house offers access to free Internet (with a purchase) and on weekends there's even live entertainment.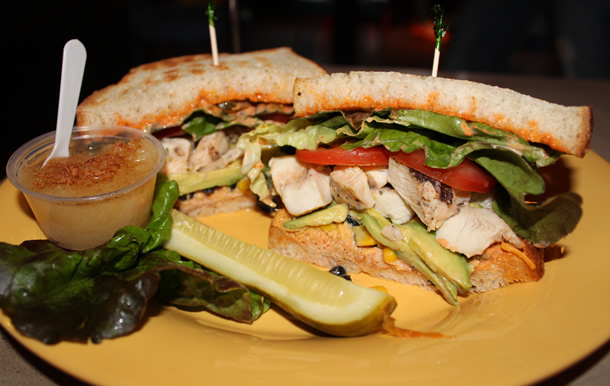 When we visited we ordered a Southwest Chicken sandwich ($9) which was recommended by one of the workers (a great suggestion). The sandwich came with a yummy pickle slice on the side and a small cup of tasty apple sauce. The sandwich was served cut in half and it was enough for the two of us to share (for a light bite to eat for lunch).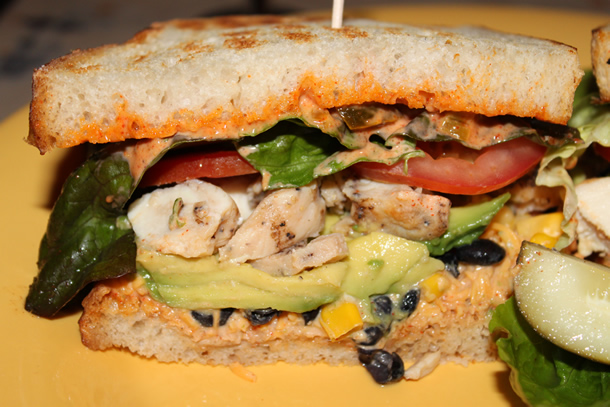 The Southwest Chicken sandwich came with grilled chicken breast, avocado, shredded cheddar cheese, black beans, corn, tomato, green leaf lettuce and a zesty southwest sauce (that had a nice little kick to it) and was served on lightly toasted bread. The grilled chicken breast had excellent flavor and everything that came on the sandwich was super fresh and tasty. The sandwich felt healthy and was delicious and one of our favorite sandwiches in San Diego we've had to date.


Overall, we really enjoyed our experience at Old California Coffee House and Eatery. The sandwich we had was delicious and the atmosphere was fun, comfy and memorable making it a place we'd definitely want to return to. The full café fare food menu included breakfast and lunch served all day with morning scrambles, fresh fruit, sandwiches, soups and salads (and many vegetarian and vegan selections). There was also a large coffee drink selection, Acai drinks and smoothies. If you're in the San Marcos area Old California Coffee House and Eatery is a place you'll want to visit!