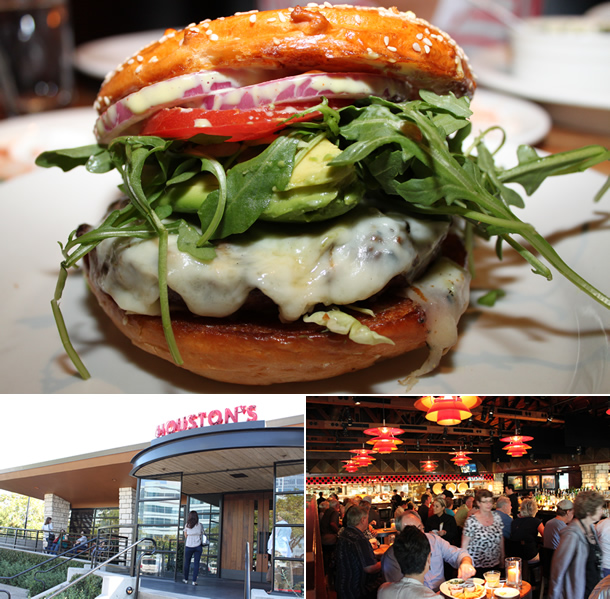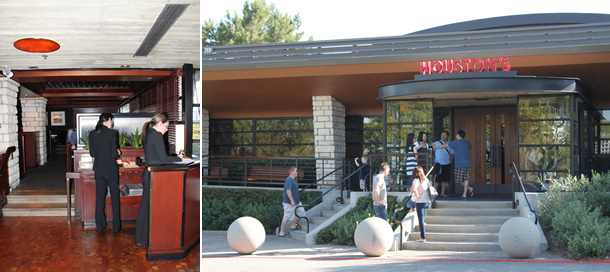 While searching for the best burgers in Orange County we had heard great things about the burgers at a restaurant in Irvine called Houston's. While the food was not cheap, the romantic setting, attentive and friendly service and excellent upscale burger made it worth the cost. The California Burger we ordered was one of the best upscale burgers in Orange County we've had.


Houston's is located in Irvine on Michelson Drive (off the 405 Freeway and Jamboree Rd exit) less than a mile away from John Wayne airport. Houston's had a contemporary design and a romantic atmosphere (a great setting for a romantic date) with an upscale feel to it. There was dim lighting, dark stained wood throughout and a candle on each table to add to the ambiance.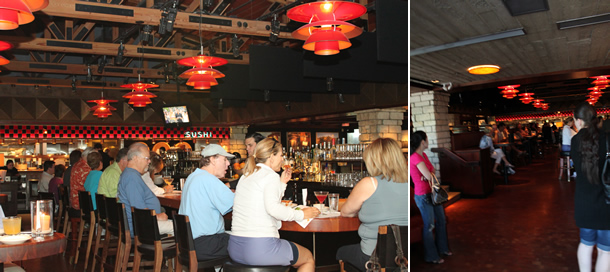 Houston's seemed to appeal to all occasions and to large groups, business professionals, families and couples out on a romantic date. Interestingly, cell phones are not allowed in the dining area – So like movie theaters, opera's and airplanes, it's best to turn your cell phone off before being seated. There was a large bar area, a sushi bar and plenty of inside dining consisting mostly of booths with comfy black leather padding on it. The service was friendly and attentive (giving you the feeling of being pampered). Houston's menu was pretty minimal (which emphasized their house specialties) – Approximately four burgers (the California Burger is not on the menu), two sandwiches (fish and French dip), nine entrees (steaks, chicken, chops and fish), seven salads and several desserts and appetizers. There was also an extensive wine selection (glass or bottled).


We ordered a Chicago Spinach Dip appetizer ($12) and a California Burger ($16) which came with a side of couscous, coleslaw, hand-cut fries or seasonal vegetables (we chose fries). Our total bill with tax was $30.45. We shared the burger and appetizer and it was more than enough for the two of us. The California Burger was not on the menu but our kind waiter mentioned (and recommended) it to us when we told him we were there to try one of their delicious burgers. And it was indeed delicious!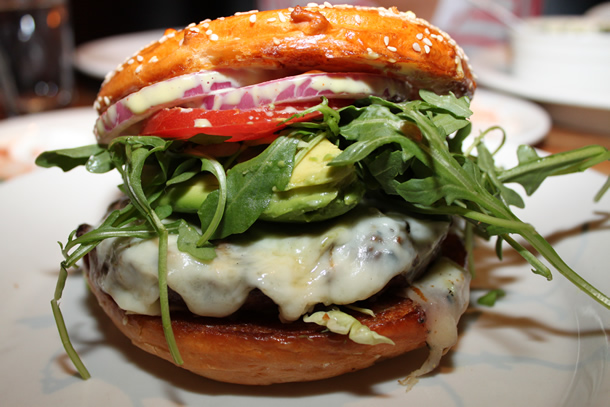 The California Burger came with lettuce, tomatoes, red onions, avocado, pepper jack cheese (recommended by our waiter), honey mustard dressing and was served on a lightly toasted sesame bun. All burgers are made fresh and the meat is house-ground each morning for that day's service only.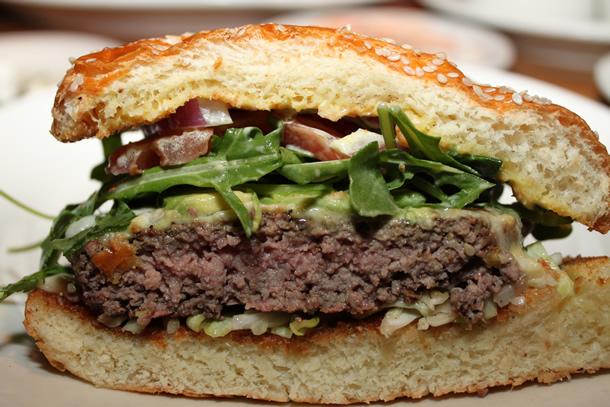 The California Burger was super juicy and cooked to perfection (slightly pink throughout). The melted pepper jack cheese added a nice spice to the burger and went well with the honey mustard dressing. The fresh avocados and veggies also added to the deliciousness of this burger.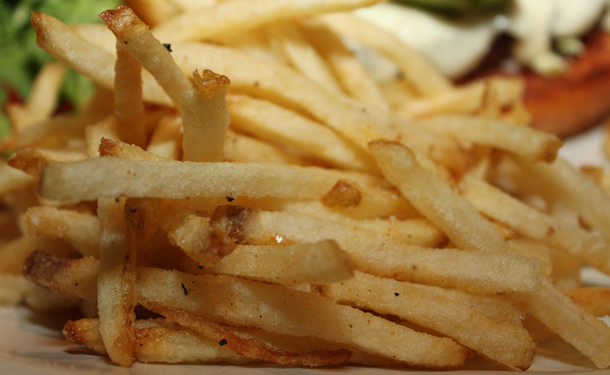 The hand-cut fries that came with the burger were also very good. The fries were fresh, lightly seasoned/salted and had the perfect light crisp to it. It was a great addition to the burger.


The Chicago Spinach Dip appetizer was also good. It came with fresh tortilla chips and a side of salsa and sour cream. We felt the dip was just a little bit bland but mixing it with the tasty salsa and sour cream made for a great combination and added to the flavor.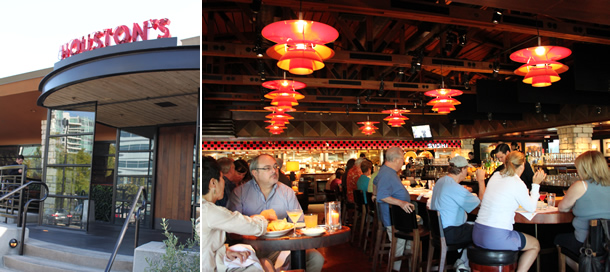 Overall, we really enjoyed our experience at Houston's. But Houston we have problem – $30.45 was a little on the high-end for a burger, fries and chip/dip appetizer so although it was worth it we won't be able to visit as often as we'd like (perhaps special occasions and to splurge). We loved the ambiance, excellent service and the California Burger. If you're in the Irvine area and looking for an upscale burger with a great ambiance or romantic setting Houston's would be an excellent choice!