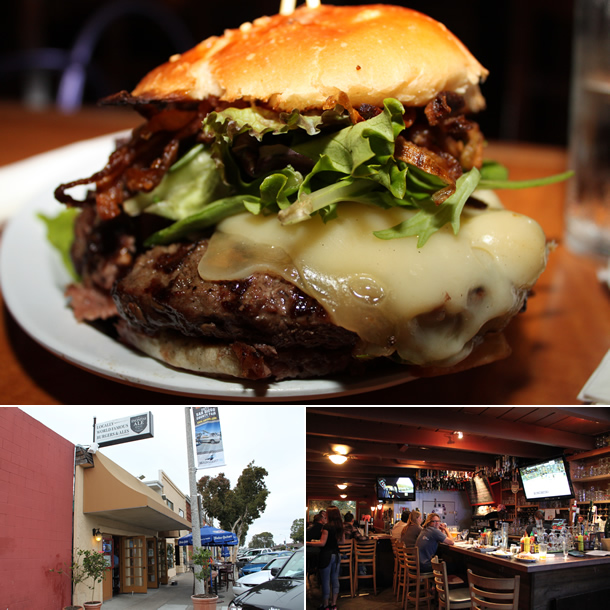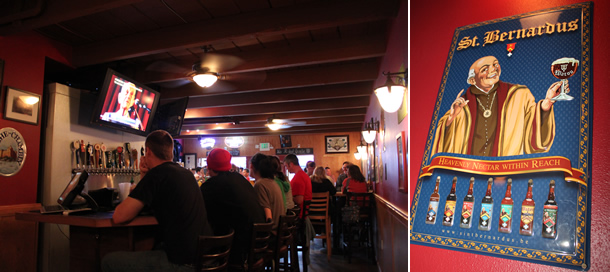 Self-proclaimed "Locally World Famous Burgers" (and plenty of positive reviews to back it up) we had to check out Encinitas Ale House to see how good the burgers are for ourselves. Although quite expensive, the "Grass Fed Kobe Wagyu Burger" we ordered lived up to the hype!


Encinitas Ale House is located in the city of Encinitas in San Diego on South Coast Hwy 101 (between W I St. and W J St). The establishment is visible from the main street so it's easy spot with parking right off Hwy 101. If you're lucky enough you'll find a place to park in the front but parking can fill up quickly (especially during peak hours).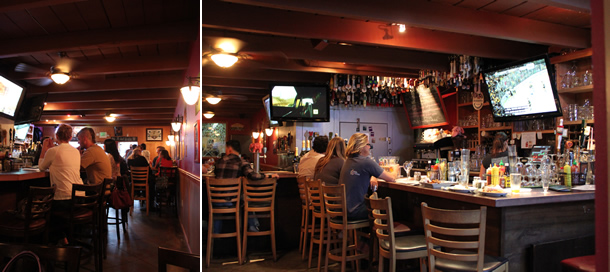 The inside of Encinitas Ale House was dimly lit with a modern tavern and sports-bar feel to it. The atmosphere was fun, relaxed and can get pretty loud and crowded. The inside was narrow (but added to the cozy hole-in-the-wall setting) with seating that consisted of some pub tables, a few table and chair setups in the back and about a dozen bar seats at the bar (there were also a couple tables outside with umbrellas for outside seating). The bar and tables filled up very quickly when we visited on a Monday evening around 7PM. There were three large flat screen TV's inside for watching sports.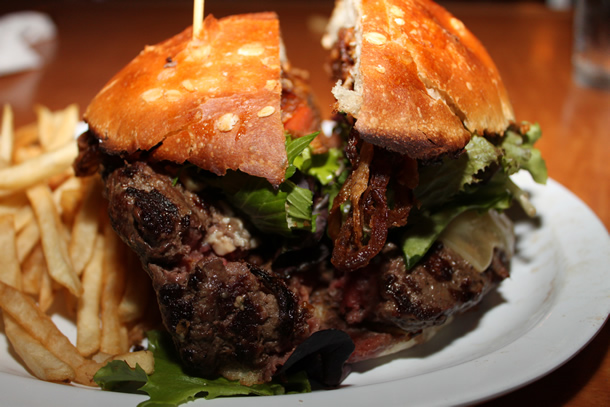 We ordered the "Grass Fed Kobe Wagyu Burger" (since our server said this was the most popular) which came with Cajun shoestring fries (16.95) and a Nestea ($2.25). The burger was delicious and one of the best gourmet burgers in San Diego we've had! And the fries were pretty good too. The Nestea was so-so.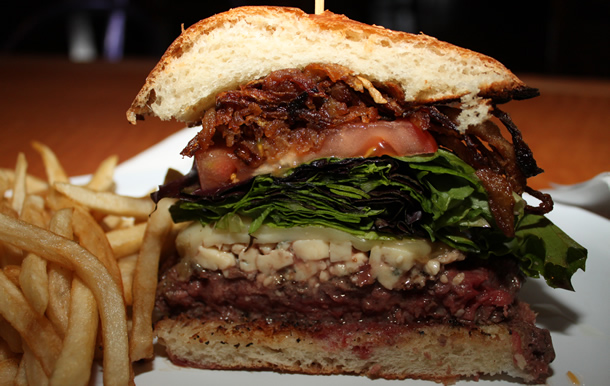 The "Grass Fed Kobe Wagyu Burger" came with 10oz. Greg Norman Farms Australian grass-fed Wagyu Kobe Beef burger (the beef is sustainably farmed and antibiotic and hormone free), melted gruyere, crumbly gorgonzola, crispy onion straws, tomato and baby greens and served on a yummy light and toasted oat bun. The burger was tasty, juicy and the beef was cooked to perfection (light pink inside). The Kobe Beef, crispy onion straws and melted gruyere and crumbly gorgonzola added to the flavoring and deliciousness of this burger.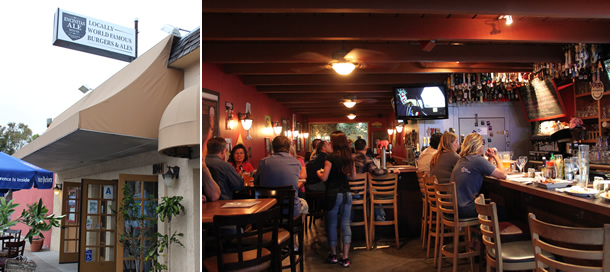 Upon arriving we waited several minutes before servers greeted us and several more minutes before being seated. The service was friendly when available but lacked attentiveness at times which could be due to lack of staff (which was consistent with several of the reviews we read). To be fair, there were only a couple servers and it was pretty busy. Overall, we were pleased with our experience at Encinitas Ale House in Encinitas. The atmosphere was fun and relaxed and the "Grass Fed Kobe Wagyu Burger" was excellent and one of the best gourmet burgers in San Diego we've had (but it was expensive at $16.95). The menu also offers a good size wine list (with featured wines) and a large beer selection. If you're in the Encinitas area in North County and looking for a kick back gourmet burger and beer (or wine) sports bar, Encinitas Ale House would be a good choice.