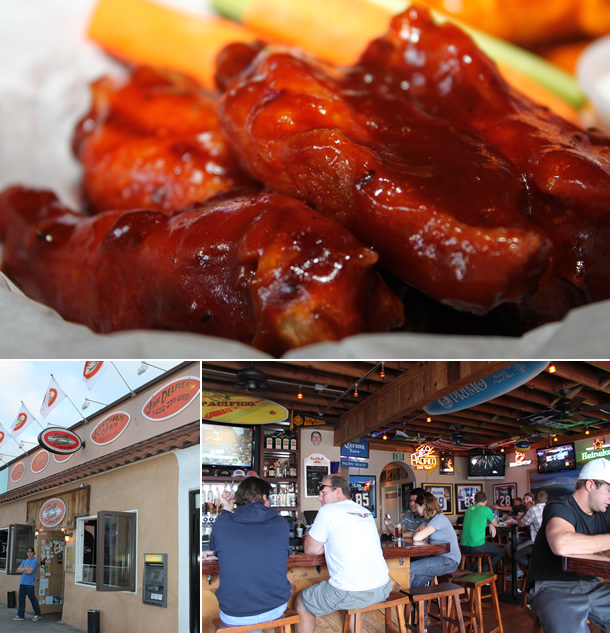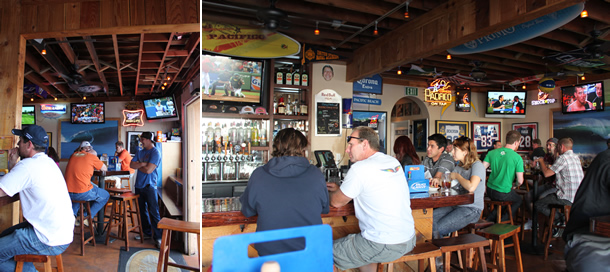 While searching for the best wings in San Diego we kept hearing about a place called Dirty Birds in Pacific Beach in San Diego. With plenty of positive reviews and a lot of hype about Dirty Birds having some of the best wings in San Diego we had to try this place out. And we're so glad we did! The wings were amazing and some of the best we've had!


Dirty Birds is located in Pacific Beach on Mission Blvd. between Emerald St. and Diamond St. just a block away from the beach. The atmosphere was fun, relaxed and had a downtown beach sports-bar feel to it. The heavy wooden tables, wooden bar and wood beams throughout added a tavern-ish touch. Large windows in the front opened up to the main street which added to the beach feel. The inside had framed San Diego sports team jersey's hung on the wall along with surfboards, neon beer signs and some surfing photos. Seating consisted of several cool high pub tables with bar seats (the kind with no back support) and bar seating around the bar. A variety of hip-hop, rap and rock music was played inside and there were at least ten flat screen TV's inside for watching sports.


We ordered 20 piece wings ($21.99 regular price but half off during Happy Hour Mon-Fri 3PM-6PM) and a basket of tater tots ($3.99). Because we went during Happy Hour (half off the wings) our total bill was $16.29. With 23 flavors to choose from for the wings it was hard to decide which to go with. Each flavor is rated on a scale from 1-5 for hotness (1-no heat 2-mild, 3-medium, 4-hot, 5-really hot) and all are served with ranch (can request blue cheese), celery and carrot sticks. Our waitress (Marissa) was super-friendly and made excellent recommendations. There was a five wing minimum per flavor and since we ordered 20 wings we asked our waitress if we could try the four most popular. She recommended Dirty Ranch, Flaming Honey Mustard, Garlic Parmesan and Maple Chipotle BBQ (so that's what we ordered).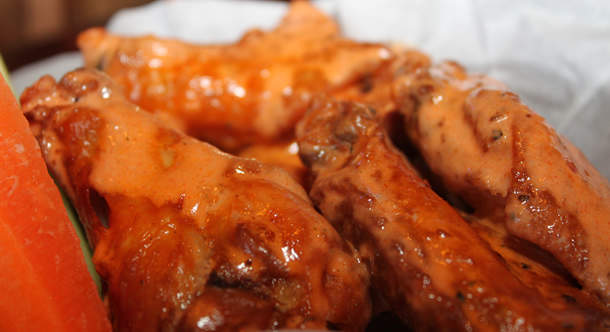 The Dirty Ranch flavored wings were to die for! The wings were rated 3-medium hotness on the menu, meaty and the outside was cooked to perfection with a light crisp to it. The sauce was delicious and came with Dirty Bird's own secret hot sauce combined with their house-made ranch dressing. Of the wings we tried, the Dirty Ranch flavored wings were the closest to traditional. While each of the wings we tried were excellent these were our favorite!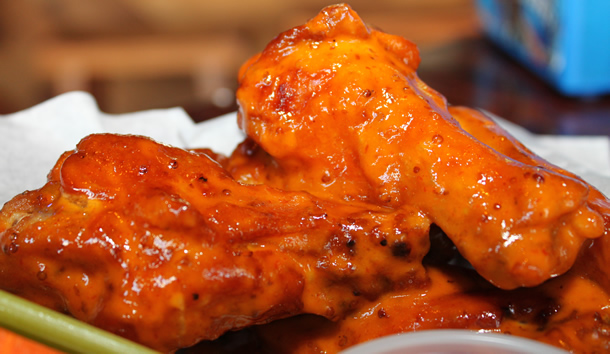 The Flaming Honey Mustard wings were excellent and a tie for our second favorite with the Garlic Parmesan wings. It came with Dirty Birds own house-made honey mustard and a generous amount of heat from the Sriracha chili hot sauce. With a 4-hot out of 5 rating on the menu the Flaming Honey Mustard wings were the hottest we tried and it had a nice little kick to them. You may want to pair this one with a drink as water didn't quite kill the heat.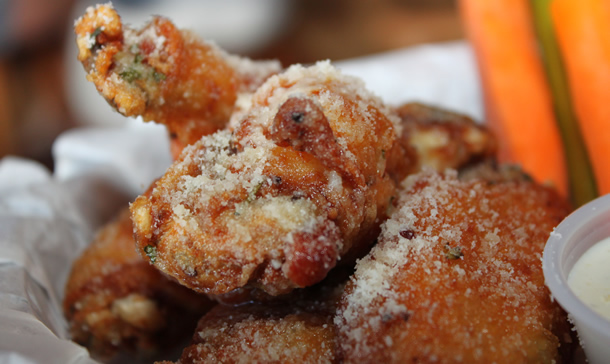 The Garlic Parmesan ("Garlic Parm") flavored wings were also excellent and a tie with the Flaming Honey Mustard for our second favorite. The Garlic Parm wings came with Dirty Birds house-made garlic butter and topped with grated parmesan cheese (a flavor that reminded us of garlic knots). With a 1-no heat rating the wings were not hot at all but had great flavor. The wings were cooked to perfection with the outside having a light crisp to them.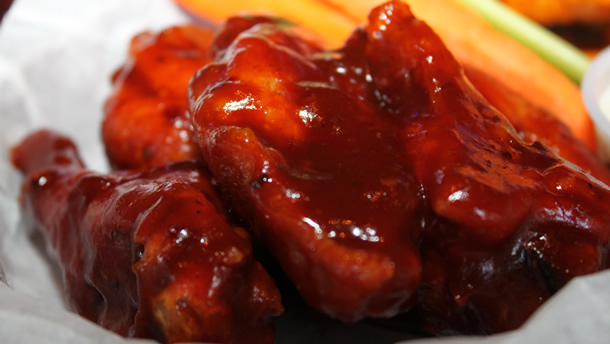 The Maple Chipotle BBQ wings were our third favorite and also very good. It came with a blend of classic BBQ sauce, real maple syrup and chipotle peppers (which added to the 3.5 medium to hot rating). The wings were covered in a generous amount of BBQ sauce and had a nice mix of sweetness and hotness (if you like BBQ sauce you'll love these wings).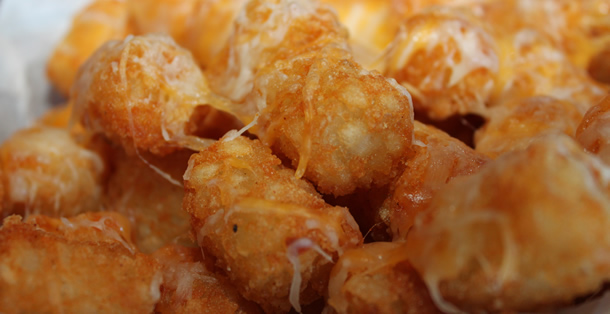 The basket of tater tots were amazing! These are not the kind that come frozen from the grocery store or reminiscent of the tater tots in Napoleon Dynamite or the kind served at the elementary school cafeteria. These were fresh, tasty and cooked to perfection! We asked to have a little cheese sprinkled on top which added to the deliciousness.


Overall we were very pleased with our Dirty Birds experience. The atmosphere was fun and relaxed, the service excellent and the wings were some of the best in San Diego we've had. All the house-made dressings including the ranch and blue cheese on the side were delicious! The wings are an excellent deal during Happy Hour (half-off) but not cheap at regular price at a little more than a dollar per wing (the wings do come with celery and carrot sticks which we loved). If you're looking for some delicious, meaty wings with a variety of flavors (23 options) Dirty Birds is a must try! For the best price we recommend going during Happy Hour (Mon-Fri 3PM-6PM) to get HALF OFF the wings (and half off domestic pitchers) – Dirty Birds will not disappoint!