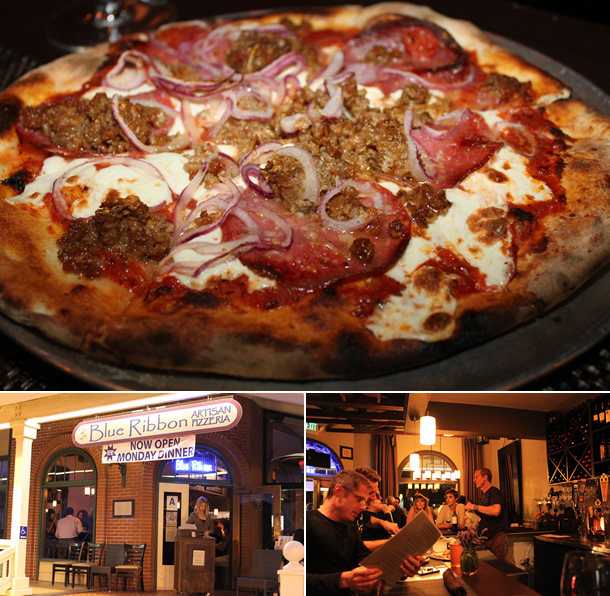 We had heard great things about Blue Ribbon Artisan Pizzeria in Encinitas in North County San Diego with plenty of positive reviews and press from North County Times, San Diego Magazine, San Diego City Beat and the Coast News we had to try this place out. Our experience at Blue Ribbon Artisan Pizzeria exceeded our expectations!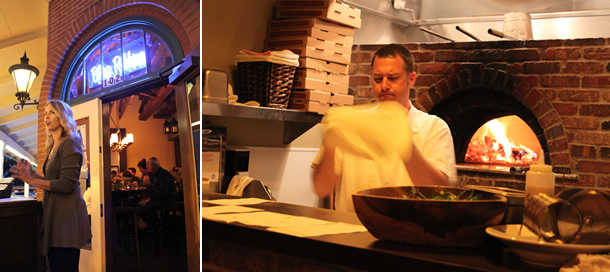 Blue Ribbon Artisan Pizzeria is located in the Lumberyard Shopping Center on S. Coast Highway in Encinitas between W. G St. and W. H St. It is owned and operated by a husband-and-wife team Wade and Kristi Hageman since its doors opened in June 2010 after Wade left an executive chef job (taking with him his experience cooking in fine-dining restaurants) to fulfill his and his wife's dream of owning their own restaurant.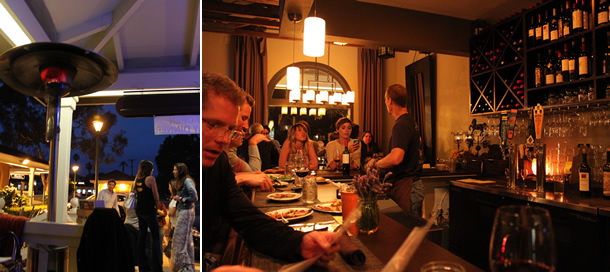 The ambiance at Blue Ribbon Artisan Pizzeria was very casual with a romantic atmosphere. It was classy and comfortable with a menu that gave you the feeling of upper class fine-dining but without the price tag. The dim lighting added to the relaxed yet romantic setting.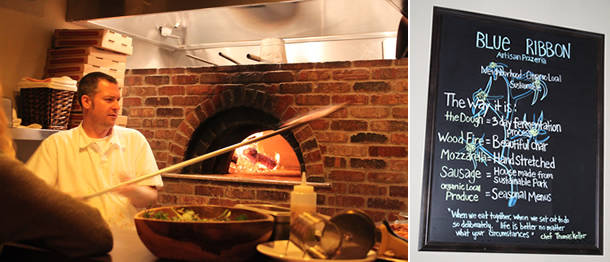 Blue Ribbon Artisan Pizzeria offers local craft beers on tap and wines from organic, sustainable or biodynamic vineyards. Blue Ribbon supports local breweries as well as local farmers with organic produce. The unique pizza dough undergoes a 3 day fermentation process and all pizzas are cooked to perfection by Wade in a true wood burning oven. The fennel sausage is made in-house (from sustainable Berkshire Pork) as well as the Mozzarella (hand-stretched daily).


We ordered a "My Father's" traditional wood fired Artisan pizza ($15.50), baby greens with almonds salad appetizer ($9) and a glass of red wine Yorkville Cellers Merlot ($9).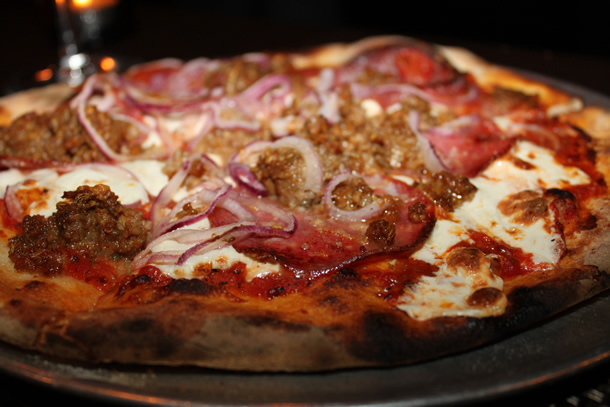 "My Father's" pizza came with tomato sauce, mozzarella, fennel sausage, pepperoni and red onions. As with all the pizzas it was cooked to perfection by Wade in a true wood oven with the perfect light crisp to it. The artisan pepperoni, house-made fennel sausage, sauce and hand-stretched mozzarella were all excellent. This was definitely one of the best pizzas in San Diego we've had. The pizzas at Blue Ribbon only come in one size with approximately six slices. It was the perfect amount for the two of us to share along with the salad.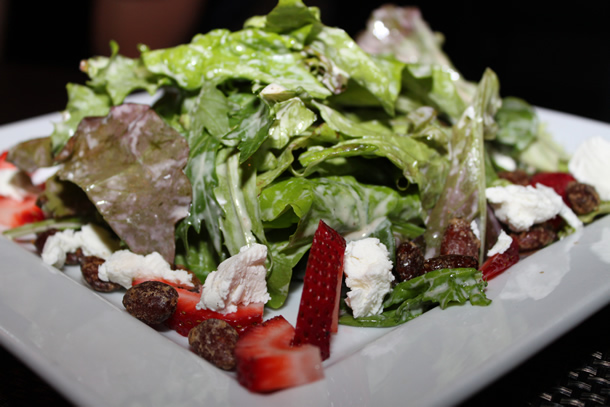 The salad we ordered came with baby greens, almonds, goat cheese, Carlsbad's strawberries and balsamic vinaigrette. The baby greens, goat cheese and strawberries were all super fresh and tasty. The almonds added a nice crunch to the salad. We loved the vinaigrette dressing and overall the salad was delicious (we'd definitely order again).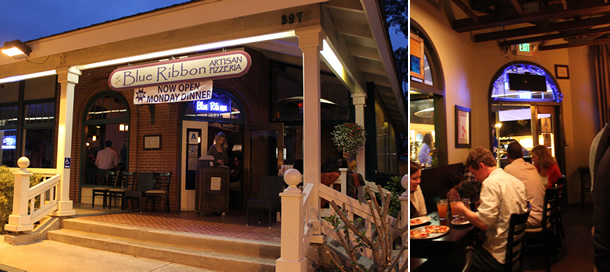 Overall, Blue Ribbon Artisan Pizzeria exceeded our expectations. The ambiance was perfect for a fun yet romantic date night. The pizza was amazing as well as the salad. The crust, hand-stretched mozzarella and house-made fennel sausage was to die for. We loved the wood fired pizza cooked in a true wood oven that came out with a thin light crisp to it. Blue Ribbon Artisan Pizzeria is a must try – You won't be disappointed!