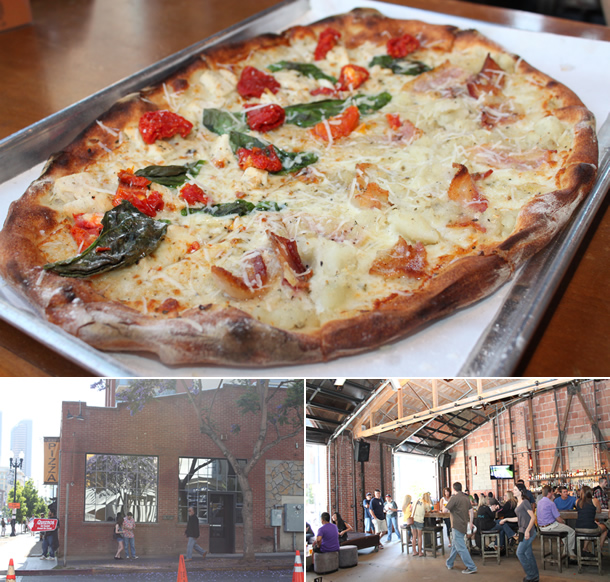 While searching for the best pizza joints in San Diego we kept hearing about a pizza joint called Basic Urban Kitchen & Bar ("Basic") in San Diego. Basic is owned and operated by Jon Mangini who also owns URBN Coal Fired Pizza (with locations in North Park and Vista). With plenty of press, rave reviews and having been to URBN Coal Fired Pizza (and loved it) we had to try Basic out. And our experience did not disappoint!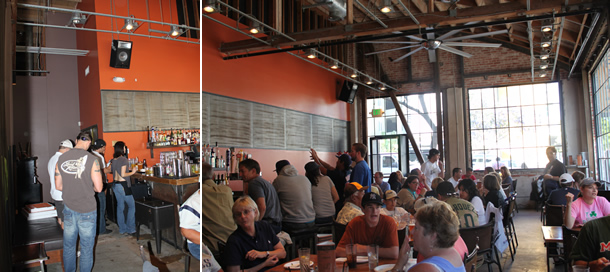 Basic is located on 10th Avenue between J Street and Island Avenue in the East Village section (close to the Gaslamp District) in Downtown San Diego. The establishment was converted from an older 1900′s warehouse and still has a warehouse feel to it with its open design, original brick walls, high ceilings and large industrial garage doors.


The atmosphere at Basic was hip, fun and casual with an urban vibe to it. Basic seems to attract a cool crowd of Downtown San Diego locals that live, work and play in the area while also welcoming guests from around town. Basic is known for its popular New Haven, Connecticut thin crust brick oven pizzas served nightly until 2:00 a.m. Basic is sectioned off into two main sections – One section seemed more geared towards sit-down seating (family friendly) with several tables with chairs and a bar area. The other side had more of a sports bar and lounge feel to it with a large bar, some comfy couches for lounging, hanging out and socializing and a pool table for entertainment.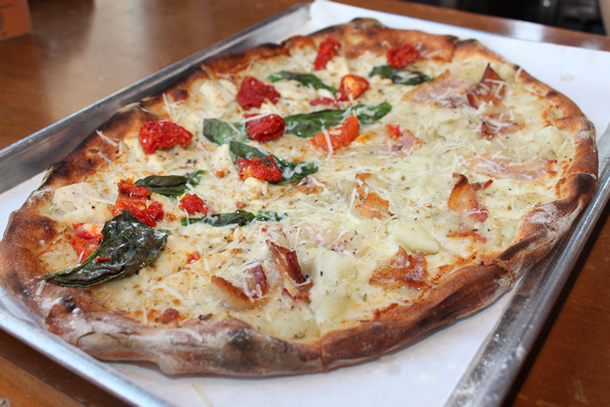 We visited Basic just before a Padres game was about to get underway (there was also a car show going on). It was super busy and there was a little bit of wait. Upon being seated our server was helpful in making recommendations. We ended up ordering a small white pie – half with mashed potatoes and bacon and the other half with basil, chicken and sun dried tomatoes. The total bill was $14.75. Like URBN Coal Fired Pizza adding toppings to a pie can quickly add up.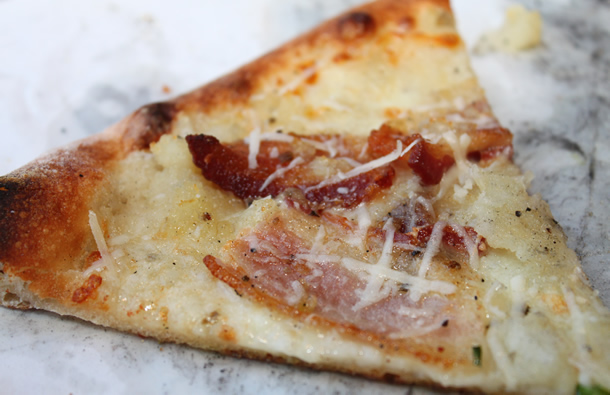 The mashed potato and bacon pizza was different but delicious. We were a little skeptical about the idea of a mashed potato pizza but we're glad our server talked us into it. The soft potatoes, bacon and mozzarella tasted excellent together. And the New Haven, Connecticut thin crust cooked to perfection with a light crisp to it was amazing!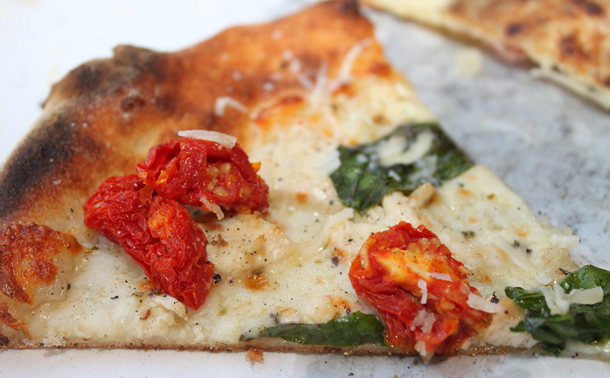 Our other half of pizza with basil, chicken and sun dried tomatoes was also delicious. The basil, chicken and sun dried tomatoes was a great combination and also tasted excellent together. Another great recommendation by our friendly server (Keisha).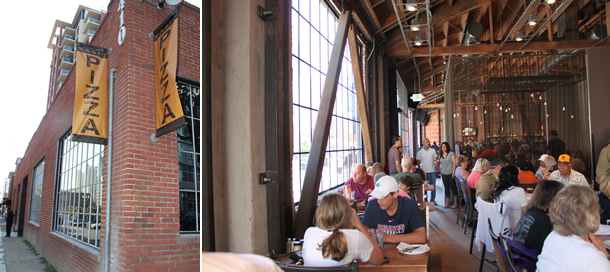 Overall, we really enjoyed our experience at Basic in the East Village area in San Diego. Basic had one of the best pizzas (and thin crusts) in San Diego we've had to date! We also loved the open warehouse design with the fun crowd and urban vibe. If you're looking for an excellent pre or post Padres game pizza joint with a sports-bar feel to it (that is also family friendly) Basic would be a great choice and won't disappoint!