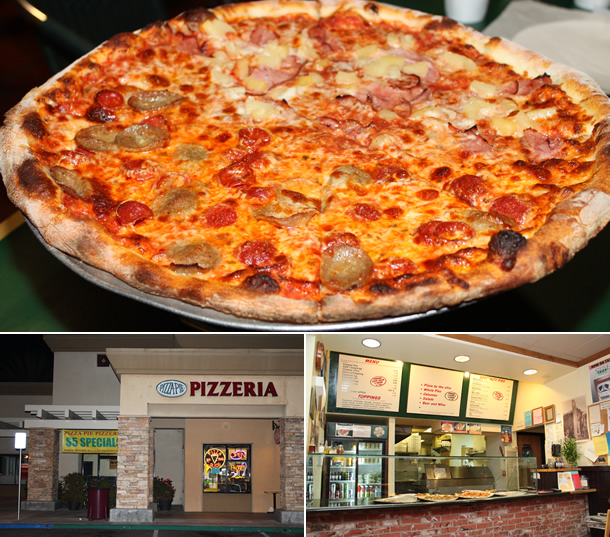 While most people were probably planning to eat Mexican food to celebrate Cinco De Mayo we on the other hand were faced with the always touch call of eating pizza, burgers, sandwiches or wings. We decided on pizza and chose a place called Pizza Pie Pizzeria (formerly Knockout Pizza) in San Marcos in North County San Diego. Pizza Pie is located in a strip mall along with Wal-Mart and Kohl's. With a 4 out of 5 star rating on Yelp and several reviews and some hype about this place having some of the best New York Style pizza in North County we had to try it out for ourselves.

We visited Pizza Pie a little after 8pm on a Wednesday (Cinco De Mayo) shortly before closing at 9pm and it was not all that crowded. There were two couples and one family eating when we arrived and no new patrons came in afterwards. The flooring looked like Spanish Terracotta tile and there were a couple pub tables and several country green colored tables with wood trim for inside seating (a combination of chairs and booth seating was available). There was a soda fountain for drink refills and a couple arcade games, a pinball machine and a stuffed animal claw machine game for entertainment.


The inside décor consisted of several framed pictures of Italian pizza on the wall, a couple surfboards and a couple flat screen TV's hung on the wall for watching sports, some beer signs, The Three Stooges Clock and a Super Bowl 43 (Cardinals vs. Steelers) poster from 2009. Fortunately, for Pizza Pie the interior design was not reflective of the pizza making!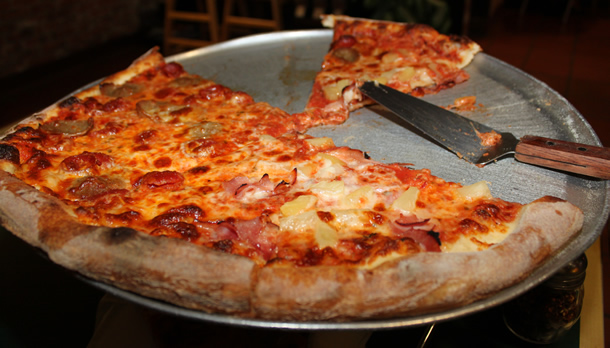 We ordered an 18" pizza – half with ham and pineapple and half with pepperoni and sausage combination. The cost for an 18" cheese pie ($13.00) with two toppings ($1.50 each) would normally be $16.00. However, we mentioned the advertise Pizza Pie Yelp Special for an 18" pie with two toppings for $12.00.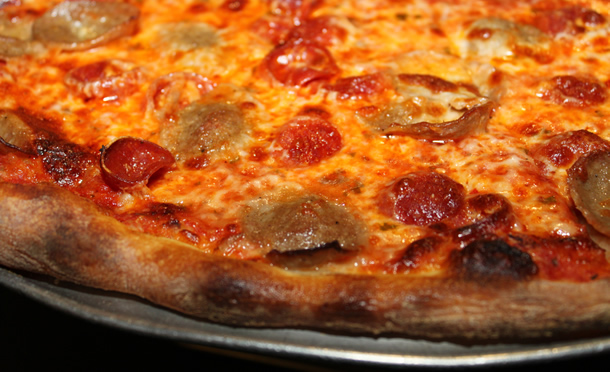 The pizza came out hot, fresh and it was really tasty. The crust resembled authentic New York Style thin crust – It had a larger end crust tapering to a thin crust that supported the cheese, sauce and toppings. The crust was dark (not burnt) as advertised and cooked to perfection with a light crisp to it.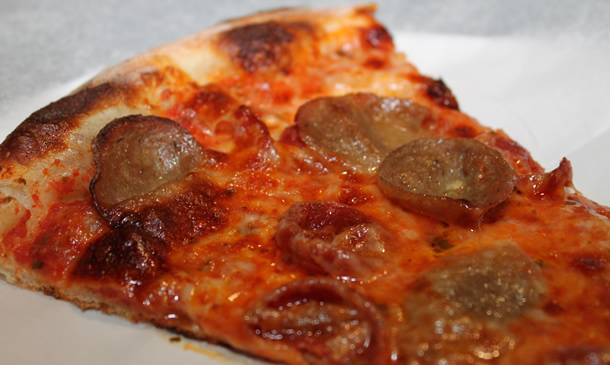 The pepperoni and sausage combination was good. The Italian sausage had a good flavor and some bites we could taste some garlic. The pepperoni was fresh and tasty too.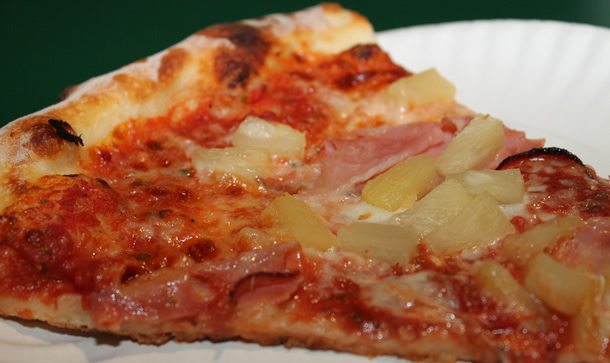 The ham and pineapple combination was also very good. The toppings were fresh and tasted good with the sauce and cheese. The crust of the pizza was the highlight for us. We loved the light crisp crunch it had which really added to the pizza.


The service was good, fast and the workers were very friendly. Pizza Pie offers pizza by the slice from $2-$2.50 as well as pizza by the slice specials from $5.25-$7. All pizza pies are 18" (you can get a 14" pie for $3.00 less) and are cooked with a dark crust unless otherwise requested. An 18" cheese pie costs $13.00 (each additional topping $1.50). There are also several specialty pies ranging from $14.50-18.50 along with garlic knots, cheese sticks, garlic bread, calzones, salads, sandwiches, spaghetti, desserts and beers on the menu. The atmosphere was relaxed and the strip mall location gave it a hole-in-the-wall feel. For about the same price (mention $12.00 Pizza Pie special) as a two topping pizza from a pizza chain establishment we could see why customers would choose to go with a delicious and authentic New York Style thin crust pizza from Pizza Pie. However, in order to keep the price down and not pay full price we'd recommend finding a coupon or mentioning an advertised special.