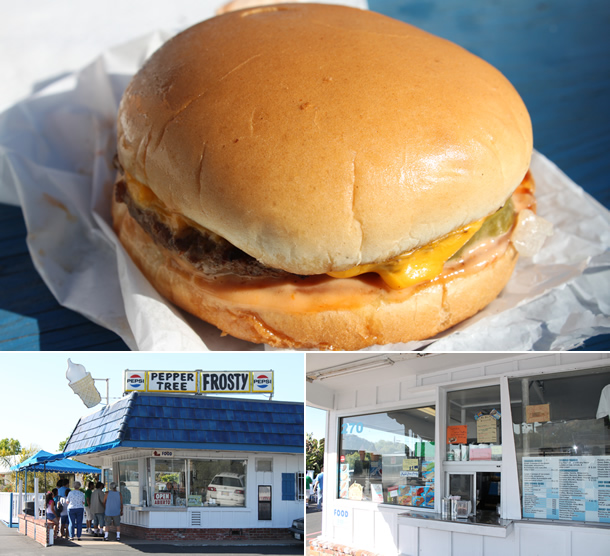 With plenty of great reviews (some about their burgers but most about their desserts and ice cream) and a channel 10 News A-List winner for best ice cream shop in San Diego in 2009 we had to pay Pepper Tree Frosty in Vista a visit.

Pepper Tree Frosty is located in Vista off the main street (S. Santa Fe Ave) so it's easy see when driving by. Pepper Tree Frosty is a local mom and pop shop (family owned and operated since 1960). It looked like an old school ice cream stand where you walk up to a window and place your order. There was a menu posted at the front window (for ordering desserts) and a menu posted on the side window (for ordering food). The dessert menu in front was huge! There were tons of dessert options such as soft serve, hand scooped and dipped cones, ice cream soda, floats, freezes, shakes, malts, sundaes, smoothies, slushes and more. The food menu on the side also had a wide variety of items such as burgers, sandwiches, hot dogs, fish and chips, shrimp dinner, chicken strips and Mexican food. There was no seating inside the establishment (there was seating on benches outside in an area detached from the building). It was pretty busy when we visited with a constant line forming at the dessert window.

We ordered a cheeseburger ($1.90), large fries ($1.90), and a strawberry shake ($3.95). Our total bill was $8.30.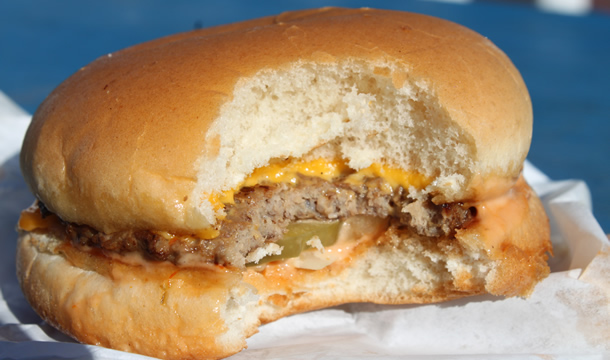 The cheeseburger came with onions, pickles, Thousand Island dressing, and was served on a hamburger bun. While the cheeseburger was a reasonable price, the patty was super thin and tasted a lot like McDonald's cheeseburger (except with Thousand Island dressing).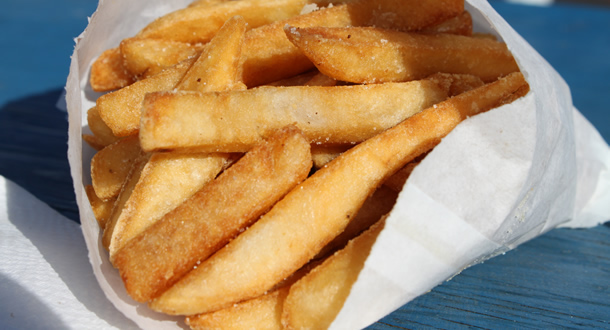 Although we didn't see the size of the small fries ($1.70) we went ahead and ordered the large ($1.95) since it was only 15 cents more. The fries were thicker than McDonald's fries and had a light crisp on the outside and were lightly salted. Overall we thought the fries were pretty good.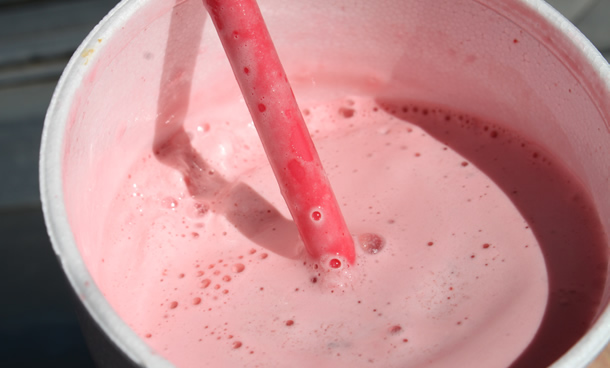 The regular "strawberry shake" ($3.95) was really good (for $4.15 you can order a "fresh" strawberry shake) and one of the better shakes we've had (but it was not as good as our favorite Hodad's shake). The regular strawberry shake came in a 24 ounce Styrofoam cup with a lid and straw on it. It was thicker (but not too thick to suck through a straw) and had a good strawberry flavor. We shared the shake and it was enough for the two of us.


Overall we were satisfied with our Pepper Tree Frosty experience and loved the mom and pop ice cream shop atmosphere. The burger and fries were decent (fast-food quality) and reasonably priced. The shake on the other hand was delicious! The hype about Pepper Tree Frosty made sense for their large selection of ice cream and yummy desserts but not so much their burger and fries. If you're looking to treat yourself to an ice cream dessert Pepper Tree Frosty offers a large and tasty selection of desserts!