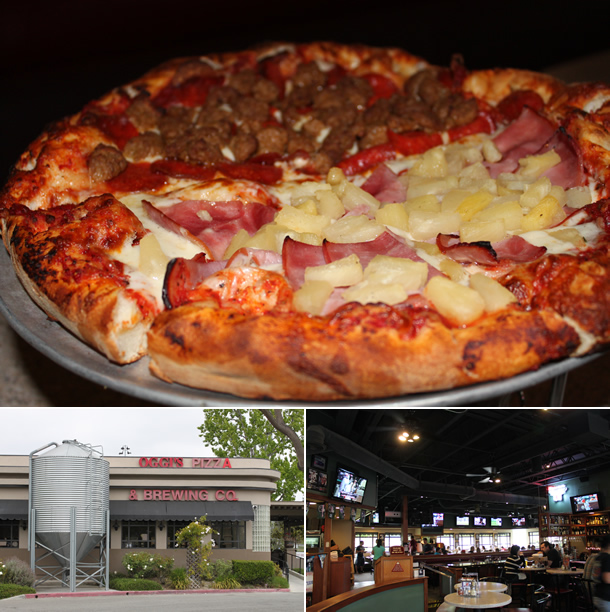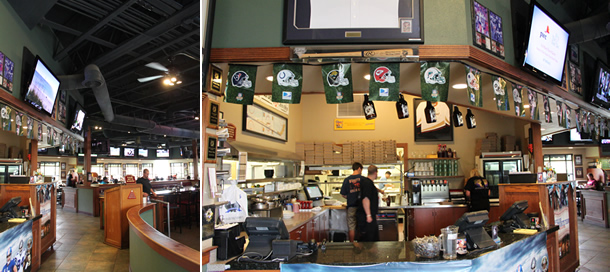 With its strong Southern California brand (which includes partnerships with five professional sports organizations) and plenty of great reviews we had to add Oggi's Pizza & Brewing Co. in Mission Viejo to our list of Orange County pizza joints to try out. Oggi's Pizza & Brewing Co. currently has 5 locations throughout Orange County, seven locations throughout San Diego County, two in Riverside County, one location in Los Angeles County and one in San Bernardino County (also one in Glendale Arizona). Oggi's is the official pizza of the San Diego Chargers, Del Mar Thoroughbred Club, The Anaheim Ducks and The Phoenix Coyotes and has specific menu items available during the official season at each of the teams' stadiums.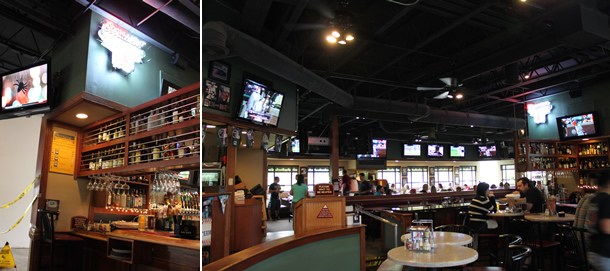 Oggi's Pizza & Brewing Co. is a sports themed pizzeria style restaurant with a micro-brewery and many televisions throughout for watching sports. The atmosphere is fun, sports centered, family-friendly and loud and crowded during peak hours. Sports themed décor can be seen throughout (most having to do with Oggi's professional sports partnership organizations). There was a bar area (with several flat screen TV's) that was separate from the main inside seating area (also having many TV's around and mainly booth seating), outside patio seating, an arcade game area for entertainment for the kids (family friendly environment) and delivery and online ordering available.


We ordered a side of garlic knots and a medium 14" pizza – half ham and pineapple and half with pepperoni and sausage. The total cost for the side of garlic knots (8 for $3.99) and a 14" mozzarella cheese pie ($13.99) with two toppings ($1.75 each) was $23.48. However, we used a coupon (offered on Oggi's website) for $3 off a medium 2 topping pizza so our total with discounts applied was $20.10.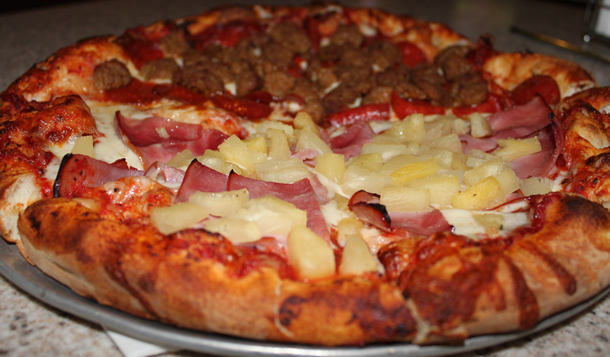 The pizza came out hot, fresh and loaded with toppings. The pizza tasted fresh and was very tasty. Oggi's pizza dough was very unique – It was thick and slightly doughy (the dough is made fresh daily at each location). The consistency of Oggi's dough (thick and soft) is somewhat opposite of New York style pizza crust (which is a thinner and crispier type crust). So for those adamant New York style pizza crust lovers beware!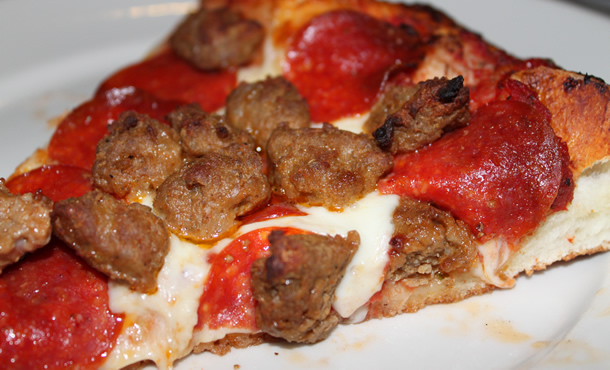 The pepperoni and sausage combination we ordered tasted good. The sausage was piled on high and had good flavor. The pepperoni was also fresh and tasty too. The thick soft dough was different, tasted good and a good fit for the pizza. It was similar in consistency to the garlic knots we ordered (throw some garlic butter and parmesan cheese on it and would taste the same too!).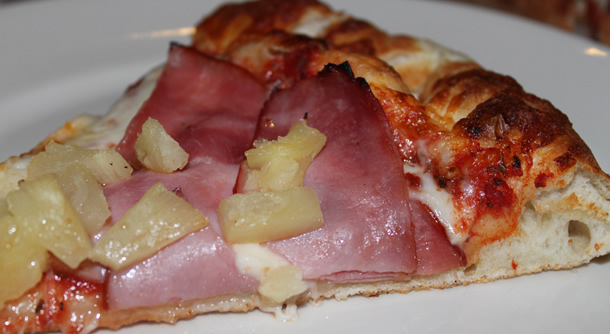 The ham and pineapple combination was also very good. The toppings were fresh and tasted good with the sauce and mozzarella cheese. We loved the thick, soft doughier crust even though it was a change from the thinner and crispier New York style crust we love.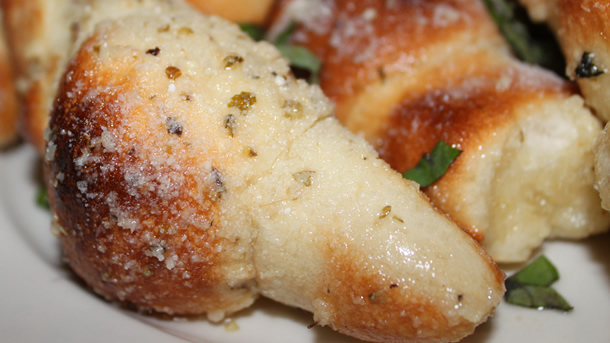 The garlic knots (dough tied off and baked to perfection) were served with a side of ranch and marinara sauce. The garlic knots were delicious and tasted good alone or dipped in the yummy sauces. In fact, the garlic knots were one of the best we've had and the highpoint between it and the pizza. The garlic knots were soft, flavored with garlic butter sauce and topped with fresh basil and oregano.


Overall, we enjoyed our Oggi's Pizza & Brewing Co. experience. The food was good and the service was friendly. We thought the pizza's thick and softer crust was good and filling. The sports themed atmosphere was very fun added to the experience. The only downside in our opinion was the price. Overall, we felt $23.48 for a medium two-topping pizza and 8 garlic knots ($3.99) was a little expensive. However, you can print off coupons directly from Oggi's website which can save you a few bucks. We've heard some hype about Oggi's having some really good wings. Given that the garlic knots appetizer was the highlight for us we plan to return to try out their wings!