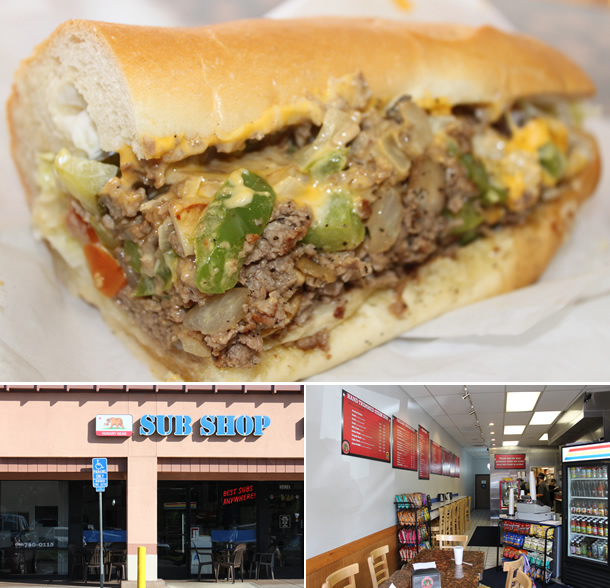 In our search for the best sandwiches in San Diego we came across a hole-in-the-wall sandwich shop called Hungry Bear Sub Shop in Escondido in North County San Diego. With hype about Hungry Bear Sub Shop having some of the best sandwiches in North County (and plenty of positive reviews to back it up) we had to try this place out. And our experience didn't disappoint!
The Hungry Bear Sub Shop in Escondido opened in July 2009 by owner "Big Mike." It is located unassumingly in a strip mall sandwiched (no pun intended) between two other retail establishments. When we visited Hungry Bear Sub Shop "Big Mike's" mother (Mia), who helps out in the sub shop, took our order – She was super-friendly, personable, adorable and one of the sweetest people we've met in our food review endeavors. What a great addition to what is an already excellent family owned and operated hole-in-the-wall establishment. In fact, all the workers were super-friendly during our visit.

The inside of Hungry Bear Sub Shop was clean, cheerful and simple in design. Probably what one would expect from a sandwich shop. There were a couple areas for bar stool type seating inside and a couple tables with chairs for seating as well. A flat screen TV was also inside which was a nice addition. Large menu signs were hung on the wall outlining the various food selections. There were many sub selections from hand-trimmed steak subs, grilled chicken subs, grilled hot subs, omelet subs, cold subs to grilled burger subs (that's right burgers served in a sub).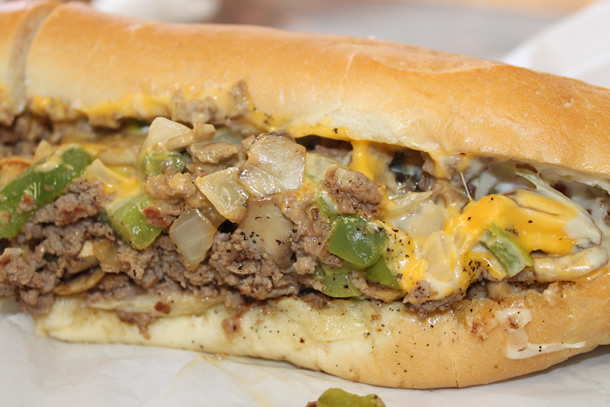 We ordered a large "Steak Bomb" sandwich for $9.49 (a top seller according to Mia) which was served on freshly baked bread (baked fresh daily and whatever is not used that day is donated) and came with chopped up 100% choice top ball tip sirloin steak and we had "everything" on it except mustard (which included mayo, lettuce, tomato, pickle, onion, green peppers, oil, vinegar and salt and pepper). We also had a mixture of two types of cheese – American and a white cheese (recommended by Mia). To play it safe we asked for some red cherry peppers on the side (they were good and had a hot kick to them) which could be cooked and added to the sandwich. The "Steak Bomb" came out warm, fresh and was absolutely delicious. It was one of the best sandwiches we've had to date! Splitting the large sandwich was more than enough for the two of us to share (we brought a small piece of the sandwich home because we couldn't finish the whole thing). We also had refillable fountain drinks ($1.39 small and $1.79 large).


Overall we really enjoyed our experience at Hungry Bear Sub Shop. The sandwich we ordered ("Steak Bomb") was really good and exceeded our expectations – One of the best subs we've had! The service was excellent and all the workers were super friendly too which added to our positive experience. The atmosphere was casual, clean and what one might expect from a nice hole-in-the-wall sub shop. The large sandwich at $9.49 (a small is also available $6.49) was more than enough for the two of us to share. So for around $5 each (sharing the sandwich) this was a steal – A superior sandwich in taste and quality to a sub-chain shop for about the same price or less! If you're in the North County San Diego area and looking for an excellent sub we highly recommend giving Hungry Bear Sub Shop a try!