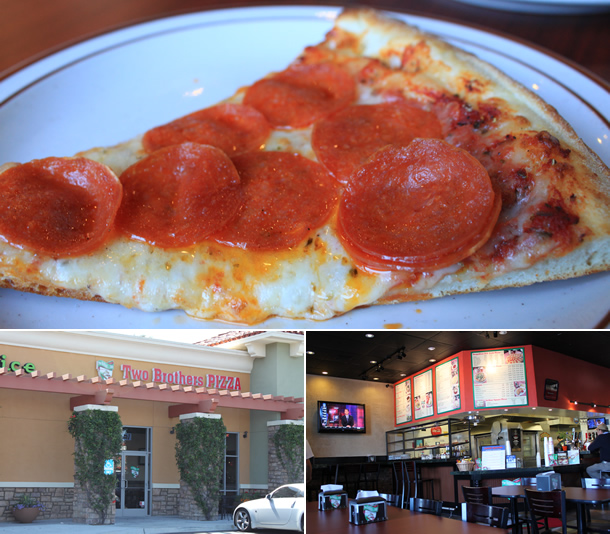 In search of the best pizza place in North County in San Diego we came across a place called Two Brothers from Italy in San Marcos. Two Brothers from Italy has four locations in North County (two in Vista, one in Oceanside and one that just opened in San Marcos). Two Brothers from Italy had consistently received positive reviews on their pizza and in all four locations so we had to try this pizza place out to see how it stacks up against some of our North County pizza favorites (URBN pizza, Carmine's and Brooklyn Boyz Pizza).
We visited Two Brothers from Italy in San Marcos on Grand Ave which was the newest of the four locations. If you're not familiar with the area it could be a little hard to find with all the shops and restaurants. Two Brothers from Italy is located in a large strip mall close to the 78 freeway that includes several stores (Lowe's, Best Buy, Staples, etc.) and several restaurants (New Jersey Mike's, In-N-Out, Phil's BBQ, etc.). It is sandwiched between Jamba Juice and Noodle Company in an unassuming location. Upon walking in we were pleasantly surprised by the décor and modern design. Inside it was squeaky clean – everything looked very new from the tile floor, tables, chairs, kitchen, displays, paint on the wall and three flat screen TV's. There was a small table for outside seating, bar seating inside, a couple tables and booths for inside seating and a cute little bar area inside where you could order house wines and beers imported or domestic (which could seat maybe 3-4 people). The inside was not very big but it looked like they did a good job maximizing space and the atmosphere was very casual with a simple and modern design to it. The service was friendly and we noticed the workers were eager to please their customers by checking in to see how the food was and if there was anything else they could get them.
We ordered a 2 slices of pizza and a refillable fountain drink special. Our total bill was $7.00. We ordered at the counter and waited for our food to be brought out to us. For the two slices we chose a Hawaiian (with ham and pineapple) slice and a pepperoni slice. Similar to the New York style pies we've had the crust tapered down into a thin crust and this crust had a nice crisp crunch to it.
The toppings tasted fresh, the sauce was good and they didn't skimp out on the cheese (some cheese ran off the side of the slice). However, it was a great combination as we did not feel bloated or heavy after eating these slices (we actually felt like we ate a healthy light meal).
Overall, we felt Two Brothers from Italy in San Marcos had reasonable prices and great pizza with a pleasantly modern, clean and relaxing atmosphere. We really enjoyed our experience and the pizza slices we had exceeded our expectations – The toppings were tasty, there was no skimping on the cheese or toppings and the crust was thin and had a perfect crunch to it. We will definitely stop by a Two Brothers from Italy again to get some delicious slices of pizza but may want to try another location (Two Brothers from Italy in Oceanside) just to see how it compares. We Two Reviewers give Two Brothers from Italy two thumbs up – We're adding Two Brothers from Italy to our list of favorite pizza places in North County!