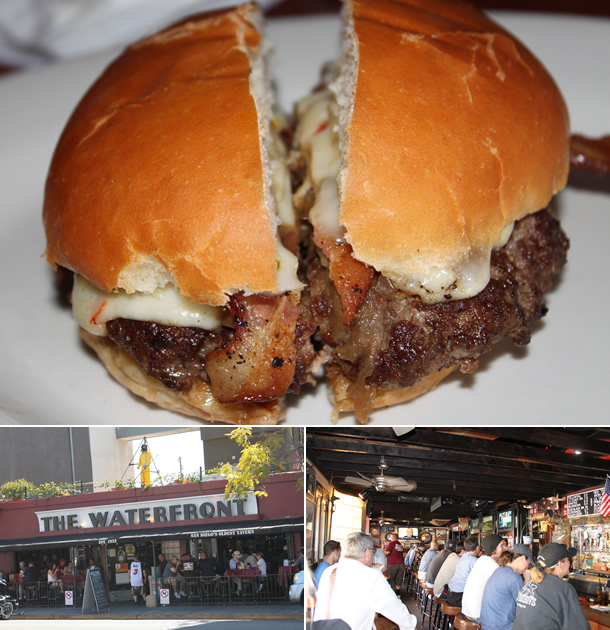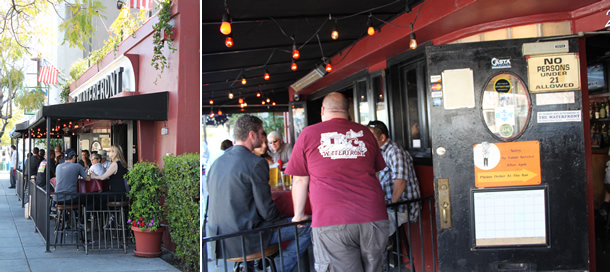 With tons of reviews and hype about The Waterfront Bar and Grill having one of the best burgers in San Diego we had to try this place out! Waterfront Bar and Grill is located on Kettner Blvd. in the model urban neighborhood of Little Italy in San Diego just a couple miles from the Gaslamp Quarter (or Gaslamp District). The Little Italy district has many restaurants and retail stores (Italian American and non-Italian business owners) and attracts a lot of people both locals and tourists. It's a great location for eating, shopping, photography and walking around.


The Waterfront Bar and Grill definitely had a tavern bar-like feel to it (the tables are made out of nice heavy wood and there are wooden beams above with fans hanging from the ceiling). There are a few tables outside and inside for seating with a huge bar with a lot of seating at the bar. On the wall inside there is a huge marlin hanging and many black and white photos (some autographed by famous people) along with other framed pictures. There is a juke box in the corner and music can be heard inside. The atmosphere is casual, relaxed, fun and can get a little loud. And before entering you'll need to present an ID (if you look young enough to be carded that is).
The service at Waterfront Bar and Grill was very friendly. The Bartenders were energetic, talkative and interactive with their customers (seemed like a lot of locals). The servers were also very polite and helpful. The Waterfront Bar and Grill serves more than burgers and beer (although we went there specifically to try out their burger) – On the menu you'll find a variety of food options including appetizers, sandwiches, burgers, chili or fish and chips (under "old favorites"), sides, salads, grilled cheese (three options), breakfast (served every day 6am-2pm) and "mexi brunch" (served Saturday and Sunday 6am-2pm).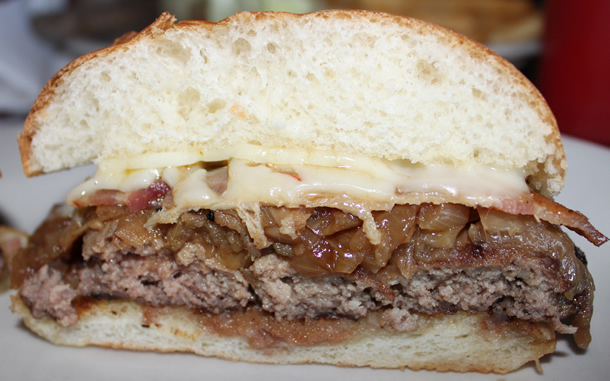 We asked the bartended what the best and most popular burger at Waterfront was in his opinion. He recommended "The Texas Bacon Burger" ($9.40) with pepper jack cheese ($0.99) – so that's exactly what we got! Our total bill was ($11.30) for The Texas Bacon Burger with pepper jack cheese and fries. The burger was a good size (but not humungous) and we did share it along with the fries (if you're a big eater you'll probably want your own burger). The Texas Bacon Burger (1/2 pound meat) came with bacon, grilled, onions, lettuce, tomato and fries. The grilled onions and bacon were delicious. I think our burger was cooked more than we like but it was still very tasty!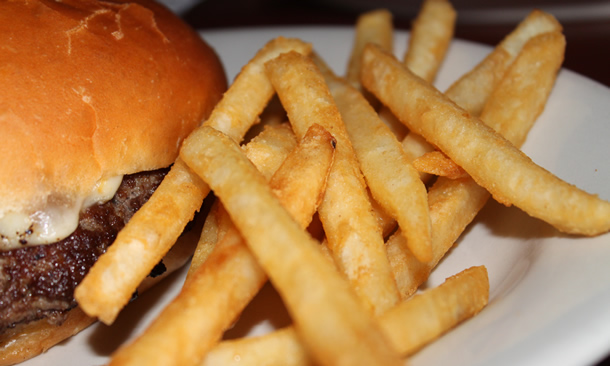 The fries that came with the burger were pretty good (nothing fancy). The fries looked pretty plain and were similar to the fries you'd probably see at a cafeteria in terms of texture (but they definitely tasted better than cafeteria fries).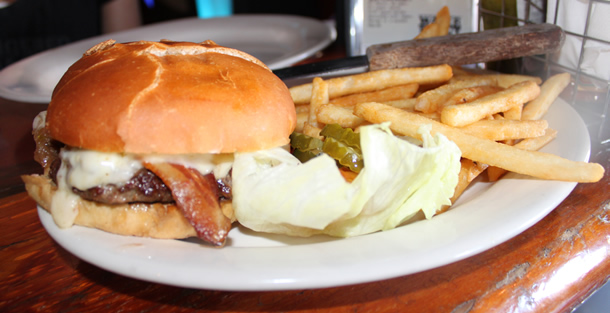 Overall, we were pleased with our Waterfront Bar and Grill experience. We went there to try out the hyped up Texas Burger. The Texas Bacon burger was definitely a solid burger and very tasty (unfortunately ours was slightly overcooked). While we felt the Texas Burger was really good it was not cheap $11.30 (burger and fries) and in our opinion a little expensive. Adding cheese to any of the burgers at The Waterfront Bar and Grill adds another $0.50-$1.25 (depending on the type of cheese selected) and jalapenos or mushrooms another $0.50. To keep the price down you could go with a smaller ¼ pound burger such as The Waterfront ($6.40) which can save you a $2-$3 and go with the American Cheese (add $0.50). On the upside the burgers do come with fries which is nice (a side order of fries would cost you $3.50) – And you can substitute French fries for onion rings, soup, tots or spinach salad for $0.99.


If you're in the Little Italy area in San Diego and looking for a burger and beer tavern/bar like place Waterfront Bar and Grill would be a good choice! Waterfront Bar and Grill offers a fun experience, the Texas Burger was really good (one of the best we've had in San Diego) and you won't be disappointed!