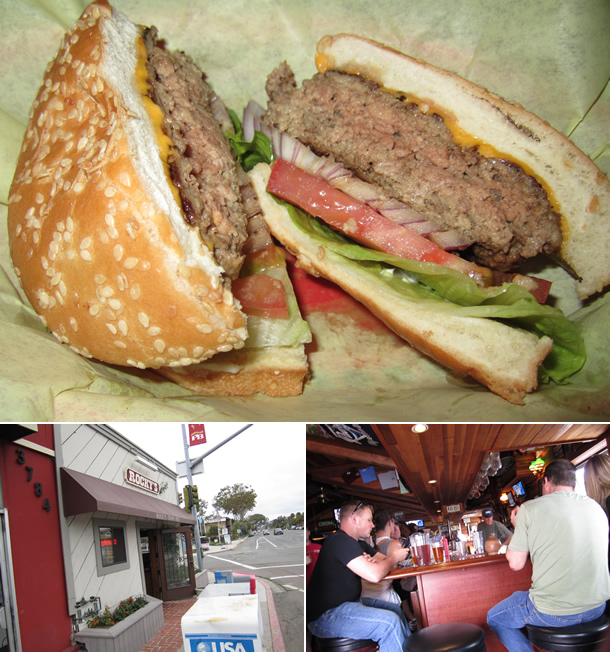 With all the positive reviews, recognition and hype surrounding the burgers served at Rocky's Crown Pub we had to try this place out. Driving by Rocky's Crown Pub we were questioning if we had the right place. We had never been to Rocky's before – We just knew from reviews that this place had some amazing burgers that were to die for. From outside and driving by it looked like a straight up bar and did not look to us very inviting. Frankly, we did not have warm and fuzzy feelings about going in not knowing what type of crowd might be in here – pool sharks and bar brawlers perhaps? Complete opposite! The atmosphere was very fun, intimate and cozy, somewhat loud, crowded from wall-to-wall (the place is pretty small) with a very friendly and clean crowd of people enjoying each other's company, beers, burgers and the sports on the TV's. There are just a few tables with several seats for bar seating inside. The inside had a clean and elegant wooden tavern/pub look-and-feel to it – we were pleasantly surprised at how clean and cozy this placed felt once we walked in. There were several people standing around waiting for the next open table. Rocky's has probably the simplest burger menu possible (smaller or bigger burger with or without cheese). There's no fluff at this place. Tax is included in food prices. And it's cash only.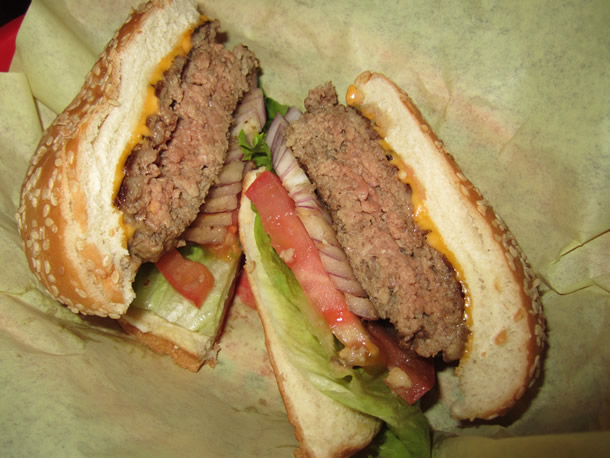 In our opinion, Rocky's has the best cheeseburger in San Diego we've had so far hands-down! I'm not even sure I can explain why. The burger is unassuming, nothing fancy, so simple but absolutely delicious. The meat is unbelievably tasty and juicy. The burger does not look like a "gourmet burger" but more like a burger you'd have at a backyard BBQ. The cheeseburger came with lettuce, tomato, onions and mayo. The burger was super tasty and perfectly cooked. Also, Rocky's burgers were very reasonably priced (we've had $10+ burgers at premium burger joints that weren't even close to this good). We thought for the price Hodad's burger might be the best burger joint in San Diego but now that we've had Rocky's hamburger we're not so sure!

The French fries looked a lot like cafeteria fries but these were much better. Fresh, lightly salted, simple and tasty the fries tasted good with the burger and was a perfect match for the simple menu and modest establishment.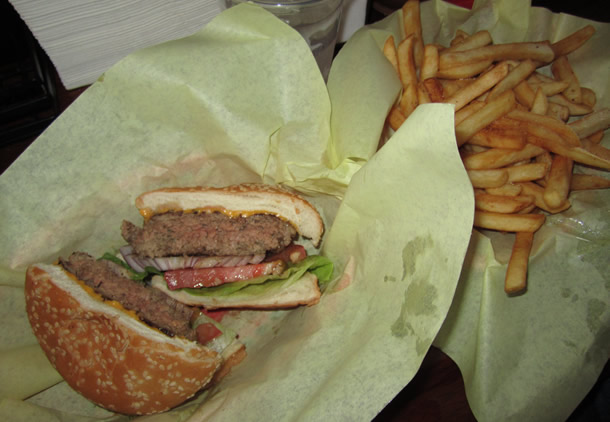 Overall we were very pleased with our Rocky's experience. For $7.75 we got a Rocky's 1/3 lb. cheeseburger ($5.25), fries ($2.50) and two waters on the rocks (free). We ordered at the bar and stood around while we waited for a seat to open and for our name to be called (when our name was called we stood up to get our order and paid the bartender at that time). A seat opened up for us rather quickly even though it was crowded and our name was called soon after.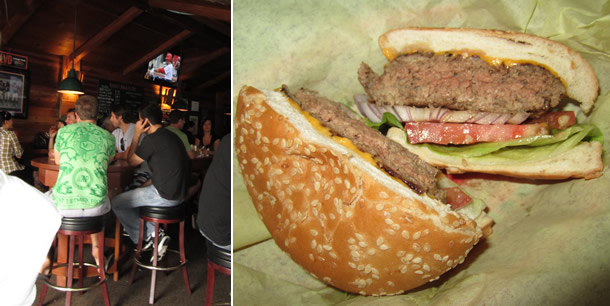 Rocky's Crown Pub is cash only so make sure you bring cash with you as credit cards, checks, IOU's and other forms of payment are not accepted. Rocky's is more of a bar and pub (not so much a family-friendly place or for kids as you will be carded by the doorman when you walk in if you look young enough like us:) and makes for a great time out with your date, significant other or group of friends. Even though Rocky's is a bar/pub, there's no pressure to drink alcohol as they have soda (we had waters) and it's obvious there are plenty of patrons and locals passing through to sink their teeth into Rocky's amazingly delicious burgers. We can see why this place is a local (and non-local) favorite!