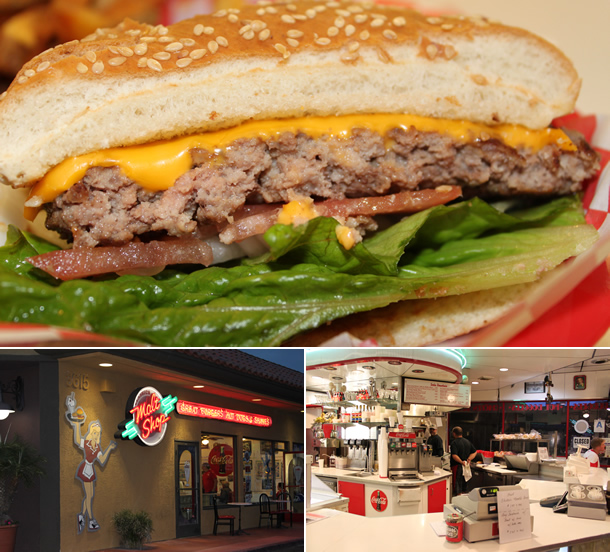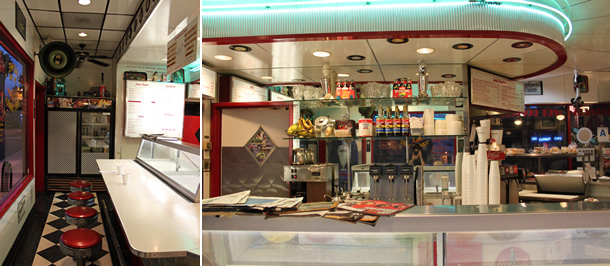 With tons of great reviews and appearing on several best burgers in San Diego lists we had to visit Classics Malt Shop and Diner's burgers in San Diego to see if their food lived up to all the hype. We were pleased with our experience!


Classics Malt Shop is located in the Midway neighborhood in San Diego not too far from Sea World. It is part of what looks like a planned food court build out located in a large strip mall and easily spotted from the main street (Midway Dr.). Parking was not a problem. Classics Malt Shop had a 50's diner style atmosphere and décor with a retro feel to it. It's a cozy atmosphere with just a few booths and bar stools for seating. There's not a lot of seating so there could be a wait when busy. There was a large Coca-Cola sign on the wall inside, framed pictures of 50's cars on the wall, a Juke Box and black and white checkered floors. Classic Malt Shop had a very cool atmosphere and the inside was very clean. Also, the workers were super-friendly and it was obvious customer service was high priority to both locals and new comers.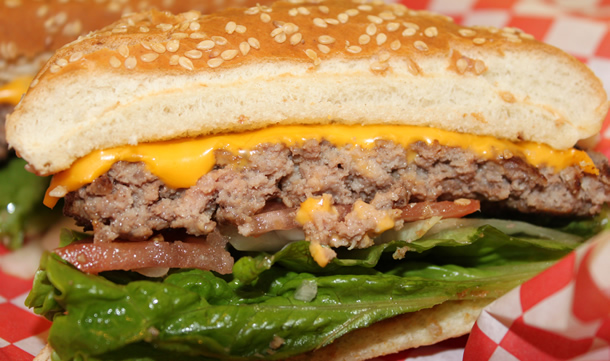 We shared a cheeseburger with fries ($6.49) and a root beer float ($3.99). Our total bill was $11.00. The cheeseburger was recommended by the worker behind the counter when we asked what the best and most popular burger was. The cheeseburger was served on a sesame seed bun and came with lettuce, tomato, onion, and American cheese. Condiments (mustard, ketchup and mayonnaise) were available on a side counter for self-serve. The burger was a pretty good size, grilled and quite tasty. The cheeseburger at Classics Malt Shop was good and tasty no doubt but it was not in the same league as the cheeseburger at Rocky's Crown Pub in Pacific Beach (a juicier and tastier burger for about the same price but having a very different atmosphere).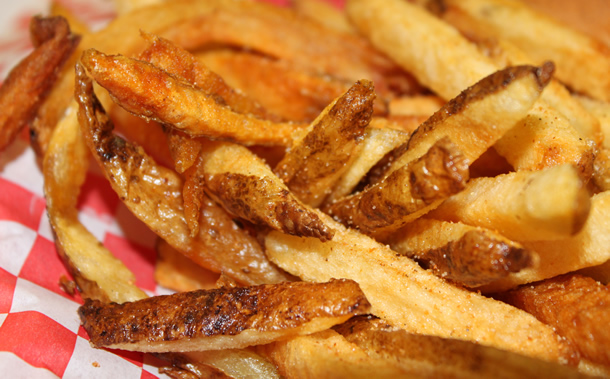 The cheeseburger came with fries (and a pickle slice on the side) which was nice. The fries were fresh, lightly seasoned, and crisp on the outside and had some potato skin still left on it. We really liked the texture and taste of the fries. The pickle was nice to have with the burger and fries – It tasted ok and wasn't quite as crunchy as we had hoped but we're definitely a fan of the fries at Classics Malt Shop.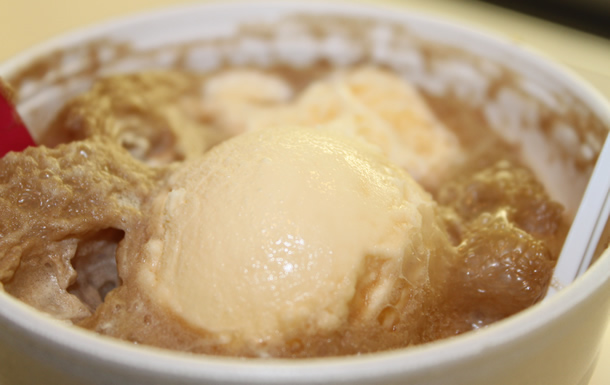 The root beer float came in a large 32 oz. cup and was more than enough for the two of us to share. It came with two huge scoops of delicious Vanilla ice cream. The friendly worker behind the counter mentioned he would gladly refill our root beer float with more root beer if we ran out and wanted more (we took him up on his offer as we sucked down the root beer faster than we could eat the Vanilla ice cream).


Overall, we really enjoyed our experience at the Classics Malt Shop and Diner. The Cheeseburger, fries and root beer float we ordered were all very good and reasonably priced. The service by their super-friendly staff of workers was outstanding. The 50's diner ambiance and cozy and fun atmosphere also added to our positive experience. If you're in the area and looking for a good burger joint (with yummy ice cream dessert options) with reasonable prices (and a fun atmosphere and super-friendly staff) Classics Malt Shop is definitely worth a visit!