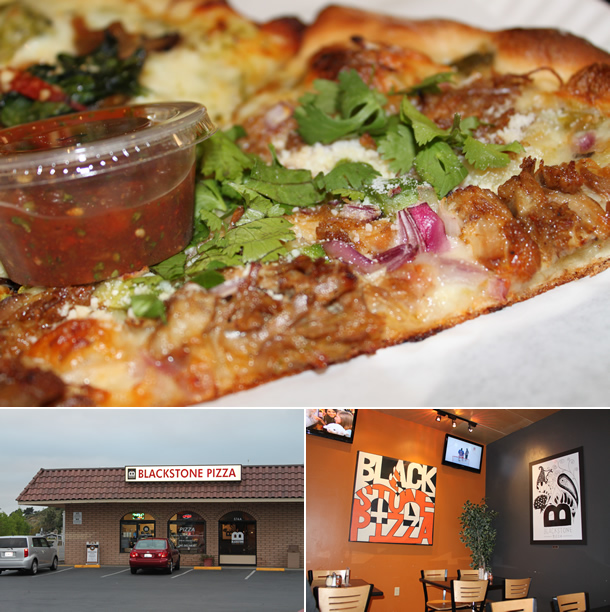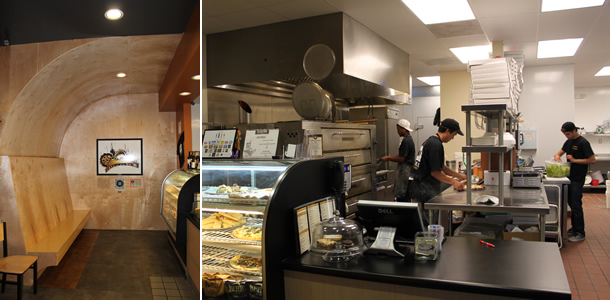 With glowing reviews and a lot of hype about Blackstone Pizza being one of the best pizza places in North County in San Diego California we had to try this place out. The pizza we had was uniquely delicious and prepared from scratch with fresh ingredients. The service was super friendly and the atmosphere was fun, relaxed and casual. It was also nice to meet the owner "Mike" and to see his enthusiasm and hear the story of how Blackstone Pizza was born.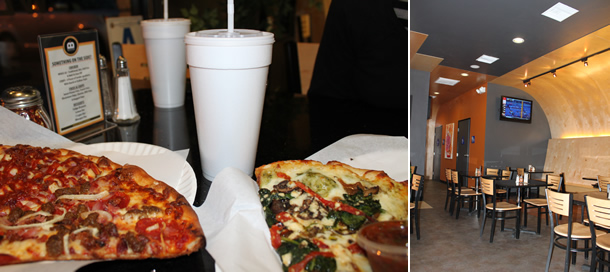 Blackstone Pizza is family owned and operated and located on East Mission Road in San Marcos tucked within a strip mall called "Mulberry Plaza." The unassuming location on a semi-quiet street likely doesn't allow this place to get the foot-traffic or visibility it deserves. Judging from the outside and strip mall location we did not expect such a new and hip, clean, modern design and fun upbeat atmosphere inside (apparently Blackstone Pizza opened August 2010). Inside you'll find some cool artwork of the Blackstone Pizza brand framed and hanging on the walls. Where the walls met the ceiling there were some cool wood transitions that could give one the impression of a surf and skate atmosphere. There are plenty of tables for seating inside and at least three flat screen TV's mounted high on the walls so you won't have to worry about missing that sports game.
We ordered two of the two slice specials. The special came with two slices of pizza and a soda ($6.00 each which came out to $13.06 with tax for two). Since we had four slices total we wanted to try the customer favorites. The owner "Mike" was super-friendly and helped us with our pizza slice selection.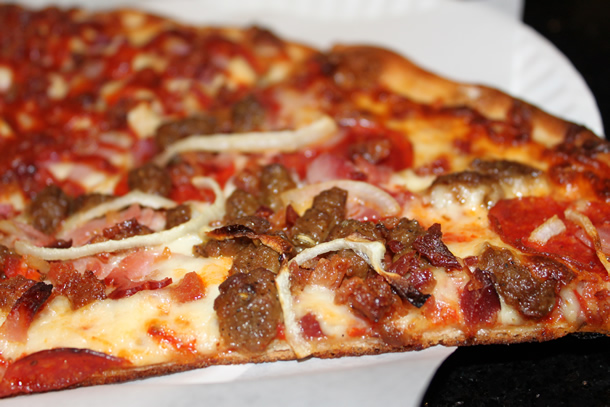 We ordered one slice of "The Grrizzz" (tomato sauce base) which came with mozzarella blend, pepperoni, sausage, ham bacon and onions. It was a yummy meat lovers delight loaded with protein.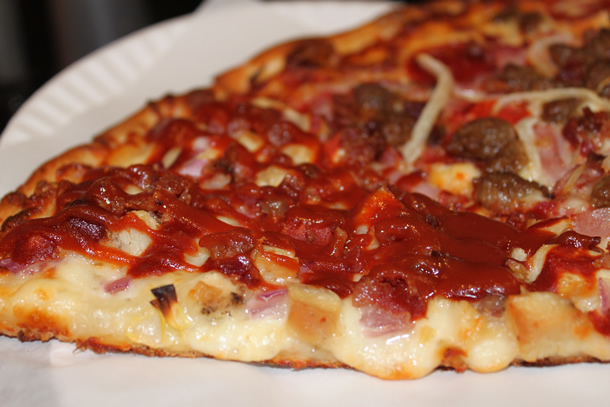 We also ordered one slice of "The 84" BBQ Chicken Pizza (no sauce base) which came with Mozzarella blend, grilled chicken, red onions, topped with smoky sweet BBQ sauce. The BBQ chicken pizza was one of our favorites! We're not sure what the 84 means but perhaps you can ask the owner Mike when you visit.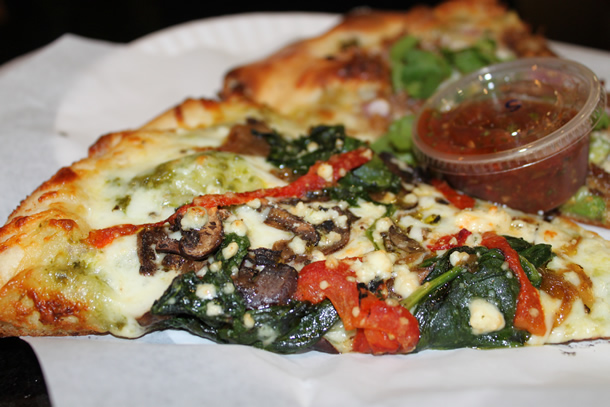 We also had a slice of Shangri-La (pesto base) which came with mozzarella blend, sautéed spinach, mushrooms, and caramelized onions, roasted, red peppers, grated parmesan and chunks of gorgonzola cheese. It was a vegetarian pizza loaded with healthy fresh toppings.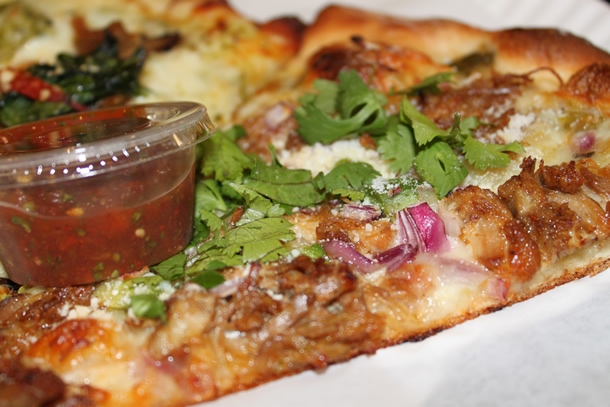 We also had a slice of The Street Taco (chili verde sauce) which came with Monterey Jack cheese, carnitas (slow cooked pork), avocado and red onions over a chili verde sauce topped with fresh cilantro and queso seco. It was also served with a side of home-made salsa which was delicious! The Street Taco pizza is a "Blackstone Pizza customer favorite." It was uniquely delicious and we're a fan!


Overall we give Blackstone Pizza two thumbs up. We were very pleased with our experience and plan to return one day to try out their signature "Da Island Style" pizza (AKA Hawaiian style) which comes with Kalua pig, Spam, pineapples, tomatoes and onion (as opposed to the customary Canadian bacon and pineapple blend). If you're in the North County area stop by Blackstone Pizza and try out their BBQ chicken and Street Taco pizza — You won't be disappointed!