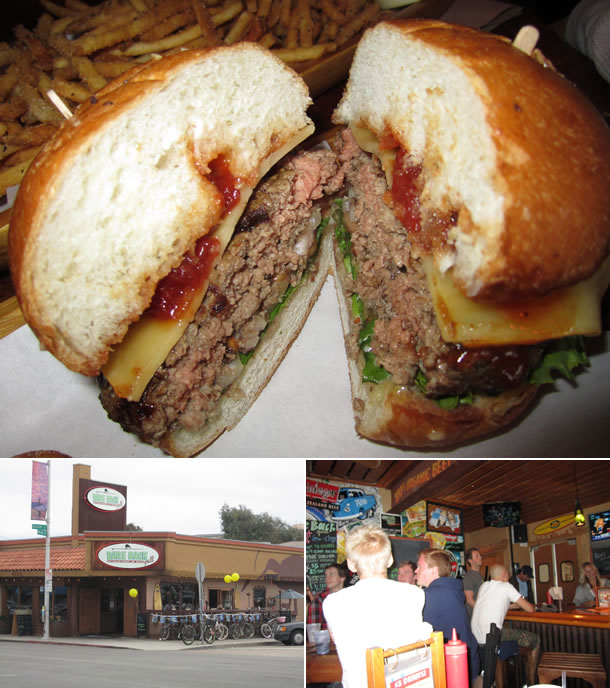 With Bare Back Grill being "voted best burger in San Diego 4 years in a row" we had to try this place out. Bare Back Grill has two San Diego locations – One in Pacific Beach and one downtown in the Gaslamp district. Bare Back Grill (Pacific Beach location we attended) offered a very fun and relaxed experience with high quality food and an outgoing beach atmosphere with a somewhat loud sports bar like type feel to it. There is inside seating on bar tables (cool wooden tables and cement floors) and rail seating outside facing the sidewalk so you can enjoy the outdoors while doing some people watching (we love people watching). Flat screen TV's are inside for conveniently watching sports. Chalkboards can be seen inside with weeknight food and beer specials. Outside a chalkboard lets you know that Bare Back Grill was "voted best burger in San Diego 4 years in a row" (there are signs inside too). Bare Back Grill had very friendly and helpful service. Our server answered all our questions and was very knowledgeable of the menu and products – He made some very helpful recommendations too.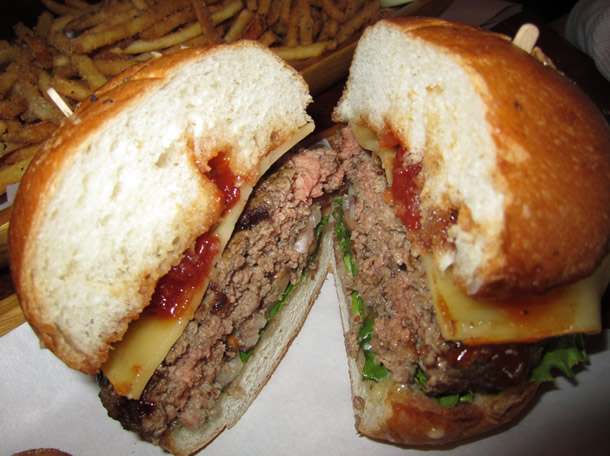 We shared a "Queenstown Fave Burger" ($9.99) which came with some chips. The burgers are made with high-quality organic grass-fed beef and served on freshly baked hamburger buns. The meat was, juicy, very tasty and cooked to perfection! Our burger came with cheese, lettuce, tomato, onions (organic veggies) and a sweet BBG sauce puree and aioli sauce. The garlic mayo aioli sauce was very strong and unfortunately overpowered the delicious flavor of the burger. We'd recommend ordering the garlic-mayo on the side and possibly the BBQ Sauce (sweet tomato sauce puree) as well so you can add on the amount you like so you can really taste the yumminess of the burger! The chips served with the burger were crunchy and tasted excellent with the burger!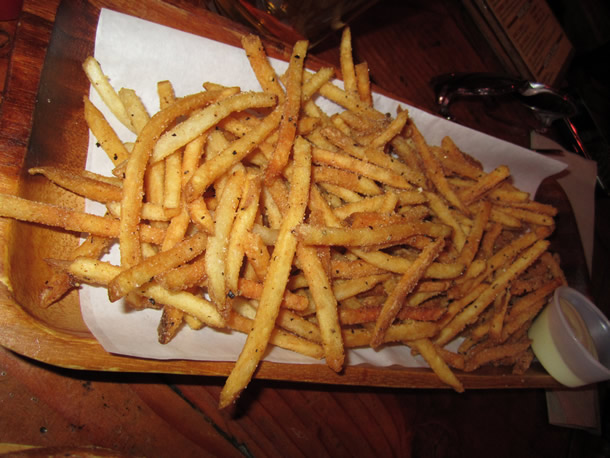 The fries were excellent and heavily seasoned (quite salty but excellent flavor) and served with a side of honey mustard to dip them in. We weren't crazy about the honey mustard (the fries were excellent without it). We did not finish our large order of fries so we took what we didn't finish home. We can say these are the best tasting fries we've ever had next-day out of the refrigerator cold (the fries were actually crunchy and delicious cold)! We've never had leftover fries that tasted good cold (we usually heat them up in an oven).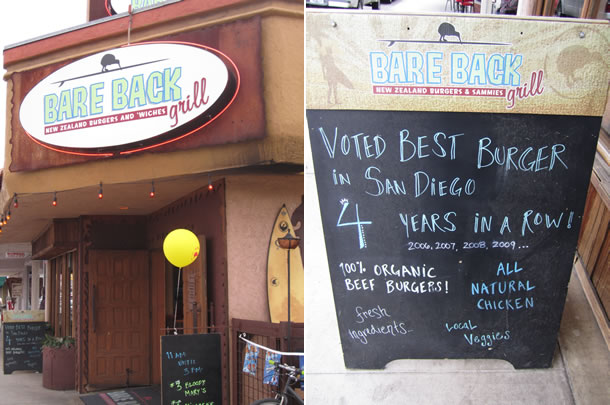 Bare Back Grill offers quality burgers (organic grass-fed beef) and food but we felt it was a little on the pricey side for what you get. The service was super friendly and helpful. Our waiter even gave us 10% off as a courtesy on our bill for first-time visiting (apparently it was obvious that we had not been there before)! We ordered a Queenstown Fave Burger ($9.99) which we shared, large fries ($6.50) and one Steinlager Pint beer ($4.60). Our total bill was $20.64 (which this included a 10% off courtesy for our first-time visit). It's easy to see how a bill for two burgers, fries and drinks could easily run $30-$40 (unless you share a burger) – which is on the high end for a burger joint. Overall we still really enjoyed our experience, the food and the beach atmosphere was really nice. The burger and fries we ordered was indeed good. The higher price for burger and fries is the only drawback we see. On a side and positive note, we posted a Yelp review and received an email gift certificate from the Bare Back Grill manager thanking us for our review ("The gift certificate entitles you to your choice of a free burger or appetizer on your next visit… and of course, a free frosty beverage on us!"). If you're reading – Thank you very much Chelsea! We look forward to going back and trying out another one of your delicious burgers!