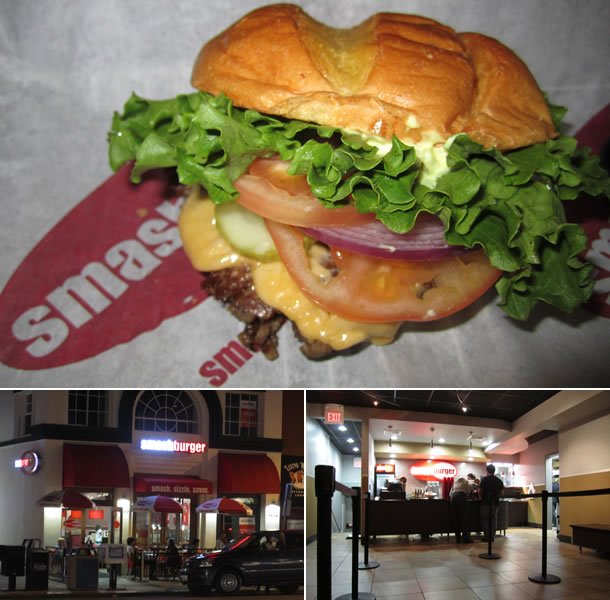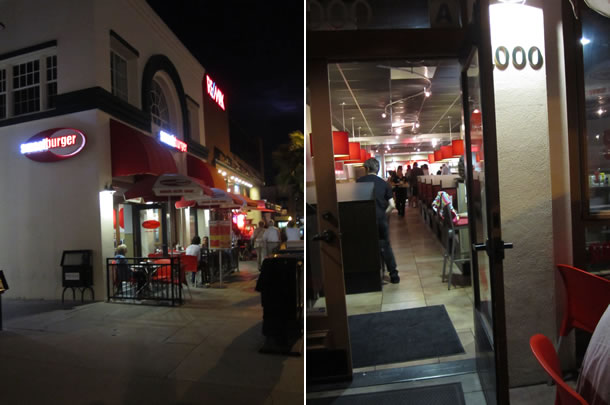 With a 4 out of 5 star rating out of over 210 reviews total on Yelp we wanted check out Smashburger to see how it stacked up to other fast-food to mid-range burger joints. Having never been to Smashburger before, our expectation (based on reviews) was the burger would be economically priced and better tasting than most fast-food chains but probably not as good as a premium burger joint (such as Burger Lounge or The Counter). Overall, our experience met our expectations. The Smashburger signage threw-us off initially when we were looking for it as the sign looks a lot like GameStop. The atmosphere at Smashbuger was fun, family-friendly and relaxed. There were several booths for inside seating and only a couple of tables outside. Upon ordering you are given a number and your food is brought out to you. The workers were friendly, walked around occasionally to see if you needed anything – they even offered to bring us to-go boxes and took our used napkins and plates for us to keep our table less cluttered which was nice. The food was tasty, better than most fast-food chains and all for a reasonable price (especially given its downtown La Jolla location).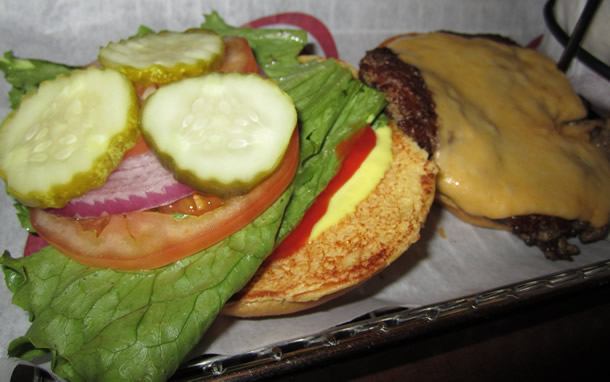 We shared a 1/3 lb Classic Smashburger at $4.99 (if hungry you'll probably want to order your own burger) which was served open-faced – It came with American cheese, lettuce, tomato, ketchup, onion, pickles with smash sauce on an egg bun. The egg bun was excellent. The condiments that came with the burger tasted very fresh and the burger was also good. We also ordered a side of Smashfries at $1.99 (with a sandwich purchase it's $1.99 or $2.99 a la carte for Smashfries).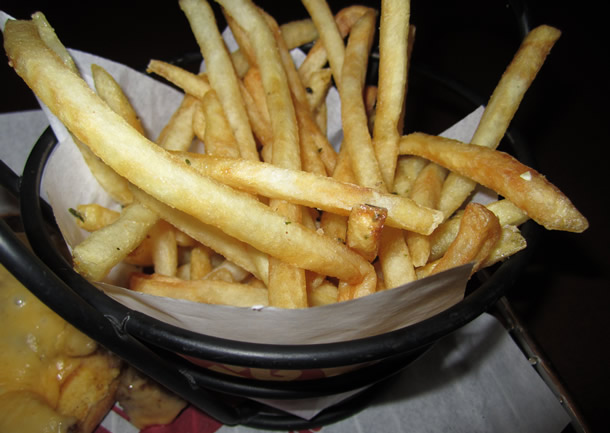 The Smashfries were different but very good (you can really taste the rosemary so if you don't like rosemary you probably won't like the fries) – they were tender and crispy as advertised and tossed with rosemary, olive oil and garlic.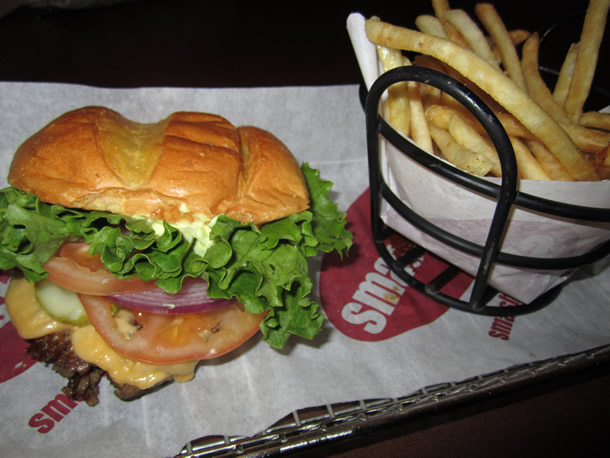 Overall, we were pleased with our Smashburger experience. The Smashfries were good and the Classic Smashburger served on an egg bun was very tasty and fresh. For a little more than fast-food prices you are getting a better burger and tastier fries. Our total bill for the 1/3 lb Classic Smashburger (which we shared) and sharing a side of Smashfries was $7.59. If we added a shake to our meal as we normally do at $3.99 our total would have been just under $12. Our total bill at Hodad's however for fries, burger and shake was $13.49 (just slightly more than a similar order at Smashburger) for a much better burger and larger portions all around. Smashburger is no Hodad's but they offer a fresh and tasty burger which is better than average and better than most fast-food chains or mid-range burger joints at a very affordable price. Affordable, enjoyable and tasty you won't feel cheated when leaving this place. Smashburger has a great downtown La Jolla location, fun atmosphere and has good burgers and fries for a reasonable price – It's no wonder Smashburger in downtown La Jolla is a local favorite!