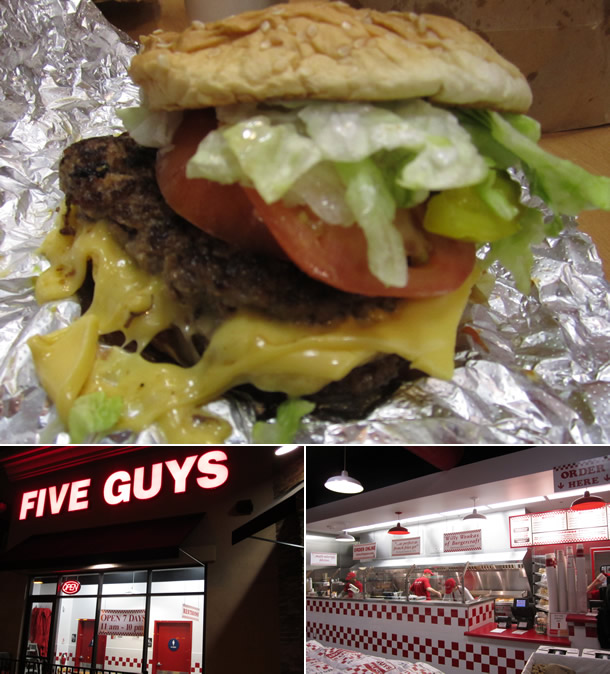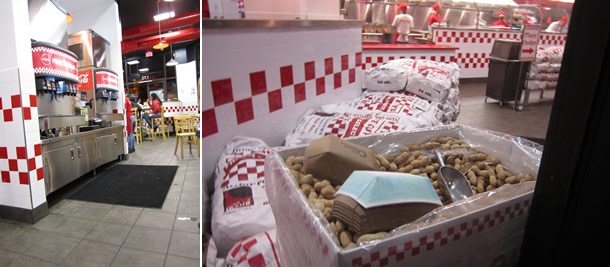 Overall, Five Guys was a fun and enjoyable experience but seemed a bit pricey for what you get. Five Guys fell somewhat short of our expectations (we had high expectations as a result of all the media recognition Five Guys has received and hype about this place being so much better than In-N-Out). The burger and fresh-cut fries were definitely tasty but in our opinion only marginally better than In-N-Out at best. Ordering, service and seating arrangement is much like In-N-Out including the atmosphere with red-and-white colored theme throughout. Bags of potatoes are visible when you walk-in to emphasize the freshness of the fries (the fries were indeed fresh and also good warmed up at home). Peanuts are available to eat for free and if you're feeling rebellious it is acceptable to throw the shells on the floor!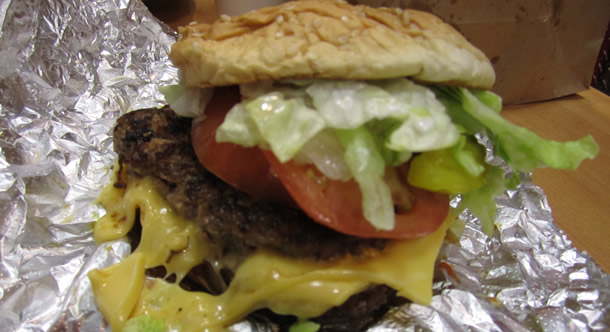 We ordered a cheeseburger ($5.79), grilled cheese sandwich ($3.19) and a regular order of fries ($2.69). We had the cheeseburger "all the way" (mayo, lettuce, pickles, tomatoes, grilled onions, ketchup, mustard and grilled mushrooms on the side) – It was tasty and the portion size was pretty good. The regular burger has two patties which is not clear from the menu (similar size to a double-double at In-N-Out). So if you only want a single patty burger you'll want to order the "little burger" ($3.69) or "little cheeseburger" ($4.29). The burger itself was tasty and in our opinion better than In-N-Out (the hamburger patty had a unique and yummy flame-grilled taste to it). We would have liked to order a shake but Five Guys does not have shakes on their menu!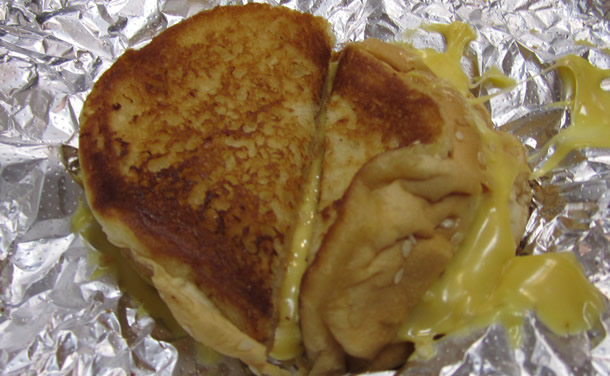 The grilled cheese sandwich was surprisingly very tasty for how simple it was presented. The grilled cheese sandwich is actually made using the hamburger buns. Five Guys has more options for toppings on your burger than In-N-Out does. There is also a wider menu variety and drink selection. Five Guys offers sandwiches and hotdogs not just hamburgers.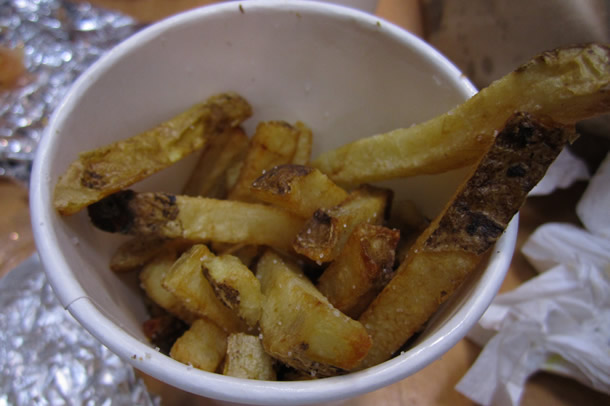 The fries were good, fresh, slightly crunchier than In-N-Out and served in a cup. We ordered "Five Guys Style" regular size fries ($2.69) but a large size ($4.99) is also available. Fries can be ordered "Five Guys Style" or "Cajun Style."
If you are looking to try a new burger and fries place with more topping options and a menu that includes a few more options such as sandwiches and hotdogs we'd recommend trying Five Guys at least once for the experience and so you can compare it to In-N-Out yourself. Upon ordering you may want to check-in to see if your order was called (if it seems like it's taking long) as we did not hear our order called over the intercom (our order was ready but nobody looked for us inside) and we went during non-peak and non-busy hours. We had read at least one complaint prior to our visit about not hearing the order called over the intercom.


Due to the price and what might be only a marginal difference between an In-N-Out hamburger and fries we can see why one would choose not to return as often but go to In-N-Out instead for a similar experience and save a few bucks. For example, a cheeseburger ($5.79), regular fries ($2.69) and a regular fountain drink ($1.99) comes to $10.79 (per person) at Five Guys. Comparably, a double-double combo meal (double-double burger, fries and a drink) is $ 6.47 (per person) which is about 40% less than a similar combo at Five Guys. Feeding two people at Five Guys will run you $21.58 and at In-N-Out $12.94 (for a similar double-double combo meal). While we recognize prices may vary by location, the variance in price does not make a difference in our point here. To be honest, we're not sure we would go back to Five Guys due to being overpriced for what you get (and having so many other hamburger place options) unless we were pressured by friends or family members who wanted to try this place out due to all the hype!